I've been attending conventions since April 2004, and in that time, I've met a lot of celebrities, most of whom I was fortunate enough to sit next to for a photo.  I've also made friends with a number of other fans, some of whom have kindly contributed their photos, and even their own convention reports.  Though we're usually locked away and kept restrained, when we get out it's time for the celebs to face the slayer.  Now it's your opportunity to get a look at who we've met.
So join us on the trail of dismembered destiny, and come back frequently, as we're always meeting new people at cons, and this page is constantly under destruction.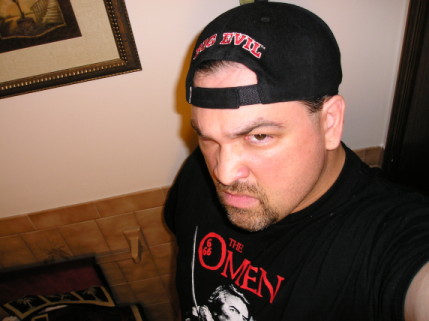 Bruce Abbott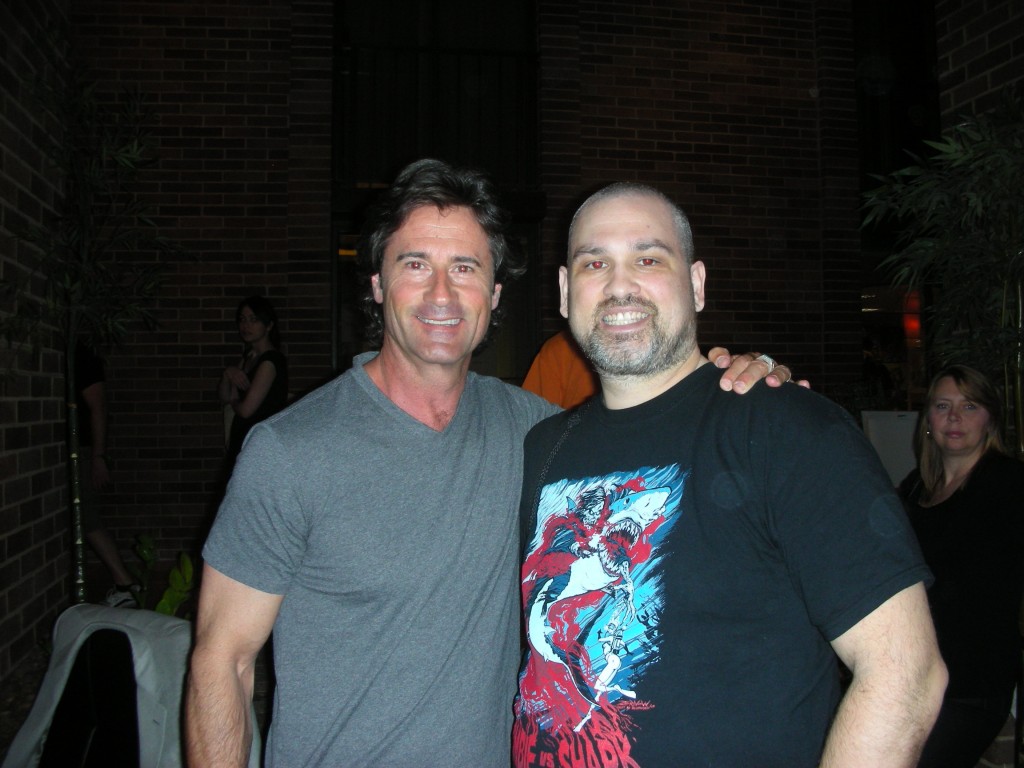 I met Bruce a few year back at a Chiller show.  I felt bad for him, because he was stuck in that one corner of the pit where other celebs' lines block off fans from even knowing a guest is there.  He's a very nice guy, with interesting stories, and was kind enough to let me interview him at Monster-Mania. He signed my RE-ANIMATOR 8×10 with a glowing green marker.
Terry Alexander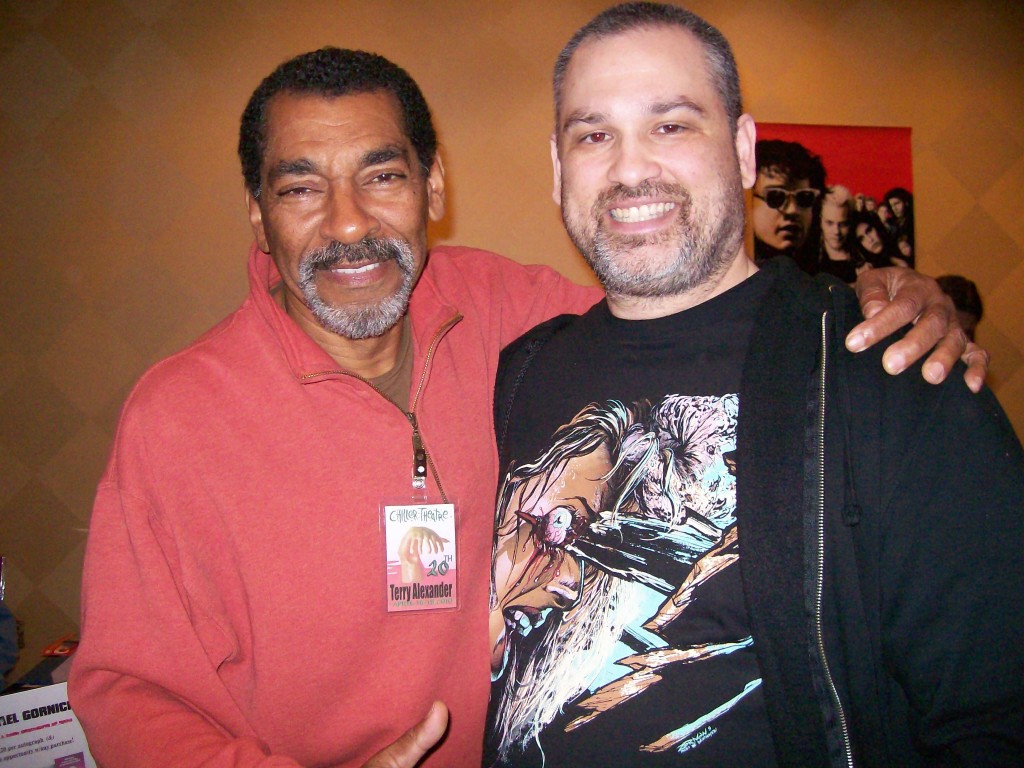 This is one cool guy.  He smiled when I asked him to write, "Phil, You're being punished by the creator."  Another great grab from the Romero universe.
John Amplas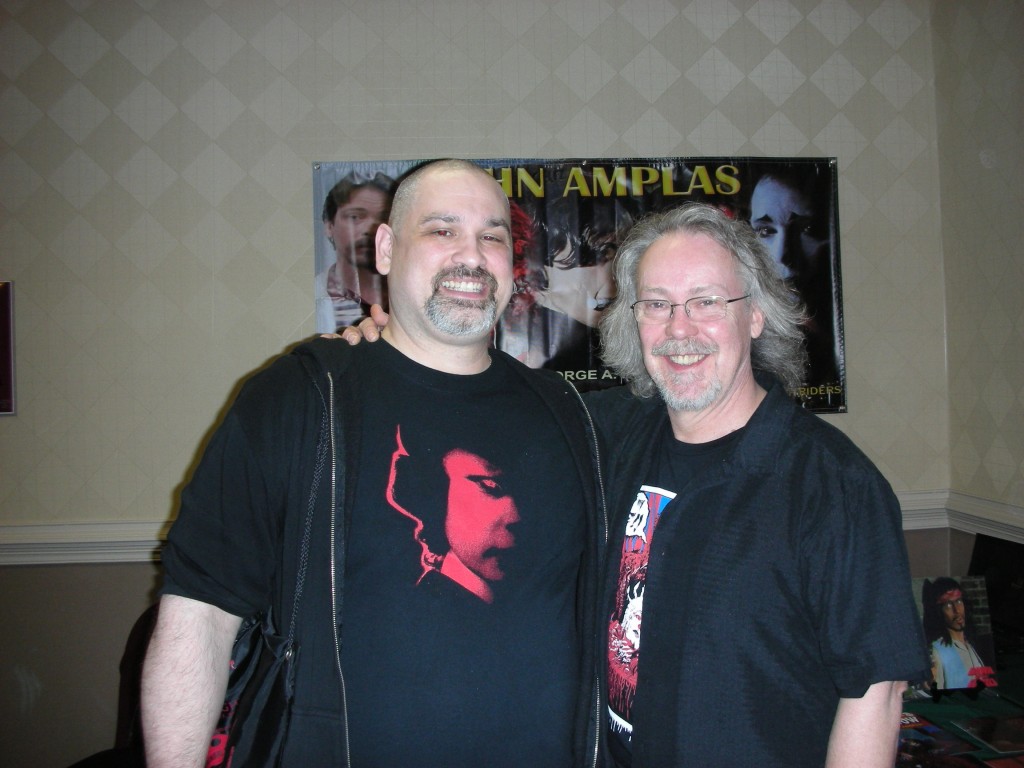 What can I say that I haven't already said during John Amplas Week?  John Amplas is a great guy, a teacher and an underrated actor who's always kind to his fans.  I've met him several times, and look forward to seeing him again soon.
Belinda Balaski
Horror Hound Indy '08 was by no means a great con.  But it was a great HOWLING reunion, and it gave me my first opportunity to meet Belinda Balaski.  One of Joe Dante's regular players, she was only appearing at West Coast cons for a while.  But we met in the middle of the country, and I was happy to find her a nice lady with some great inside stories about working with Joe.  I bought a bunch of 8x10s off her table, and had her sign my HOWLING poster.  I met her again at the 2nd Saturday Nightmares con, and got her to sign a nice color shot of her and one of Rob Bottin's werewolves, and a FOOD OF THE GODS 8×10 I'd had signed by Bert I. Gordon.  If you love Dante like I do, she's a must.
Charles Band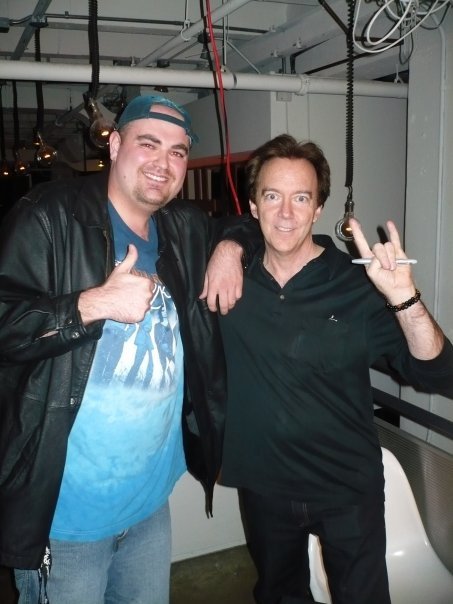 In 2009, I had the thrill of attending the Full Moon Road Show in Silver Spring, MD (right outside Washington, DC) hosted by, Charles Band. It was a blast and a half. I even got to participate in the "Boobie Monster" and fried in an electric chair! Afterwards Charles stayed around and signed everything his fans had, including my program and a lot of VHS covers. We also discussed my love for ROBOT JOX and PIT AND THE PENDULUM. Charles is definitely one of the all time best, and I later got to meet him in 2010 at Monster-Mania.- Chadworth
Michelle Bauer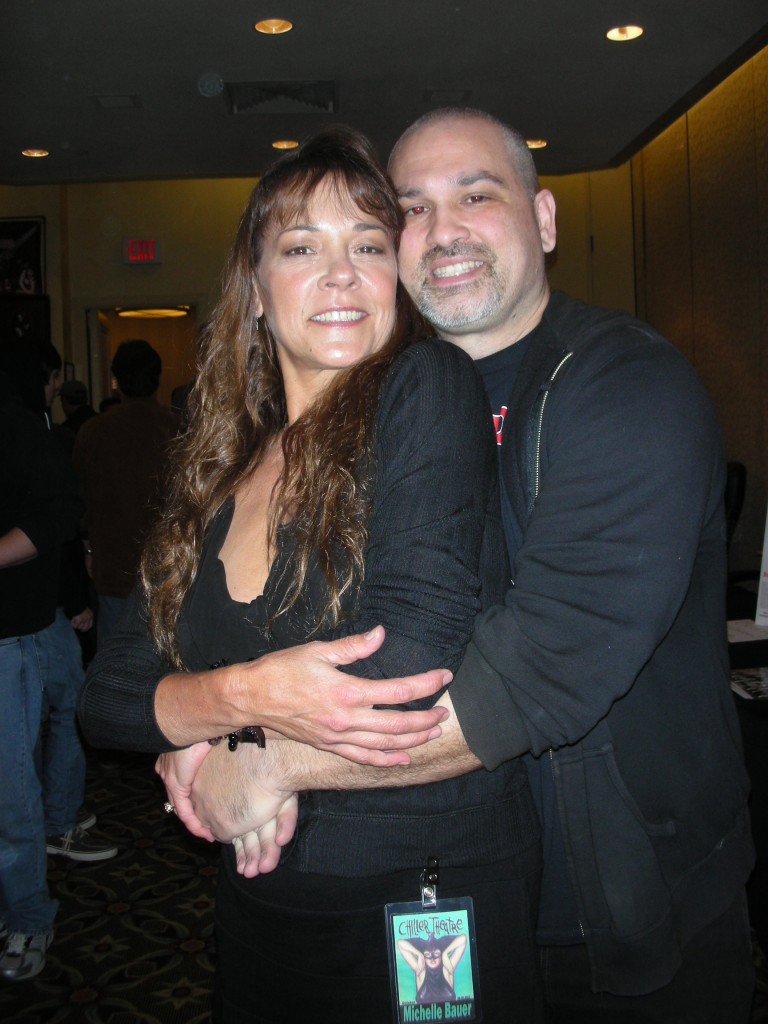 20 years ago, I saw HOLLYWOOD CHAINSAW HOOKERS for the first time.  Michelle Bauer instantly became my favorite scream queen.  All these years later, I got the chance to meet her at the Chiller October 2011 show, and she's sexy as ever.  And she spends a lot of time with her fans.
Linda Blair
I'm not an EXORCIST fan.  But I'm a huge fan of Linda Blair's work, in that film and others.  I've heard Linda can be difficult, but she was good to me at the October '05 Chiller.  The real story, though, I owe to X.  A few cons later, when we were waiting on her line, two guys in front of us were ready to break out into a fistfight.  Linda stepped out from behind her table and defused the situation before it erupted into a donnybrook.  Pazuzu couldn't have done it better than the pint sized Blair.
Oh, and X spent lots of time showing her pics of his dog, Tinkerbell.
Chilly Billy Cardille
I've only seen Chilly Billy of NIGHT OF THE LIVING DEAD a few times, and two of them were in the Pittsburgh area.  I passed on him at the Chiller where I met George Romero for the first time, but met him at the Monster Bash '07.  The next year at that same con, I got him to sign my NOTLD banner.  A very kind guy who appreciates his place in the Romero universe.  His daughter Lori made up the 8×10 I purchased from him.
Lori Cardille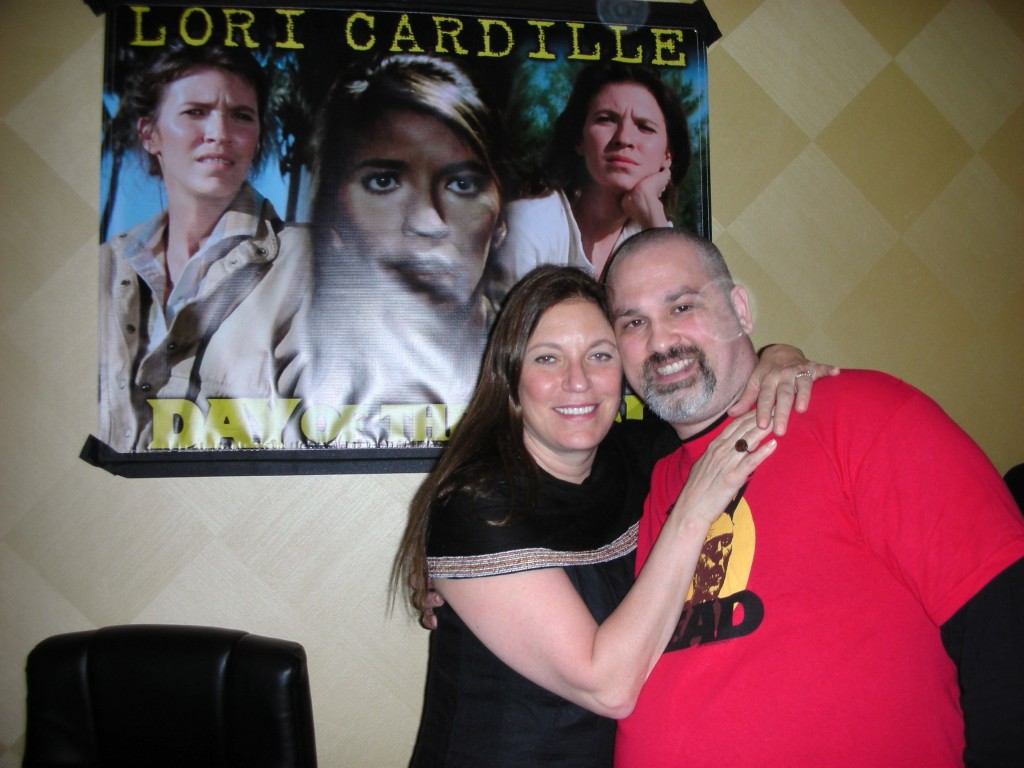 When I first started attending conventions, I wasn't a big DAY OF THE DEAD fan.  The film's stars were making frequent appearances, but I passed on Lori Cardille every time.  When I took interest in the film, she went off the trail.  I'm grateful she's doing shows again, as I finally met her at the Chiller April 2011 convention, and subsequently interviewed her.  She's incredibly nice, and has a great spread of photos on her table.
Al Cliver
Al Cliver is my favorite actor from the Fulci canon.  I loved every time I would watch one of the director's flicks, and Cliver would pop up.  He's great in all those films, and even better in person.  Happy to meet his fans, he's a joy.
Jeffrey Combs
Jeffrey Combs plays Herbert West, one of horror's iconic characters.  He's a great actor, and a nice guy to meet.  I've met him 3 times, each with different 8x10s from the RE-ANIMATOR movies, and he wrote an awesome line from the flicks on each.
Don Coscarelli
I met Don Coscarelli not long after I reviewed PHANTASM IV: OBLIVION for Icons of Fright.  He was very flattered when I told him the PHANTASM flicks were more European art films than American horror.  A genuinely nice guy, and a rare find on the circuit.
Charles Craig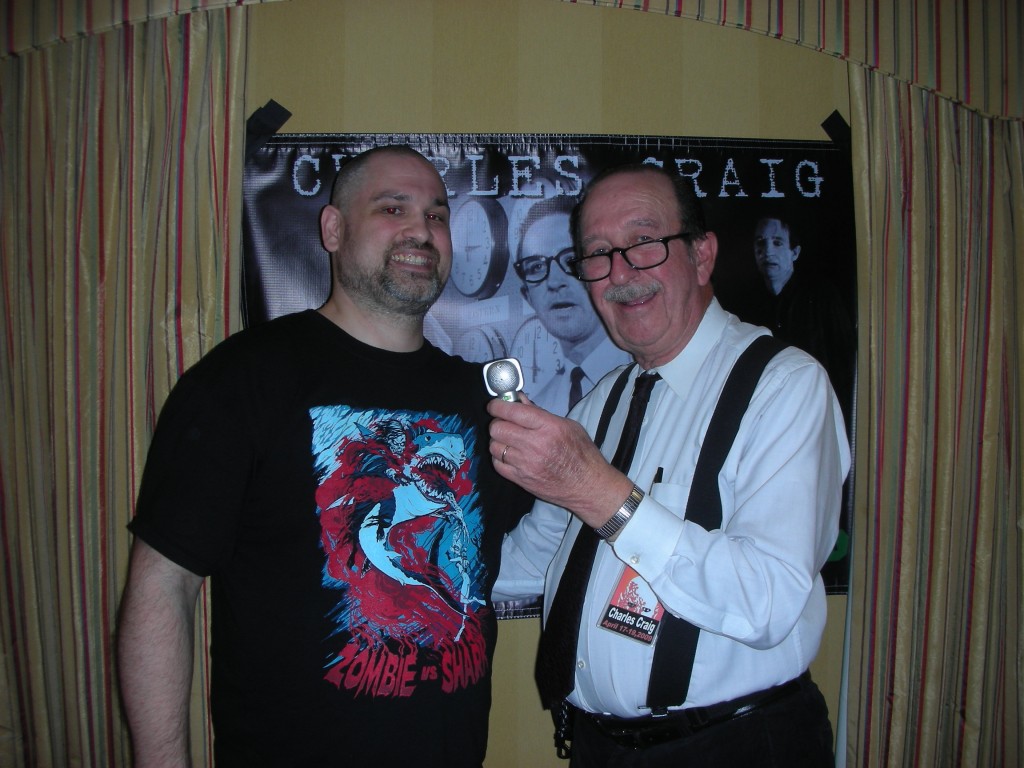 Charles Craig's voice provides much of the information about the outbreak of the undead in NIGHT OF THE LIVING DEAD.  He also shows up on the television in the farmhouse in much the same role.  I had a chance to interview him in promotion for the Living Dead Festival, and he shared some interesting anecdotes.  I've met him a few times, and he's always got his prop microphone on hand, as you'll see in the picture above.
Sybil Danning
It took one cancelled appearance and a few years before I met Sybil Danning, but I finally got my chance.  And I get her autograph every time I see her at a con.  I've got 8×10's from a bunch of  films, and she writes some new sexy thing on every one.
Joe Dante
For four years, Joe Dante was my most sought after celeb.  Dee Wallace spoke highly of him, and THE HOWLING is one of my favorite horror flicks.  At HorrorHound Indy in August '08, I finally got my chance to meet him, and he lived up to my every expectation.  And Dee introduced us.  I can't beat that.
Antone Dileo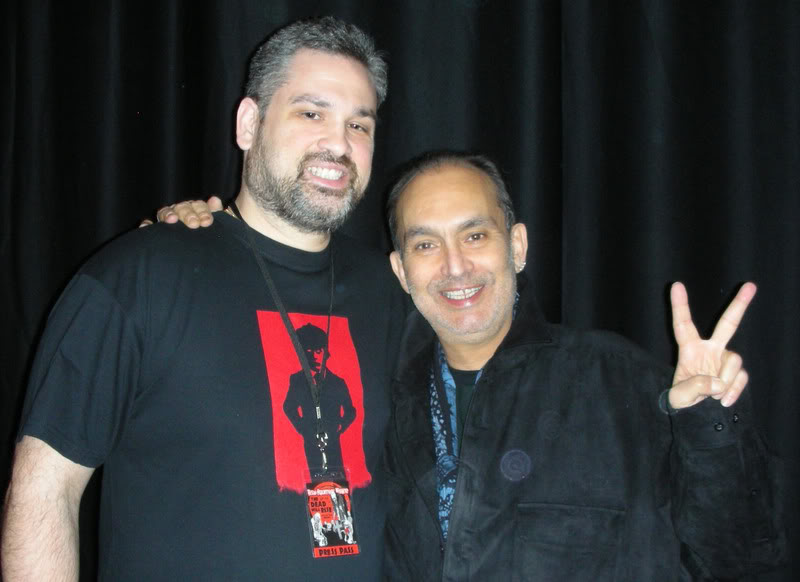 Antone Dileo is, well, a little odd.  But very nice.  Another DAY OF THE DEAD star I passed on forever, until I bagged his autograph right after Joe Pilato's.  It's a bit of a comedown once you've met Pilato and discovered what insanity truly is.  The best part was when he said, "I have a great quote" for the gut spilling 8×10 I chose, and wrote, "I don't spill my guts for just anybody."
I met Antone again, right after I met Lori Cardille at the Chiller April '11 show.  He signed an 8×10 of Miguel with the bullhorn and Sarah from the start of DAY.  And I gather he signs everything "Peace" with a peace symbol after his name.
Griffin Dunne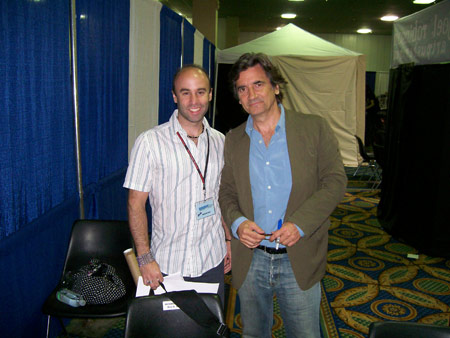 Griffin Dunne was the highlight of X's trip to Monroeville, PA for the HorrorHound show, which was unfortunately ruined by the deer accident.  Hitting a large woodland creature will sour any trip, but I hope Dunne made it at least a little better for X.  This was Dunne's only convention appearance, but X has carried on to other shows.
David Early and David Crawford
I met David Early and David Crawford at a Chiller show during a down period.  Though I was burnt out on the convention circuit, I acknowledge these two were great guys who took their parts in the Romero universe seriously.  More recently, I got to watch them perform their debate from DAWN OF THE DEAD live at the Saturday Nightmares 2011 show, and it was impressive.  I complimented them at their table, where they told me it was their first time doing it since they filmed it.  Crawford was getting some guff from fans for forgetting a line, but for me, it couldn't have been better, or more surreal.
Paul Ehlers
MADMAN is an underrated little slasher, filmed on my native Long Island.  When I saw its Madman, Paul Ehlers would be a guest at Chiller, I figured he would be cool to meet.  Despite his snarl and axe in this pic, he was just that.  I'm pretty sure this is the only con I ever saw him at, and I'm glad I got the chance to have him sign an 8×10 of the movie poster.
One last note:  DAWN OF THE DEAD's Gaylen Ross stars in this flick under a different name.  When I asked her why, she had some nasty things to say about the production.  She also refused me an interview, so it was obvious to me she was in a bad mood.
David Emgee
First impressions can be a bitch.  David Emgee was another DAWN OF THE DEAD guy I had little interest until years after my first seeing him at a con. When I finally met him at the first Saturday Nightmares con, he looked tired and jetlagged.  I got his autograph, and then asked him for an interview.  He promptly and wearily shot me down.
This left a bad taste in my mouth, so when I saw him again, I expected more of the same.  And man, was I wrong.  I asked him about John Russo's film THE BOOBY HATCH, in which he starred.  The story he told me and X was hilarious.  For the second time, I asked him for an interview.  To my surprise, he said yes.  He gave me a great interview, one of the highlights of all the chats I've done.  Thanks, David.
Ken Foree
It took me a long time before I had any interest in the DAWN OF THE DEAD cast.  Though I've always thought the flick was overrated, I've loved Ken Foree since I first saw him as Peter.  I finally met him at the first Saturday Nightmares show, and I got him once more the following year at the same show. 
But the far better Foree story belongs to X.  He met Foree at the 2005 Chiller where we first met Romero.  Foree was sitting next to Scott Reiniger, and at the time he was giving 5 bucks off for your own item.  X bought a shot of the four mall principals off Reiniger, then wanted Foree to sign it.  He also asked for a picture of both.  Foree must've been having a bad night, because he didn't want to stand up and pose with him.  He was surly, for sure.  And then he had to get X 5 bucks change for his 20 spot.  Without standing up, Foree went fishing into the pocket of his jeans, dug out a crumpled 5 and basically threw it across the table at X. To this day, X has a blood vendetta with Foree.
Zach Galligan
Zach Galligan co-starred in flicks with beautiful women Phoebe Cates, Michelle Johnson and Deborah Foreman.  Oh, and he was also the lead in Joe Dante's massively popular GREMLINS.  Not too shabby for a career.  Zach likes to talk, and I didn't chat him up enough.  But he does a healthy amount of cons, and he signed "Remember the rules" for me on my GREMLINS pic.  If you're a child of the 80s, he's a must.
Erin Gray and Gil Gerard
I met Erin Gray at a Horrorfind a few years before I met Gil Gerard at Super Mega Show in NJ.  Gray was very pleasant, and Gerard was a nice enough guy, but he didn't have proper change.  I said he could keep it if I could pose with him and Gray, who charges for a picture a nominal fee that goes to a charity.  They both agreed, and I was happy.  Not so happy when I went back a few months ago and watched most of BUCK ROGERS IN THE 25TH CENTURY on Netflix Instant.  Some things are better left to childhood memories…
Bert I. Gordon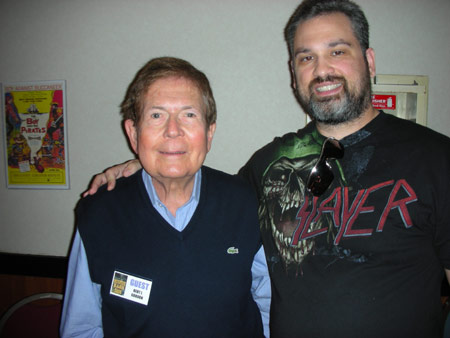 After a car crash with a deer and a lackluster convention in Monroeville, PA, X and I drove several hours to a Holiday Inn.  Why would we do this?  In part so I could meet Bert I. Gordon.  FOOD OF THE GODS is one of few guilty pleasure horrors, a full color example of Gordon torturing live animals placed on miniature set.  I got him to sign an 8×10 of the film's poster, which I later had Belinda Balaski sign.  Score 2 for me.
Linda Hamilton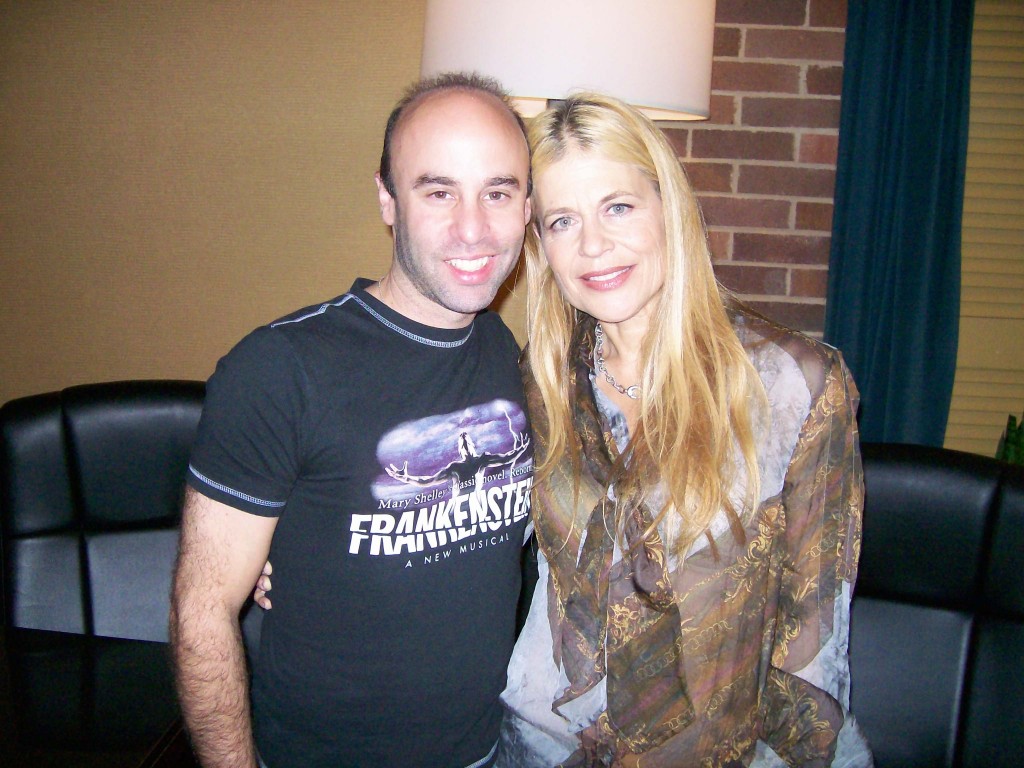 Linda Hamilton made out with every guy on line in front of us.  Honest to God.  X got his lip lock in turn.  Notice his smile.  Fortunately, he didn't get a cold sore a few days later.
Gunnar Hansen
Gunnar Hansen played Leatherface in the very first TEXAS CHAINSAW MASSACRE.  This gives him the honor of being the alpha movie maniac, over Freddy, Jason and even Michael Myers.  He's also a good guy to meet. He sells these neat blinking chainsaw pins, but sadly has no HOLLYWOOD CHANINSAW HOOKERS pics on his table.  And he signs, "You're next!" inducting you into his number of victims.
Bill Hinzman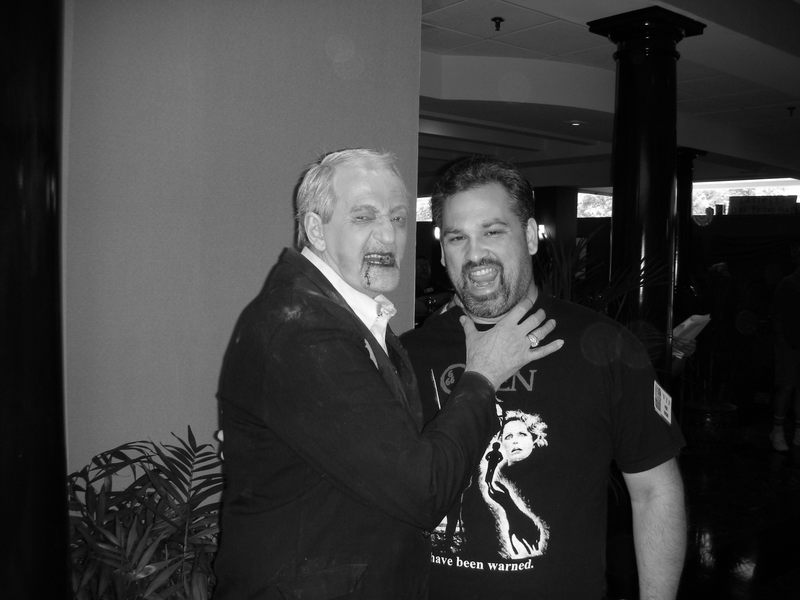 I passed on Bill Hinzman for a number of cons before I finally got him at a Chiller show.  Given I just did a whole retrospective on NIGHT OF THE LIVING DEAD, that surprises me.  I met him at a Chiller a few years into attending cons, but I was only really inspired when I saw someone else's picture with him online in black-and-white.  He was in full Cemetery Ghoul garb at the Monster Bash in Pittsburgh, PA, where we posed for this awesome shot.  Bill brings along copies of his play version of NOTLD, and FLESH EATER for sale at his table.  Buy them to see how much mileage he gets out of his iconic role.
William Katt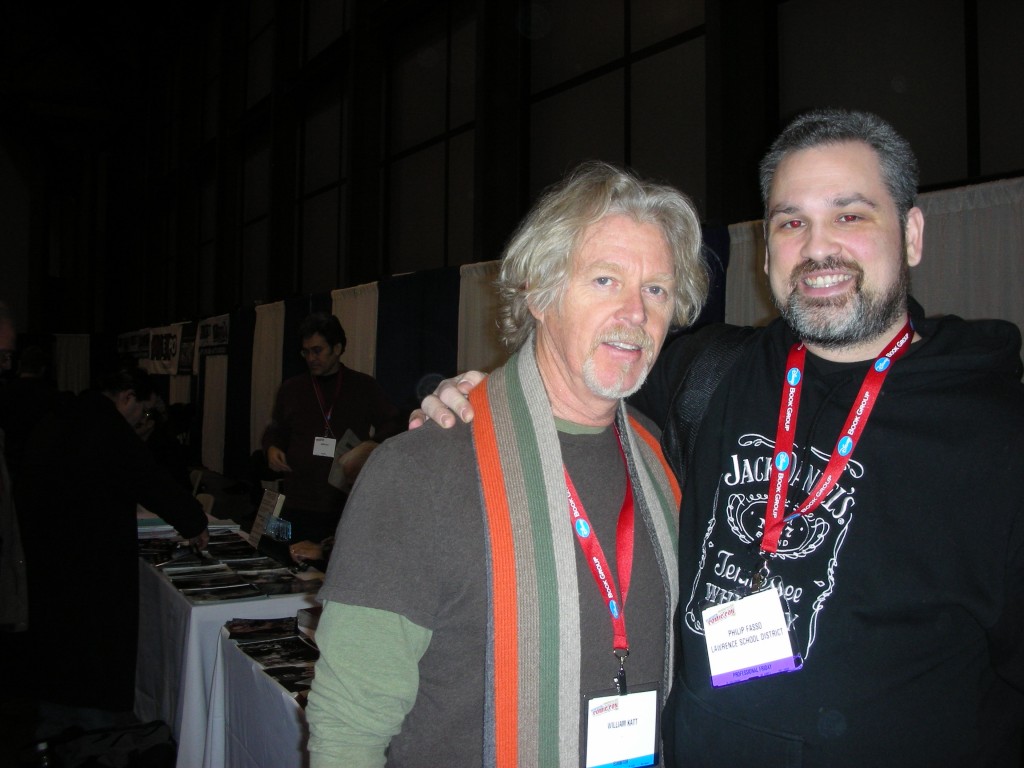 Meeting Michael Pare at Chiller recently made me question why he didn't have any Greatest American Hero pics on his table.  It also reminded me that I'd met the show's star, William Katt, a few years ago at the awful New York Comic-Con.  Katt was discussing a script for a comic (don't ask me) based on the show, and so I came back later.  Though a little unkempt, he was a nice guy.  NOTE: I also met Robert Culp at this show, shortly before he died.  Culp was charging for a pic, and so I have none with him.
Lloyd Kaufman and the Troma Team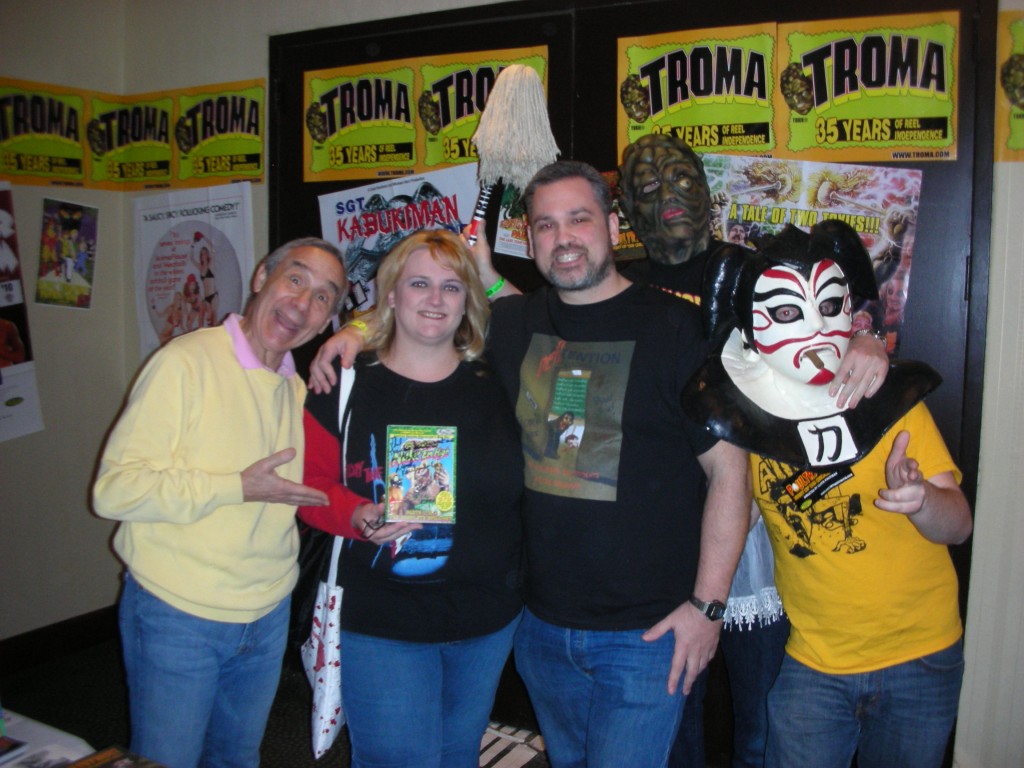 I'd seen Lloyd at a ton of cons- he's always on the road promoting Troma- but never had any real reason to meet him.  That is, until he inspired me to write a zombie comedy that could very well be the fourth CLASS OF NUKE 'EM HIGH flick.  By dint of fate, he was appearing at Monster-Mania just a few weeks after X and I completed DEADTENTION.  It sucks for X that he wasn't there to see me put the script in Lloyd's hands, but that's not my problem.  I was giddy on account that it's not every day I get to hand a script to the president of a studio.  As for Lloyd's hands, notice they're pointing directly at Nicole's huge chest, which Lloyd spent more time eyeing than my script.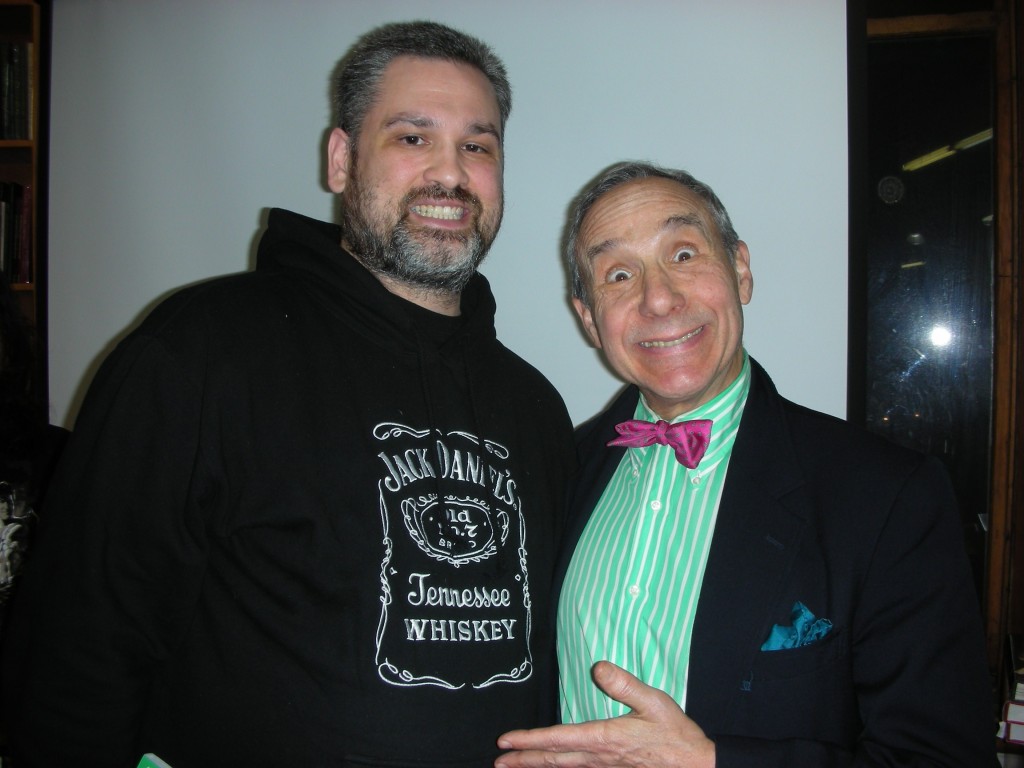 A few weeks later, X and I met Lloyd at the Strand Bookstore, in NYC.  As he signed my copy of Direct Your Own Damn Movie, he told us how much he loved the script, but didn't have a dime to make it.  That hasn't discouraged us yet, and Lloyd's still willing to play Principal Clark.
Our time with Lloyd wasn't over yet.  In August 2010, I won a low budget lunch with Lloyd.  I brought cheese sandwiches with us, as I was sure Lloyd would make us pay for lunch.  But to my surprise, Lloyd took us to a nice diner around the corner from the Troma studios.  I hate to bust Kaufman's cover, but he didn't live up to his reputation as a cheapo at all.  X and I had a blast, and it was a day I'll always remember.  Especially since it was a horrifying, rare clean shave day for me.
Will Keenan
Meeting edgy, brilliant Will Keenan was every bit as gonzo crazy as I'd hoped it'd be.  I've said tons about him in the Will Keenan Review Bonanza, but let me add this:  Upon meeting me for our interview, he told me he'd just left the company of Philip Seymour Hoffman, an Academy Award winner.  And he offered to cover my movie ticket for the NYC premiere of THE GHASTLY LOVE OF JOHNNY X.  I graciously declined.  That stuff makes Will one of the coolest guys I've ever met in my book.
Charlotte Kemp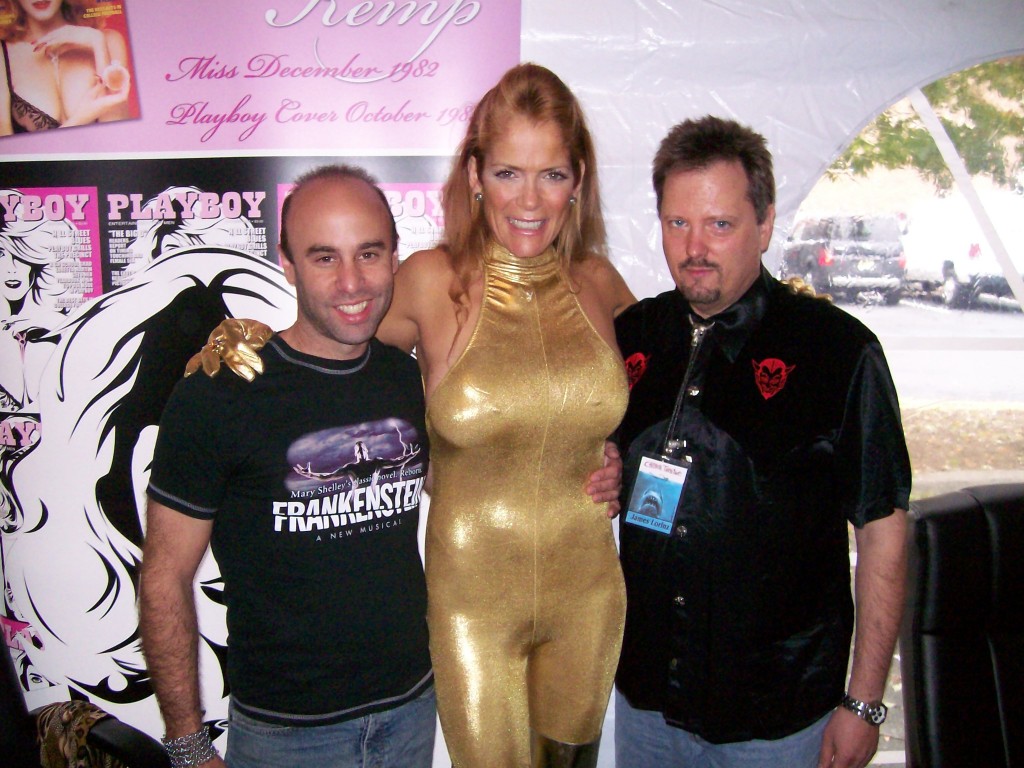 See X's huge smile?  That's because:  he's in a picture with James Lorinz, standing next to the beautiful Charlotte Kemp, and she's dressed like an Oscar.
Zora Kerowa
Zora Kerowa was born for one specific purpose in life: to die violently in Lucio Fulci movies.  She was great to meet, though she spoke broken English.  I applaud her choice of loud tie.
Adrienne King
I've met Adrienne King three times.  The first was at a Monster-Mania with a bunch of FRIDAY THE 13TH people.  The second was at a social gathering thrown by film teacher/ director Bryan Norton at his apartment in NYC.  The last and most infamous was at the Rock and Shock '09.  A friend had set me up to interview her that last time, but I gave him the recorder, figuring it would be a nicety.  After 3 hours and about six interruptions, he'd gotten her to answer two of the 13 questions we'd assembled!  And he called her "delicious."  I have it on tape.
Adrienne's a little flighty, but very kind to her fans, and was to me.  Just know you may not get the interview you expected.
Kathleen Kinmont
All I have to say is this:  I don't show the women I date this photo.  Any woman interested in me doesn't like this pic.  Which makes me love my meeting Kathleen Kinmont even more!
Gary Klar
As with Lori Cardille, I passed on Gary Klar when the DAY OF THE DEAD cast was in heavy rotation on the circuit.  Once I had a greater appreciation for the film, I couldn't wait.  And what a first meeting it was.  Gary has awesome stories from his long career in Hollywood, including acting with Robert Redford in LEGAL EAGLES.
Fate did me one better.  Not only did I meet Klar at the first Saturday Nightmares, but he was seated next to Joe Pilato.  The two spent the entire weekend goofing on each other, even as I was interviewing them.  Yes, Gary was kind enough to give me a lengthy interview, and take a copy of my script, DEADTENTION.  X and I have seen Gary twice since- at Chiller shortly after, and in NYC when he and Lori did a live Q&A.  If you have any love for Romero's Dead films, Pvt. Steel is a must-meet.
Oh, and he sold me the "Nice Hat, Asshole" hat I'm wearing in the photo. I proudly wear it in public.
Kristina Klebe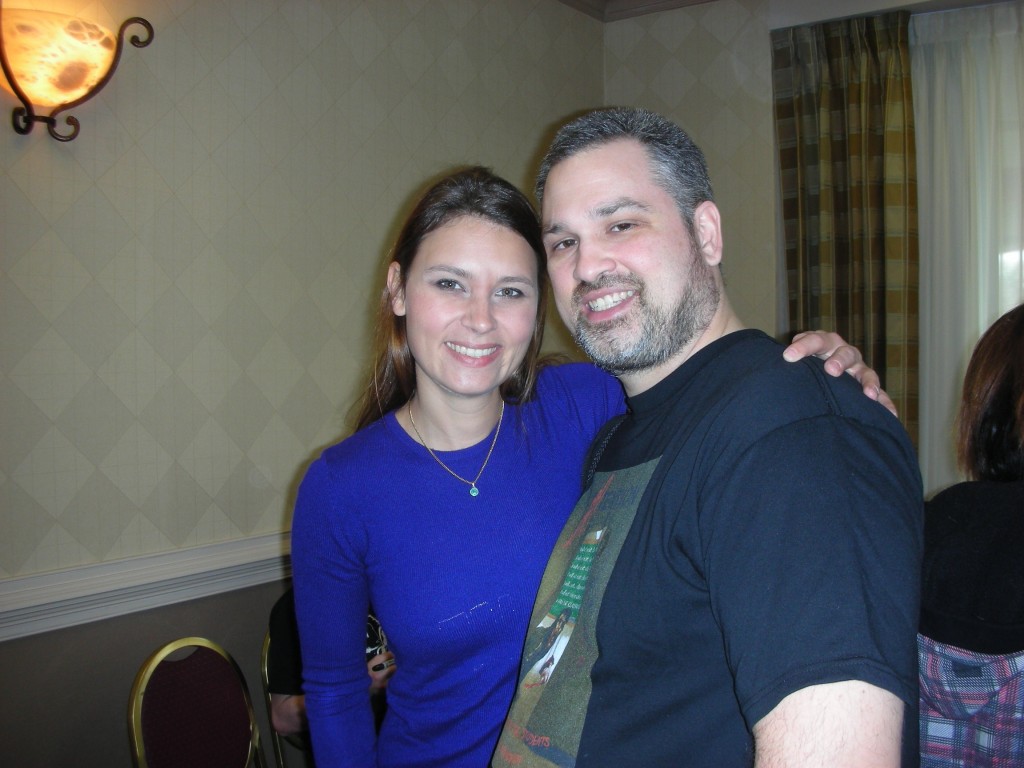 I met Kristina Klebe twice, which is a shock, considering how much I despise Rob Zombie's HALLOWEEN movies.  First at TFW, where she was seated with Danielle Harris and Scout Taylor Compton, and they signed a mockup of the three girls on the steps from Carpenter's version.  Then at Monster-Mania.  I was actually on line with Nicole and Jonathan Yuhas, who was waiting to get a poster signed.  I noticed she was missing an 8×10 of her and Slayer guitarist Kerry King that I'd seen in Texas.  She had one last copy tucked away, and explained to me he was on set to present the special Reign in Blood shirt he'd designed for her.  Klebe rocks, and she's a solid up-and-comer, even if Rob Zombie is a hack.
John Landis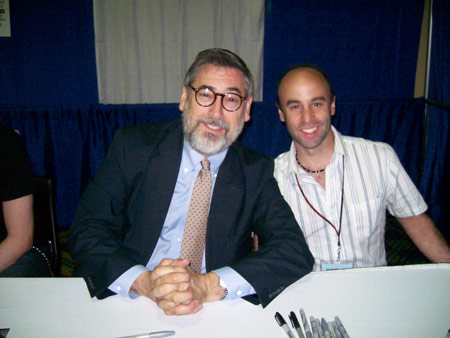 John Landis has a serious case of ADD.  He's hyper and it's impossible to pin him down to a point.  X and I had met him back at the Chiller Oct '05 con, as part of the MASTERS OF HORROR contingent.  He was part of the draw with the AMERICAN WEREWOLF IN LONDON contingent at the fateful HorrorHound Pittsburgh show that involved us hitting a deer.  He signed X's AWIL artwork.  This picture catches them both in good spirits.
Heather Langenkamp
I met Heather Langenkamp at a Monster-Mania years back.  Though I'm not a big ELM STREET fan, I'm a huge fan of her character Nancy.  Over the years I came to think that an interview with this intelligent, thoughtful actress would be great.  At my 10th anniversary Chiller, she proved me right.  She's a gracious woman, really nice to her fans.  And if you haven't seen her documentary I AM NANCY, you owe it to yourself as a horror fan.
Ari Lehman
Ari Lehman is one cool cat.  He's an easy going, piano playing, laid back dude, who just happens to be the First Jason.  And nobody can take that away from  him.
James Lorinz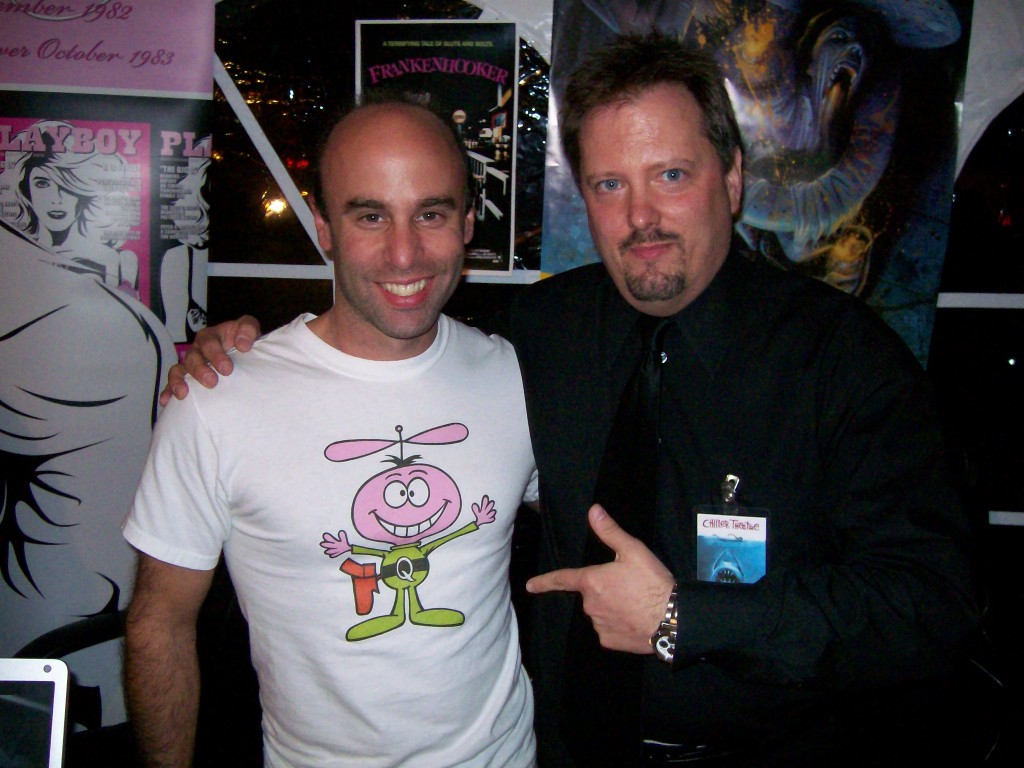 X is in love with Frank Henenlotter's FRANKENHOOKER, so it was a true joy for him to meet its star, James Lorinz.  Lorinz is a comic madman, always on point, and outright hilarious to meet.  He and X recently spent time together at the Cinema Wasteland con discussing DEADTENTION, in which Lorinz wants a lead role.  This shot is from their first meeting, at Chiller some years back.
Kevin McCarthy
Dashing and handsome even in his 90s, Kevin McCarthy was the main reason I went to that very first show.  My first inductee into the Hell of Fame, Kevin will always be my favorite guest meet.  There are a handful of celebs I meet every time I see them, and Kevin tops that list.  I hope he's in Heaven, and doesn't have to outrun pod people in the afterlife.
Catriona MacColl
Catriona MacColl is a classy lady.  Still very beautiful, and absolutely elegant.  I met her first at a Chiller show, and she was the highlight of the con.  Through my connection with Mike Baronas, I interviewed her at the Rock and Shock '09 show, and she gave me my best interview to date.  One moment sums up just what a lady she is:  When we sat down for the interview in the green room, she offered to get me coffee.  I told you she was classy.
Ian McCulloch
I'm not a huge fan of Italian zombies (I fall squarely in the Romero camp), but Ian McCulloch is the lead in a movie where a zombie fights a shark.  I enjoy that.  I was fortunate to interview Ian through email a few months before I met him, thanks to my friend Mike Baronas.  If you love Fulci, meeting Ian is a no-brainer.
Derek Mears
I have never seen a guest as hyped about meeting fans as Derek Mears.  Just about a month after the release of the FRIDAY THE 13TH remake, he was flying high at Monster-Mania, appreciative to the hilt that people would be so interested in meeting him.  I met him on Sunday morning, when he was so tired he started to write F13 stuff on the HILLS HAVE EYES 2 8×10 I'd chosen.  He then scribbled, "I'm an idiot," before starting fresh on a new pic.  A testament to just how great a guy Derek is:  he posed for pics at the bar with any fan who stopped him that Saturday night, and didn't charge a penny.
Dick Miller
Dick Miller is an old pro from the Roger Corman school, and Joe Dante's good luck charm.  He appears in THE HOWLING, and that was reason enough for me to meet him.  He's a little pricey, but a nice guy.  And he's got one killer beard in this pic.
R. A. Mihailoff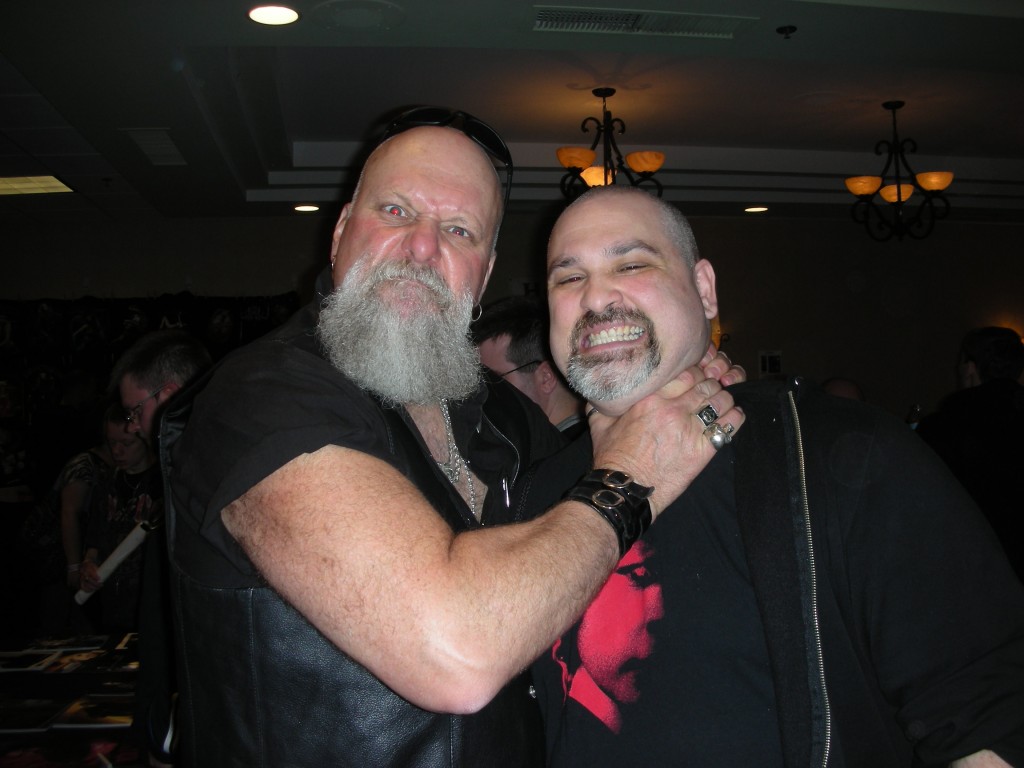 To look at him, R.A. Mihailoff is one scary dude.  I'm 6'1″ and 240 lbs, and he dwarfs me.  Plus, he dresses like a Hell's Angel, and has an  insane gray beard.  But here's the thing:  R.A. is the nicest guy to meet!  He's friendly, quick to joke, and as nice as a peach pie on a hot summer day.  I met him a few years back at Monster-Mania, and didn't ask him for an interview.  This past weekend at Mad Monster Party, I corrected that, and let me tell you, R.A. gave great answers.  If you have any love for LEATHERFACE, you owe it to yourself to meet him and get his autograph.
Bill Moseley
Bill Moseley is easier to find at a convention than a Big Gulp at 7-11.  He does scores of shows, and is a popular draw.  He's also a cool guy, if a little offbeat.  I met him twice.  The first time, I bought a Chop Top 8×10, and had him sign the "Lick my plate" line.  The second time was much more recently, where I bought a NOTLD 90 pic of him as Johnny just so X and I could try to get him a script for DEADTENTION.  A good union man, he wouldn't accept it.  That's cool.  He probably couldn't fit filming into his con schedule anyway.
Caroline Munro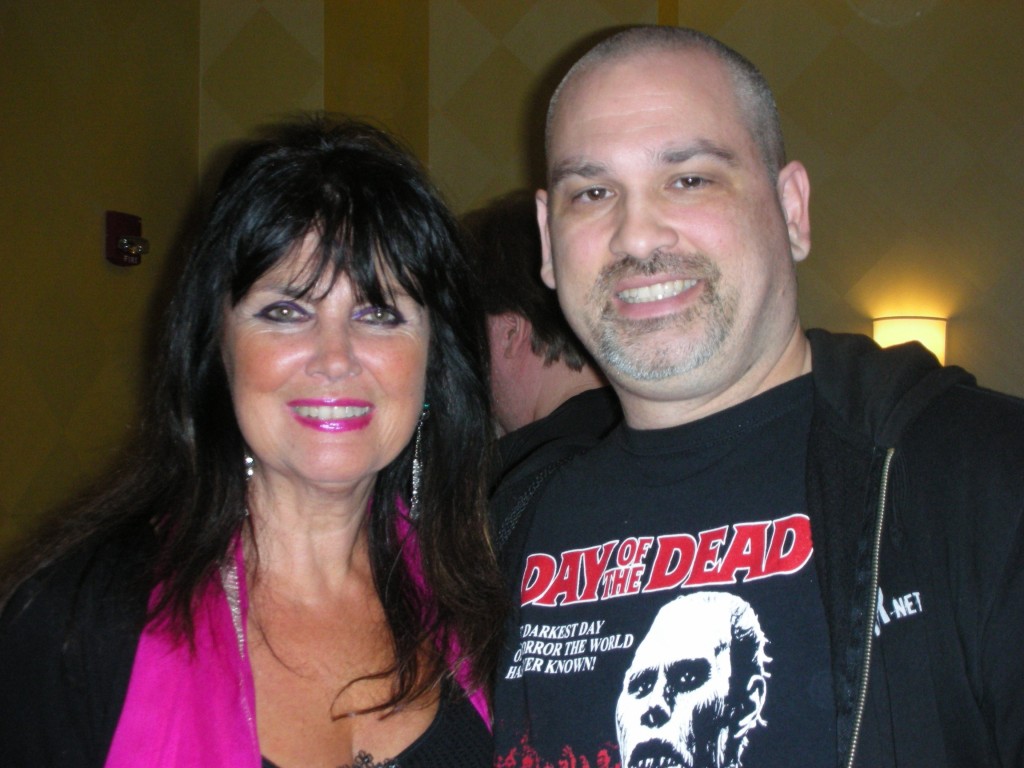 Caroline Munro was one of three guests I met at that first Chiller.  I was starstruck the first time, especially when we talked about MANIAC, and her work with Joe Spinell.  Back then I didn't yet have a digital camera.  So I was thrilled to meet her at my most recent con, have her sign a MANIAC piece already signed by Savini and William Lustig, and get that picture with the still beautiful star.
David Naughton
Okay, I admit it.  I zinged David Naughton.  He'd skipped out or left early on a few cons in a row when I was going to meet him.  So I decided to wear one of my many HOWLING shirts, which he instantly made note of.  I also chose an 8×10 off his table that's not actually of him, but a Rick Baker special effect.  David was in good spirits about the whole thing, as the photo shows.  We've met him since, and he's a nice guy.
Robert Nolan and Canadian Directors
I've been intrigued with Robert Nolan since I saw him months back in two short Canadian films, FAMILIAR and WORM.  Fortunately, Robert made an appearance at last weekend's Macabre Faire Film festival, and was kind enough to grant my very first on-camera interview.  Directors Alfredo Salvatore Arcilesi (on left) and Ryan M. Andrews were both on hand promoting their films, which starred Nolan, so Robert invited them into the interview.
Robert's got a quirky sense of humor, and was a great guy who gave me some insight into indie filming in Canada.  And when the two directors hopped in, it made for one raucous time, all captured on film by Michael Stever.
Judith O'Dea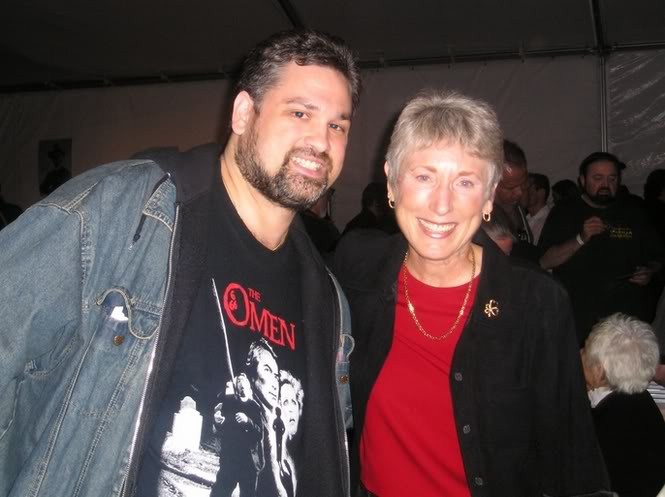 I met Judith O'Dea seconds after my first awesome meet with George Romero.  She's an eloquent lady, and was thrilled at how geeked-out I am over NOTLD.  She signed the 8×10 I'd gotten from Russ Streiner at Horrorfind and had just gotten Romero to sign.
We met again at TFW '08, where I had her sign my banner.  We had a lively discussion in defense of Barbra, which inspired my recent Piece By Piece article.  A must-get for any NOTLD fan.
This past weekend at Chiller, Judith was gracious enough to grant me an interview.  It's my favorite from the entire Romero Retrospective, and that's saying something.
Betsy Palmer
Betsy Palmer is a randy old lady.  Sweet as pie, but she does like the young men.  If only I could find the pic with her and X, where she wears the famous sweater from FRIDAY THE 13TH.  And mauls X on camera.
Joe Pilato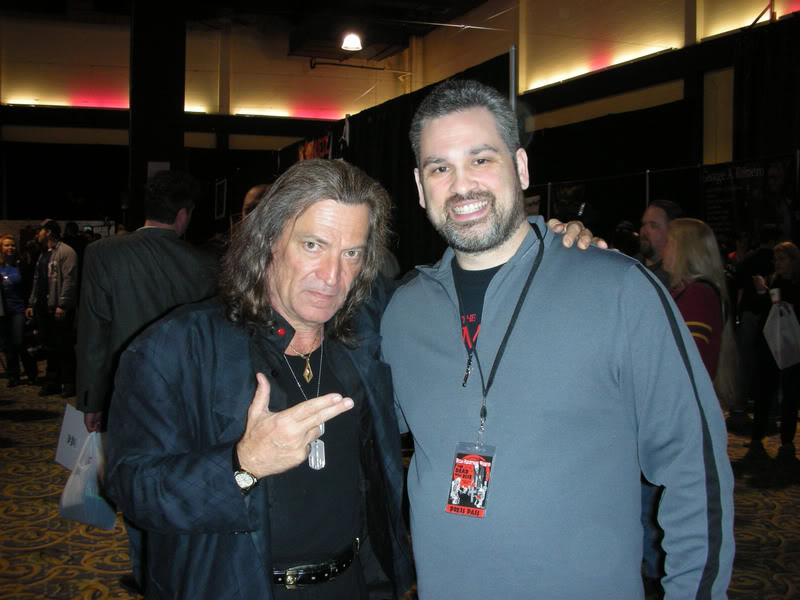 I'll never forget the first time I saw Joe Pilato in person.  It was when I was on line for Romero for the first time.  Pilato should've been at his table, but he'd decided to exit the tent and warm up Romero's crowd.  AT TOP VOLUME!  Because AT TOP VOLUME! is the only way Pilato does anything.  I remarked to X, " I can't stand that loudmouth asshole!"  This was when the whole DAY OF THE DEAD group was making the rounds, so I ended up saying this a number of times in a number of states.
And then, something happened.  The more I watched DAY, the more I… fell in love with Joe Pilato.  Capt. Rhodes became my dick thumping hero, and Pilato shot toward the top of the must-meet list.  And man, he didn't disappoint.  At Texas Frightmare, Joe lived up to my every expectation, spewing loud obscenities across the convention hall.  He signed an 8×10 "They're dead!  They're fucking dead!" much to my delight.
Even cooler, at the Chiller in April '09, Pilato took a copy of DEADTENTION.  X and I were passing it around, and knew we needed to get him a copy.  After watching Pilato making fun of some 8-year old Yankee fan in front of us, I placed it in his hands.  Months later, as I was sitting home on a hot August night, my home phone rang.  I didn't recognize the number, but I recognized the voice.  It was Joe Pilato!  He'd called to tell me he loved the script and wanted to star in it if it ever came together!  Those 20 minutes on the phone were golden, and I will never forget them.
I last saw Joe at the first Saturday Nightmares, sitting next to Gary Klar.  Joe gave me one awesome interview, and a lifetime of awesome memories.  And yes, he's still running the monkey farm.
David Prowse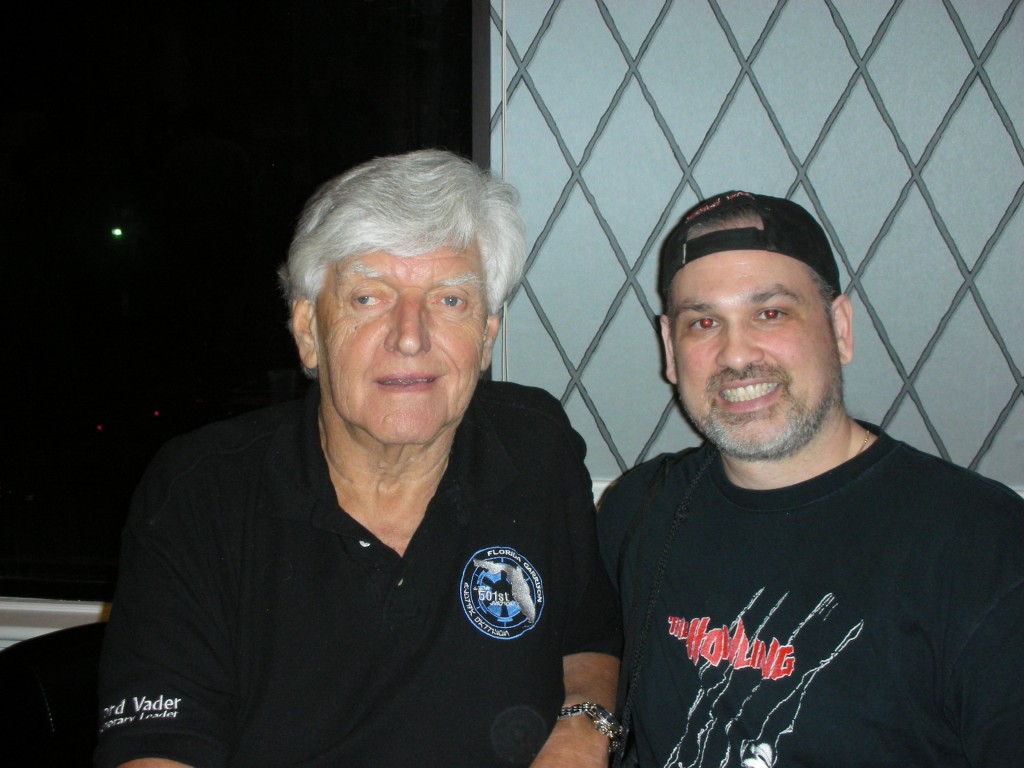 He's old, not quite as tall as I had thought he would be, one of his eyes goes a little off center, and he's got leg braces.  But hey… he's Darth Vader!  David Prowse was another guy I'd wanted to meet for years, and he'd cancelled out on a few shows in the past.  Fortunately, he made it to Mad Monster Party, where I met him this past Friday.  A genuinely nice gentleman who has a slew of great Darth Vader 8×10's, as well as a few from his other famous films.  And no, he does not carry a lightsaber to the convention.
Judith Ridley
After years of avoiding the con scene, Judith Ridley finally joined the circuit at the 2nd Living Dead Festival, at the request of Gary Streiner.  Like most Romero folk, she was very nice, and still a nice looking lady.  Gary was going to set up an interview for me, but my trip got cut short.  Hopefully I'll get to ask Judith some questions down the road.
Debbie Rochon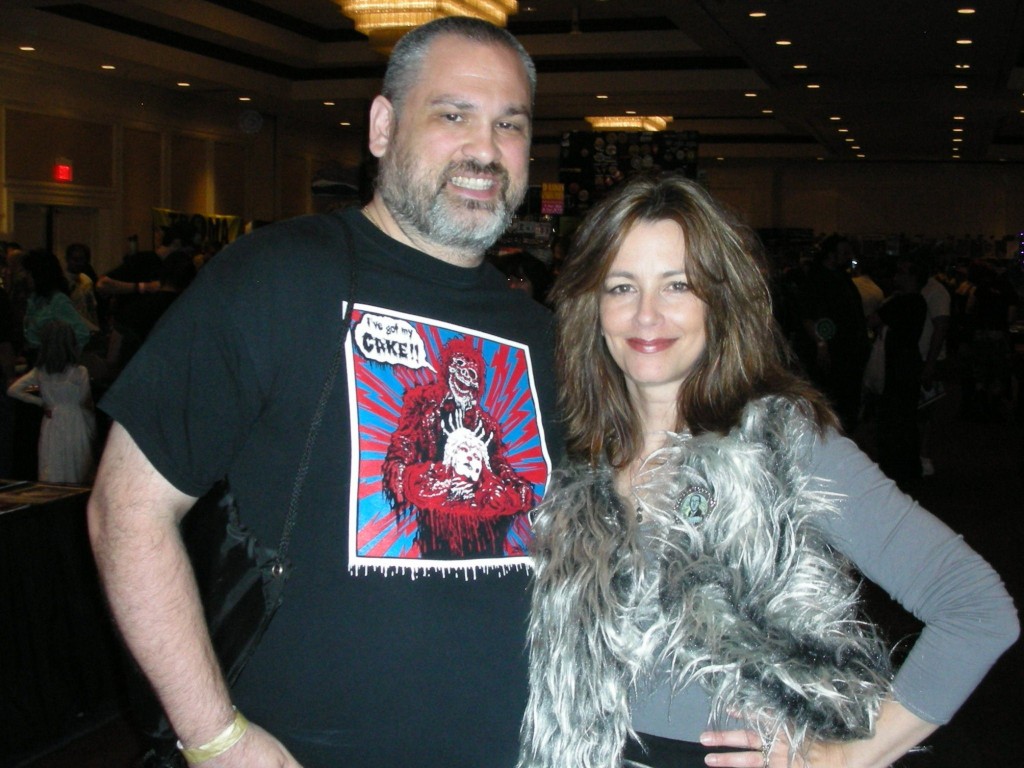 At the second Saturday Nightmares show, I finally met independent film goddess and Troma staple Debbie Rochon.  I'm embarrassed to say I'd snubbed her a few months back at Monster-Mania, because she only had pictures of her most recent film effort she was promoting.  Fortunately, she had great pics at SN, including the one I bought which is an homage to the THEY CALL HER ONE EYE poster art.  Debbie's one cool scream queen, and a unique personality, that's for sure.
George Romero
I'm a disciple of George Romero.  It's not often in life that I get to meet someone who's a legend.  In fact, I've met him several times, and I still get giddy like a schoolgirl every time.  For a while in '04/'05, he was cancelling out on conventions right and left, but at Chiller's October '05 show, he was there, and provided my greatest convention story.
X and I hop on line as soon as we got to the con, and there are maybe only 15 people in front of us.  We still wait about an hour, because Romero is spending plenty of time with each fan.  We're down to one guy in front of us, when some autograph seller comes over and cuts the line.  He's got a deal worked out with Romero's agent Chris Roe, so George agrees to sign some stuff.  The whole line starts to groan.  This seller pulls out a book with about 1,000 photos in it.  Romero starts to sign, and this guy has Post Its all over the 8×10's.  He wants Romero to sign some of these pics in 4 different spots, in specific marker colors.  People on line are getting vocal with their annoyance.  Romero then says, " Look, this is gonna have to wait.  We can do this after the show tonight, in my room.  I'm here to meet the fans, and signs things for them, not you."  The guy pushes the book of pics toward Romero, who barks:  "If you don't get that book out of my face I'm going to get up and shove it up your ass!"  The line erupts into wild applause.  With that one gesture, I acknowledge that Romero is a god.
Gaylen Ross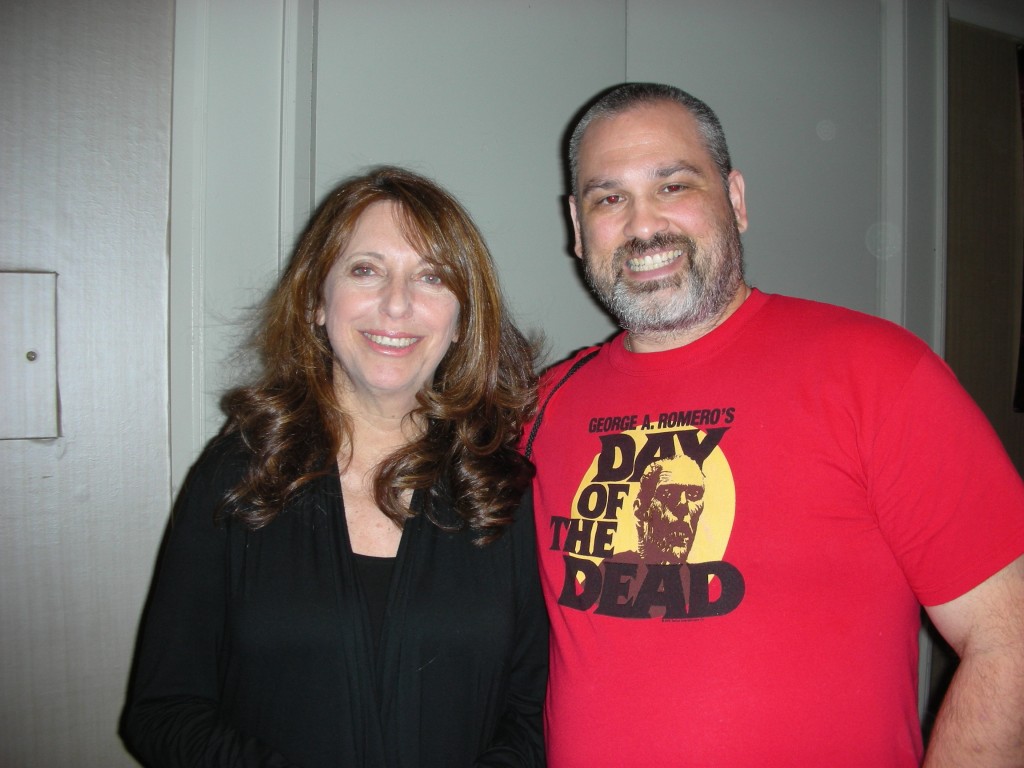 Meeting Gaylen Ross was an, ahem, interesting experience.  I got her to sign my DAWN OF THE DEAD 8×10 with all four principals.  She had nasty things to say about her other horror flick MADMAN.  I asked her for an interview and she said, "I'm not doing any press this weekend!"  And later, when I went back to get a CREEPSHOW 8×10, she went on a sojourn to find out her character's name.  This would've been odd enough, but then she invited in Tom Savini, who didn't remember ANYTHING about CREEPSHOW.    Not exactly the best of experiences I've had with a Romero alum.
John Russo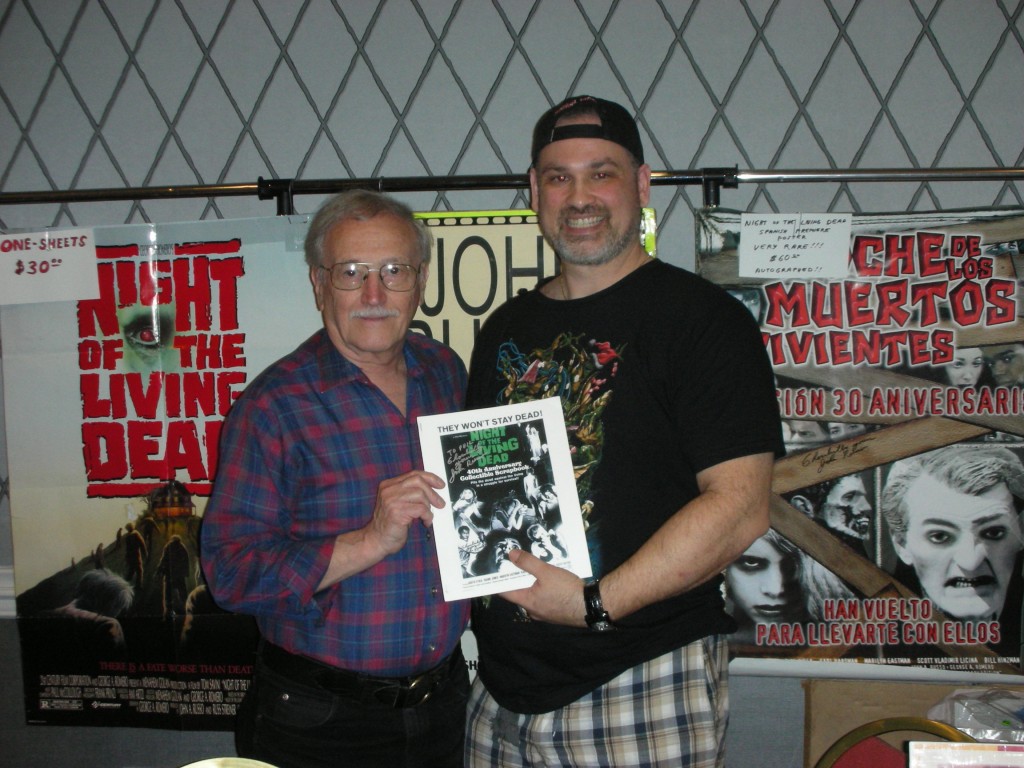 John Russo is the only horror celebrity who's ever accused me of cock blocking him.
I've met Russo more than once, and he's certainly his own man.  He's the only person on the circuit who sells grave dirt from the Evans City Cemetery and cancelled checks from Image Ten.  When I met him again recently, he gave me an interview that only John Russo could give.  But none of that is the real story.
My most vivid experience with Russo came at a Chiller.  X and I had just written DEADTENTION, and when we saw Russo in the hotel bar that Friday night, we sought him out to ask him about getting it made.  This was his response:  "Look, guys, I'm down here to get laid. If you want to talk about filmmaking, come by my table tomorrow."
I'm sure X and I weren't the only things preventing John Russo from getting laid that night.
Chris Sarandon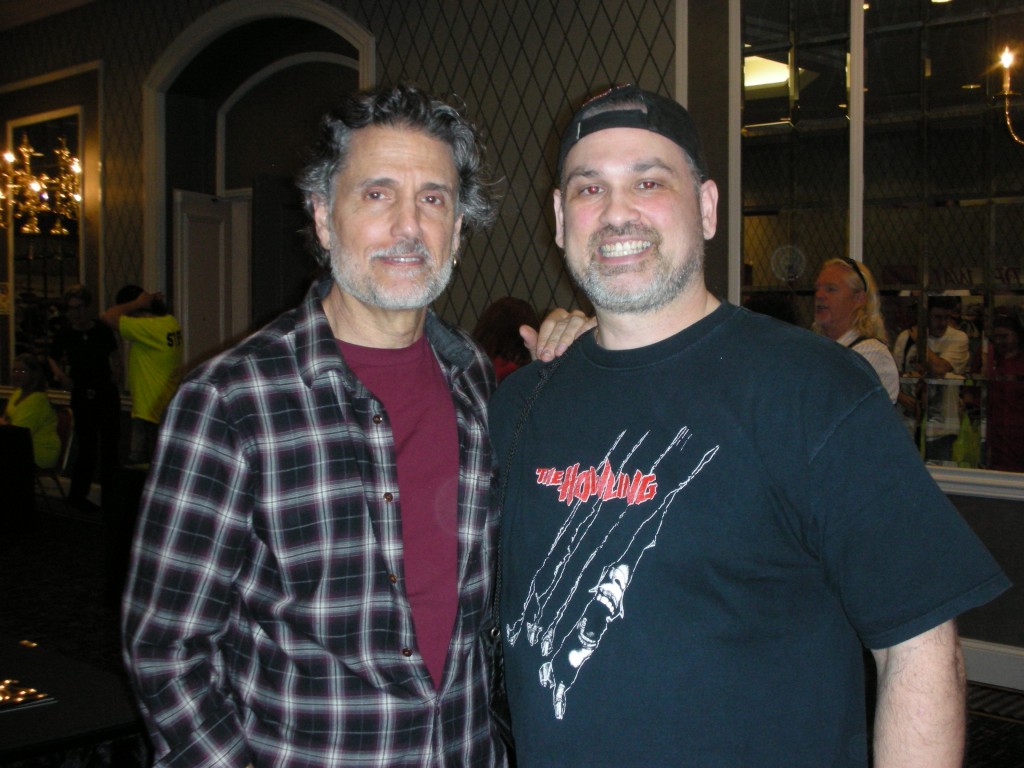 About 5 or 6 years ago, Chris Sarandon did a convention appearance in my area.  With all the shows I've been to, I missed him at that one for some reason.  I then proceeded to miss him at several other shows, including last April's Chiller.  For a while after I met Joe Dante, I considered him my top get, even if X said I was wrong.  This past Friday at Mad Monster Party in Charlotte, NC, Chris Sarandon finally got his chance to meet Phil Fasso.
Sarandon is a nice guy, but I got a very businesslike vibe from him.  Nothing I can put a finger on, but hey he was polite and said he was grateful we finally got to meet, once I told him how I kept missing him.  He had a number of great 8×10's, including two shots of Prince Humperdink from THE PRINCESS BRIDE;  I bought the one with the crown.  FRIGHT NIGHT, CHILD'S PLAY and NIGHTMARE BEFORE CHRISTMAS fans- X among them, as he purchased a Jack Skellington 8×10- won't be disappointed.  Though those who dig THE SENTINEL— myself included- won't find any pics from that, as he hates the film.  I'm just jazzed Sarandon finally met me.
Kyra Schon
I'd passed on Kyra at a few earlier conventions, but she was one of the reasons I made my inaugural trip to Pittsburgh, so I could meet her at the Monster Bash '07.  She was really cool, and wrote "I hurt" on one of the two 8×10's I bought from her.  A must get for any NOTLD fan.
Tracy Scoggins
Another beauty who's held onto her looks.  I met Tracy at the I-Con at my alma mater, SUNY Stony Brook.  She had an assortment of cheesecake shots, which is probably why I can't remember if she had any DEMONIC TOYS pics.  I got one of her on a sandy beach.  Pretty hot.
Howard Sherman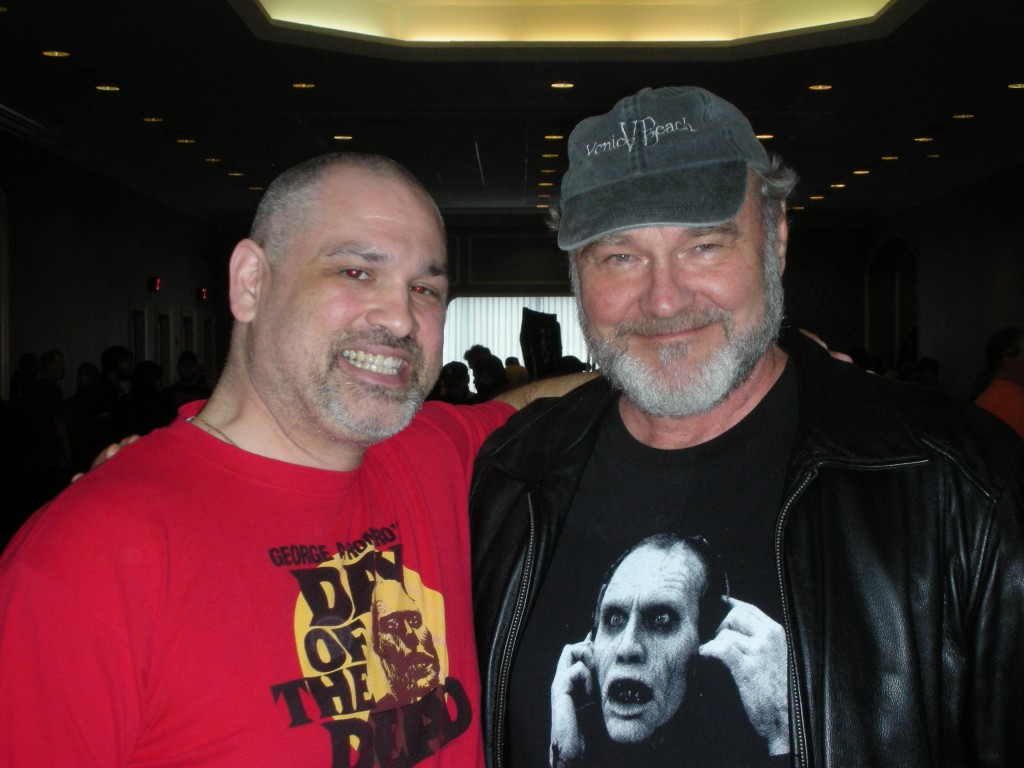 Another great guy in the ongoing Romero Retrospective, and another great interview.  Years before I had a website or any web presence, I met Howard Sherman, and loved that he and I agreed on DAY OF THE DEAD.  This past weekend at Mad Monster Party, I chatted with Howard a bit more in depth.  I thank him for his insights, and his kindness.
Tiffany Shepis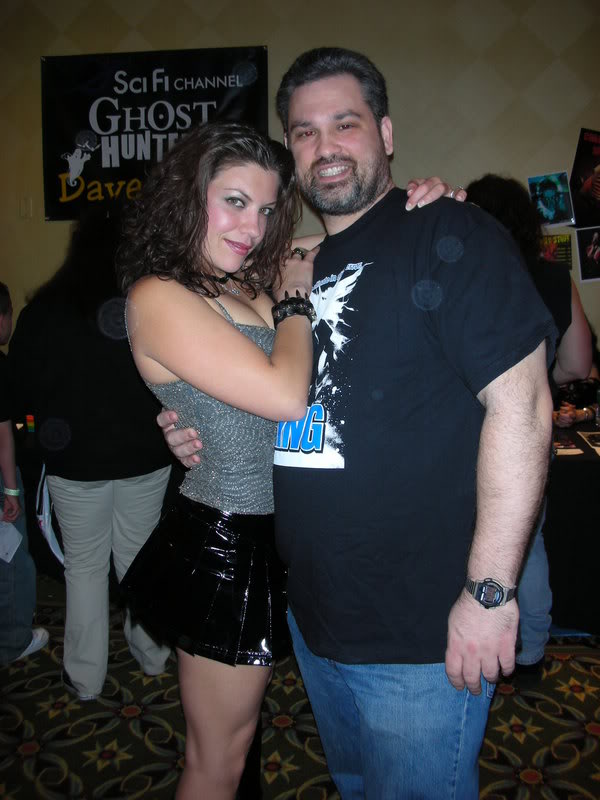 I love me a scream queen hottie in a tight black leather skirt.  And Tiffany Shepis definitely fits that bill.
Harvey Stephens
My favorite horror flick has always been THE OMEN.  Meeting the Anti-Christ himself was the main reason I went to the TFW in Dallas.  Harvey was an absolute flirt with Kristina Klebe, and signed "666" within the "D" in "Damien" for me.  But not for X, because he didn't make the trip.  I hail Satan even more.
Harvey was kind enough to be my first interview, which I wrote out in text for Icons of Fright, and I thank him kindly.
Amy Steel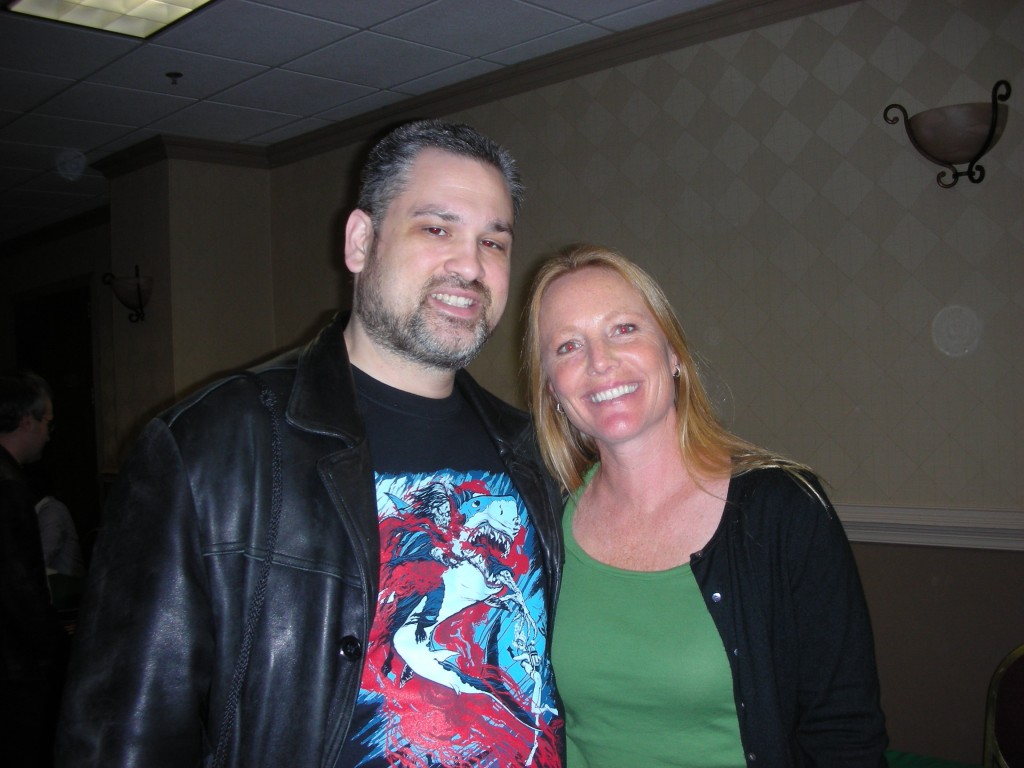 Amy Steel is the "final girl" in my favorite FRIDAY THE 13TH film, PART 2.  Though I don't dig the Jason flicks nearly as much as I did in my teenage years, this entry is the best, and Amy was great in it.  She's even better in person, and if you love Vorhees, you'll want to meet her.
Michael Stever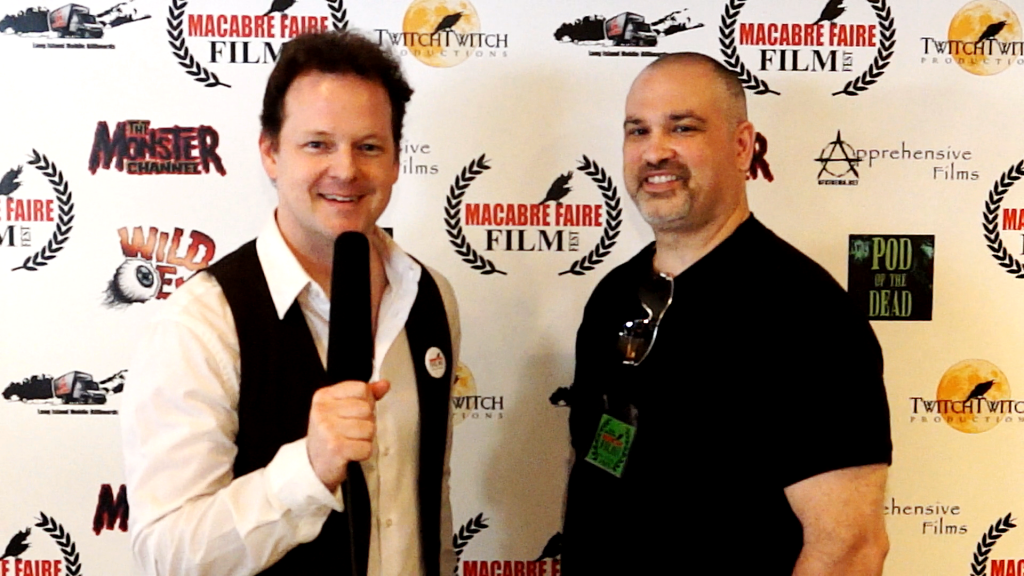 I've been in contact with Michael Stever since he directed a behind-the-scenes documentary on the first Saturday Nightmares show.  It took three years for us finally to meet, but meet we did at last weekend's Macabre Faire Film fest.  Michael occasionally contributes to DE, so this may be a cheat;  but he's a filmmaker, and was at the fest to promote RESURRECTING CARRIE, his short doc.  So being that I run DE, I say he counts.  And he's a good guy too.
Gary Streiner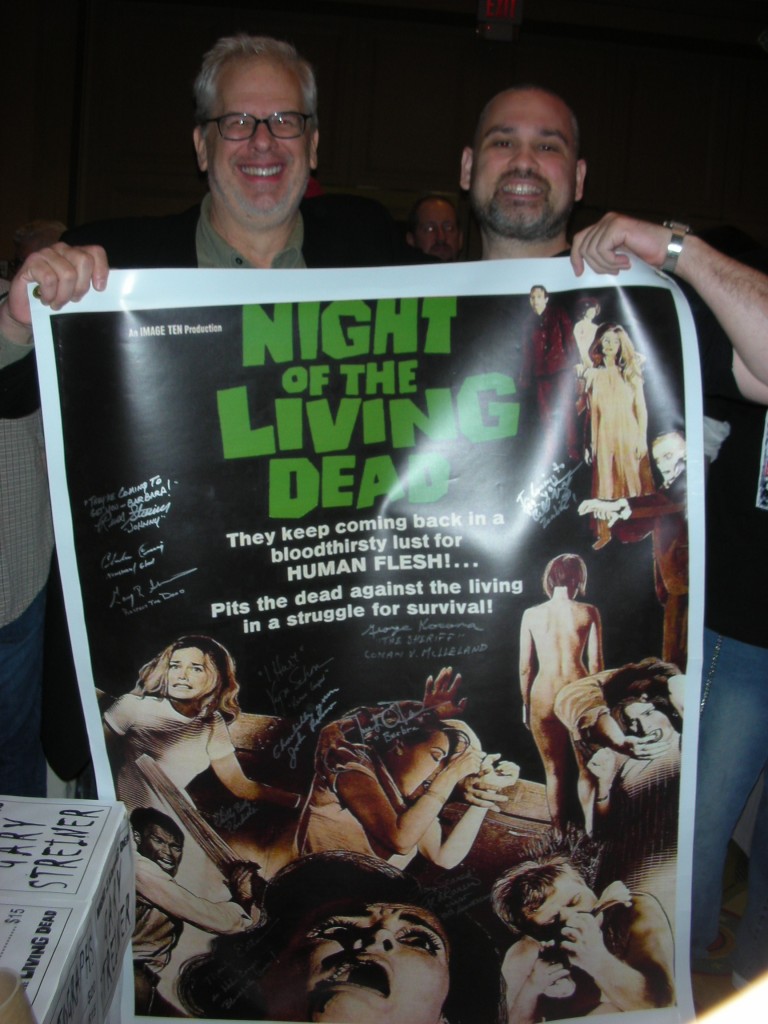 My gig as an internet horror writer has privileged me with the opportunity to support some causes over the years, one of which was the second Living Dead Festival, in Evans City, PA.  I met Gary Streiner at Chiller, when he was promoting the con.  He wasn't in the same room with the rest of the NOTLD people, so when X and I asked his brother Russ where he was, Russ called his cell and found out for us.
Gary is more than just a convention guest to me;  he's a friend.  The Streiners are a great family, not a bad apple in the bunch, and Gary is an extraordinary human.  His invite to the LDF provided my first visit to Evans City, where NIGHT OF THE LIVING DEAD was filmed, and he got every guest at the show who I hadn't already met to sign my banner, which I'm holding in the picture above.  I thank Gary for being my friend.
Russell Streiner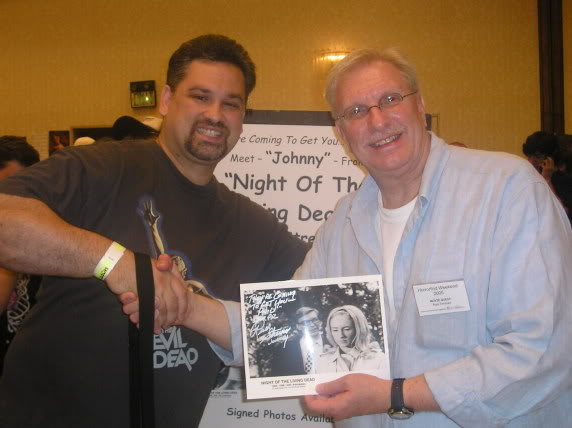 Russ Streiner was the very first NIGHT OF THE LIVING DEAD celebrity I ever met.  I thought it was the coolest thing at the Horrorfind Weekend in 2005 when he wrote "They're coming to get you, Phil!" on the 8×10 he's holding, which is my favorite of all my 8x10s.  It was even more awesome when Judith O'Dea signed the same pic and wrote, "They got you, Phil!"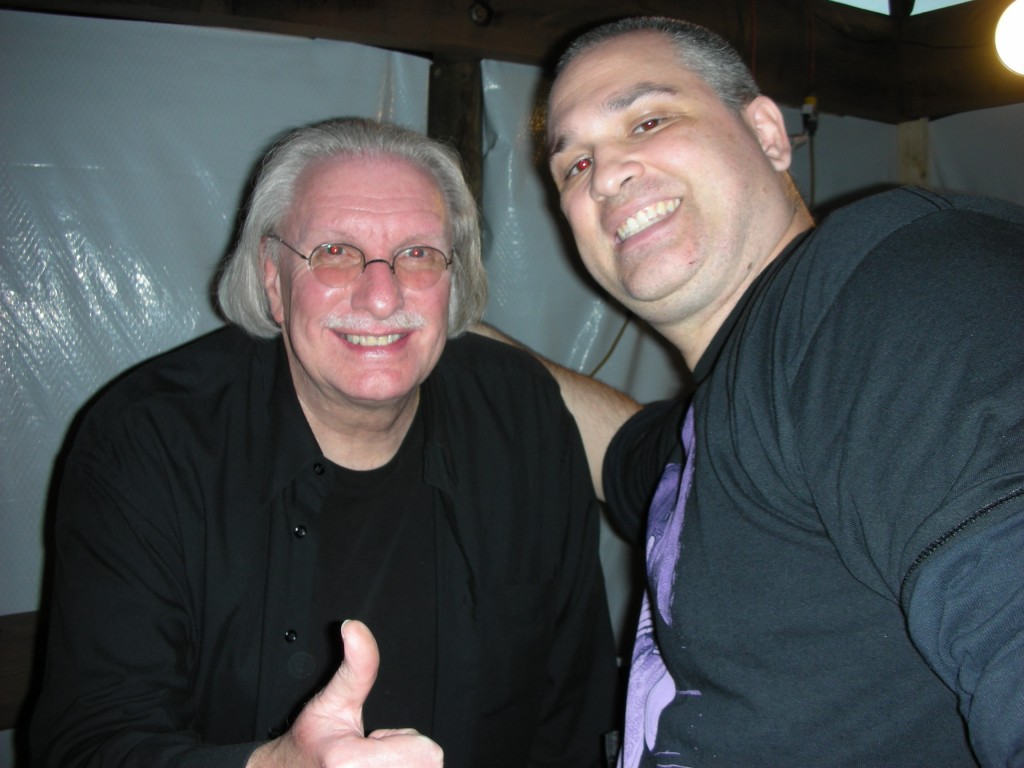 I interviewed Russ over the phone to promote the Living Dead Festival, and he was very happy to see me at the con.  When I told him the story about how he and Judith signed, he kindly offered me a complimentary 8×10.  This time, he wrote: "They're still after you, Phil!"
Russ' kindest act of all came at Saturday Nightmares 2010.  When Russ read on Icons of Fright about my mom's NOTLD story, he offered to toast in her honor.  He, Gary and I raised Diet Cokes in Mom's memory, and this was the most meaningful thing that's ever happened to me at a convention.  I love the Streiners, and with good reason.
Kiefer Sutherland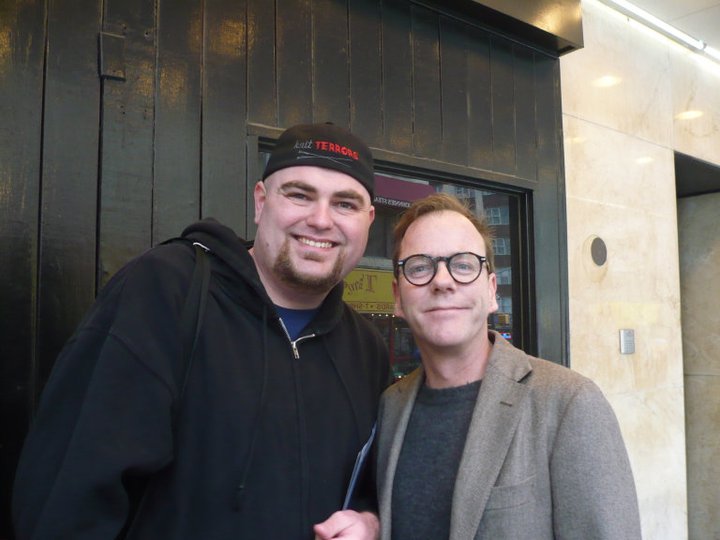 In 2011, I ventured from MD into the Big Apple to meet one of my all time favorite villains. None other than Kiefer Sutherland, David from THE LOST BOYS. It was gamble whether or not the crew and I would get him. Street meets usually are, but it worked out. He crossed the corner and my heart started to skip a beat. He said 1 item only, and signed my photo already signed by Brooke McCarter and Billy Wirth (later completed by Alex Winter). We took a photo and I told him I made the trip just for him, he shook my hand and said "Cheers mate, thank you!". Definitely a moment I'll never forget.- Chadworth
Lea Thompson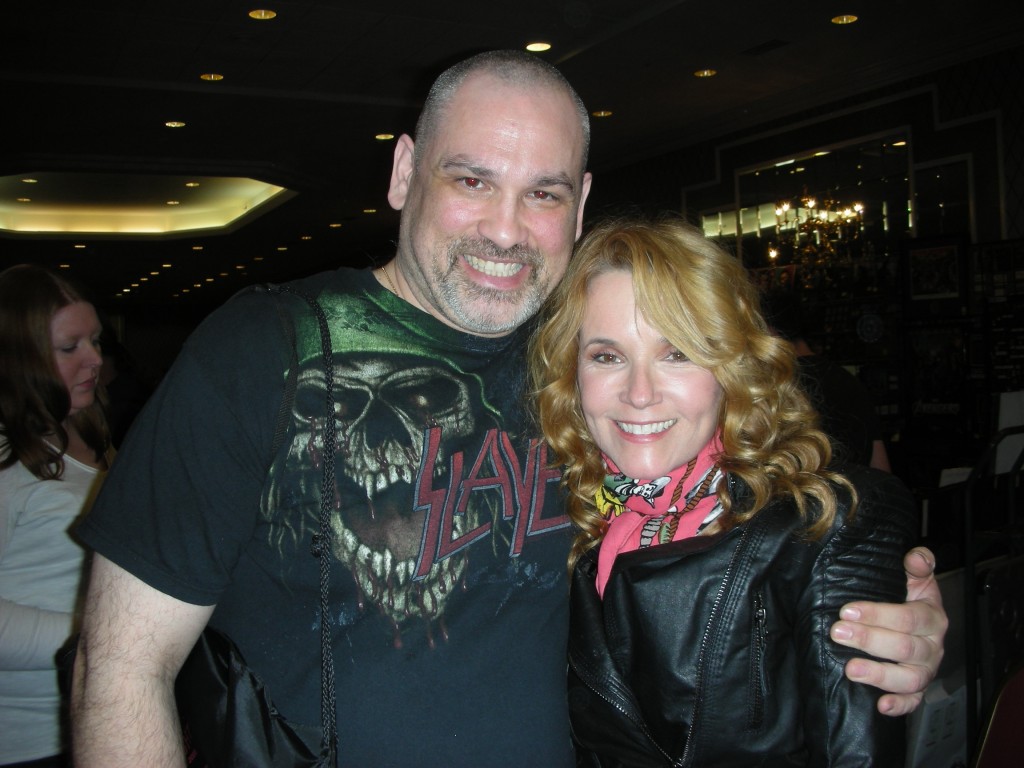 Lea Thompson.  Oh my God, Lea Thompson hugged me.  Oh my God, Lea Thompson hugged me.  Oh my God, Lea Thomp…..
Mark "Beef Treats" Tierno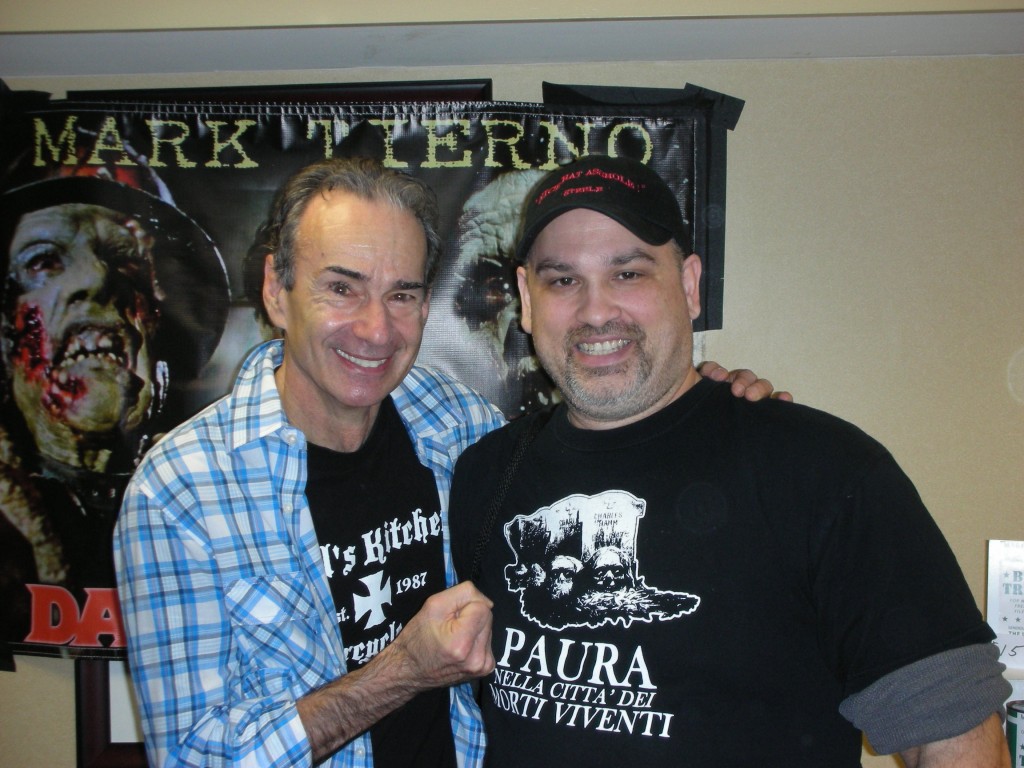 While X was off being interviewed for some reality show by a guy he graduated college with, I was in my glory meeting yet another Romero alumnus, Mark "Beef Treats" Tierno.  He signed my 8×10 "Nice hat, asshole!"  He also took a DEADTENTION script from X and me, which he was extremely apologetic for not having finished when we met him again at Saturday Nightmares 2011.  I forgive him.
Tom Towles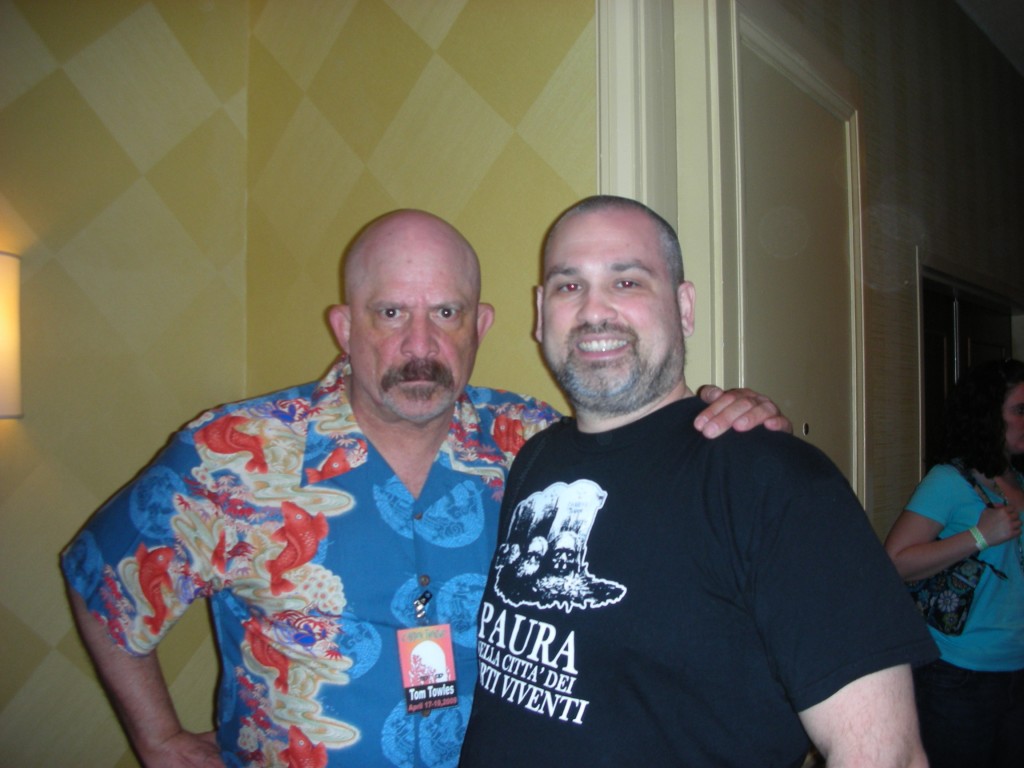 Me:  Tom, don't take this the wrong way, but you did a great job (in NOTLD 90) of playing a prick.
Tom:  Actually, that's the highest praise you could give me.  When you play the villain in a movie, you want people to hate you.  Thank you, Phil.
Now that's a real man.
Mark Torgl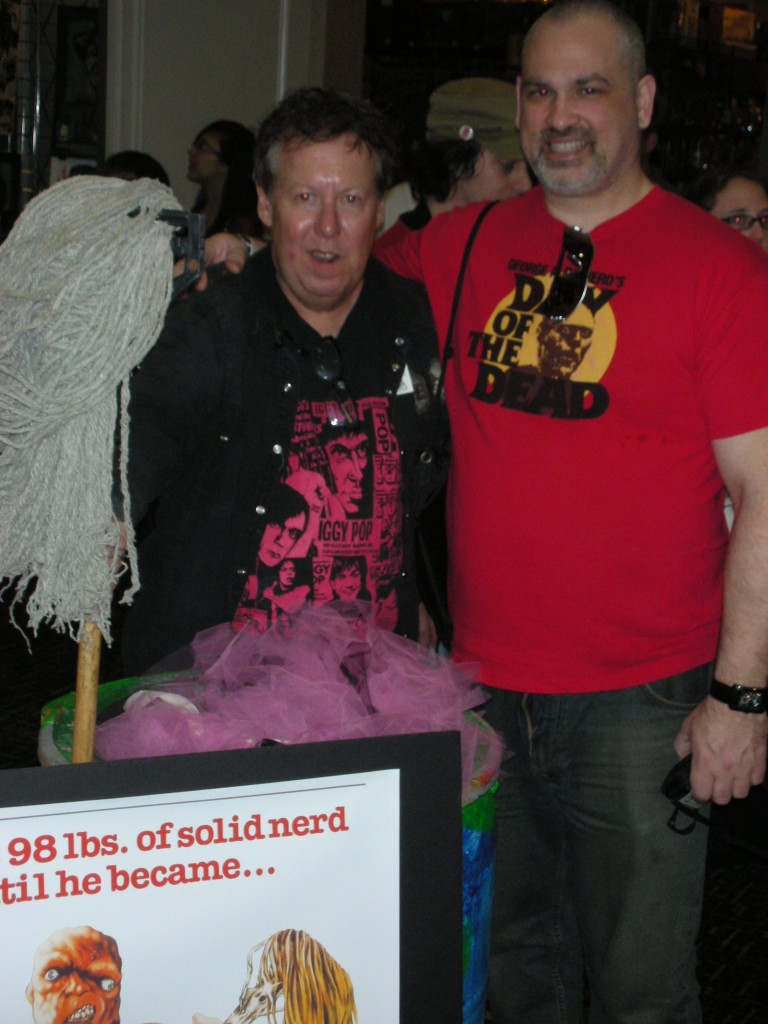 As a guy who won a free lunch with Lloyd Kaufman (and yes, he actually paid), I knew this past weekend I had to meet Mark Torgl, the actor who played Melvin in the first and fourth TOXIC AVENGER flicks, and the true reason behind the success of Troma.  Mark was making his very first con appearance, and kindly allowed me an interview.  He's also the only celeb who's ever asked me to appear in a teaser for his new film (I'll let you know how that pans out).  Melvin lives!
Dee Wallace
It was hard for me to choose which pic for Dee, as she's one of the few celebs on the "meet every time" list.  She's not on the list just because she's in so many movies I love, though that's true.  It's because she's one of the loveliest people I've ever met.
Fred "The Hammer" Williamson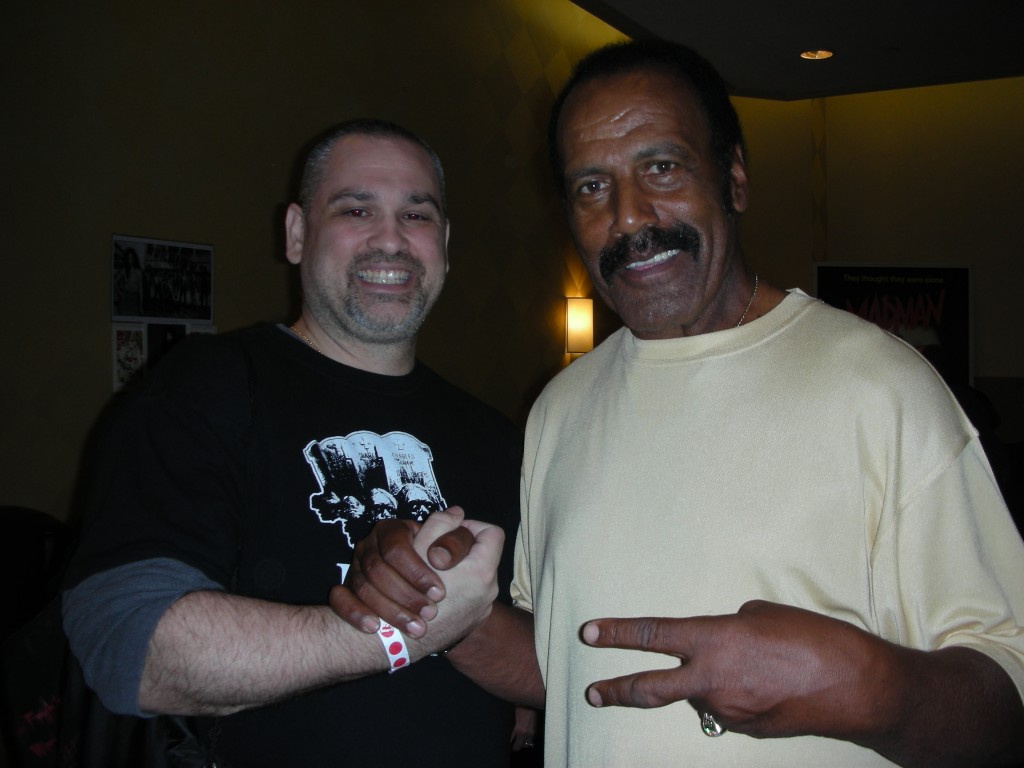 Hammer was one of those people I always wanted to meet, given my love of blaxploitation.  But for a time, he was with an agent who was overcharging, and wanted money for a photo.  Then I went to meet Richard Roundtree and found out what real gouging was.  Fortunately, at that same Chiller, Hammer was charging $20 for an 8×10 and nothing for the picture.  I'm now even a bigger fan of Fred "The Appropriately Priced Hammer" Williamson.  He's a fun guy to chat with, and what you see is what you get.
Mary Woronov
I thought I would be a lot more excited to meet Mary Woronov than I end up being.  As I'd never been to a con where she was a guest, and I love Roger Corman-  Hell, she worked for Joe Dante- she was one of the draws to attending Mad Monster Party.  Maybe it was her pics:  With all those exploitation flicks under her belt, she only had 8×10's from 3 movies: DEATH RACE 2000, THE DEVIL'S REJECTS (???), and ROCK AND ROLL HIGH SCHOOL.  If P.J. Soles wasn't sitting right next to her, I'm not sure she would have even had the latter.  Or maybe it was the fact that she screwed up spelling "Calamity Jane" twice;  fortunately, she'd done so on a pic that had pricing stuff written on the back, so she had to start fresh (and was error free).  She was nice enough, and sure enjoys eating an apple.  But I didn't ask her about starring in Dante's HOLLYWOOD BOULEVARD.  And that says it all.