Writing about conventions, film festivals, press passes and interviews the last week had me reflecting back and looking forward on a number of things that make running Death Ensemble fun.  Once I wrote about meeting Harvey Stephens who played Damien in THE OMEN, I began pondering on the ever famous "People Fasso Would Most Like to Interview," and that led to warm thoughts about the favorites of the interviews I've conducted, which tailed off into my thinking about the strange one.
I decided you might be interested in a look at each, so here they are, broken down by category.
Wish List Interviews
There is a handful of people I'd give blood to sit down with a tape recorder and have a conversation for 10 minutes.  This is the top of that list at this moment.
 George Romero— Since the day I met him, I've wanted to sit down and discuss NIGHT OF THE LIVING DEAD with George A. Romero.  He's done so many interviews on not only that film, but on the whole zombie subgenre, that I'm not even sure what I would ask;  but that doesn't matter.  Romero is an intellectual and a socially conscious filmmaker.  And he happens to be the most elusive of interviews on Death Ensemble's end.  I've come close a few times, but it hasn't happened yet.  Until it does, he'll be #1 on this list.
Tom Araya— The frontman/ bassist of Slayer falls in right behind Romero on this list.  I'm sure any of the guy's from Slayer would be interesting to chat up, and Kerry King is all over the place talking.  But Araya holds interest for me more than the rest.  He's actually a nice guy in all the interviews I've seen, and I'd love to dive into his mind on over 30 years of being thrash metal's screaming god of anger.  As a matter of fact, if I could ever get Romero and Araya in a room, I could stop running a horror blog the next day and be completely content with my work here.
Patrick Wilson— I've had a man crush on Patrick Wilson since I first saw THE WATCHERS.  His short-lived series A Gifted Man is so underrated it's criminal, and his work in the INSIDIOUS and CONJURING franchises is top quality.  Plus, he seems to be just a great guy.
Patricia Tallman— I've interviewed one woman who played Barbra in a NIGHT OF THE LIVING DEAD.  I'd love to interview the other.  Plus, she's a stuntwoman.  And that kicks ass quite literally.
Angela Bettis—  Angela Bettis should be a lot more famous than she is.  Her performance is MAY is right up with Anthony Perkins' portrayal of Norman Bates in PSYCHO.  In a world of disposable scream queens, Bettis is a true actress who deserves more prominence.
Some Fun Ones
Interviewing is fun.  The more talkative the subject, the better the interview.  But I'll place genuinely nice people over interesting ones anytime.  Here are some that were particularly fun, for a variety of reasons.
Judith O'Dea— Judith O'Dea is one of the most gracious people I've ever interviewed.  Chatting her up is like sitting down for a cup of tea with a favorite aunt.  Her insights into NIGHT OF THE LIVING DEAD are precious, and being a genuinely nice human always counts in my favorites.
Heather Langenkamp—  Heather was nice enough to chat with me at the tail end of a Sunday at Chiller.  Her insights into playing Nancy in the NIGHTMARE ON ELM STREET franchise are profound, and she's a genuinely nice lady.  Her documentary I AM NANCY about playing second fiddle to a burnt child killer is beautiful, and if you haven't seen it, you should.
Will Keenan—  Will Keenan is offbeat.  He's also intelligent, well spoken and a veteran of two ends of the entertainment business.  Meeting him in a theatre in NYC before he introduced THE GHASTLY LOVE OF JOHNNY X may be the most fun I've ever had doing an interview.
David Emge— I misjudged David Emge when I first met him.  Once we got to chatting, I realized he's got some great stories about DAWN OF THE DEAD, and a sly sense of humor.  He used the phrase, "It was a hoot," which made this interview an instant classic for me.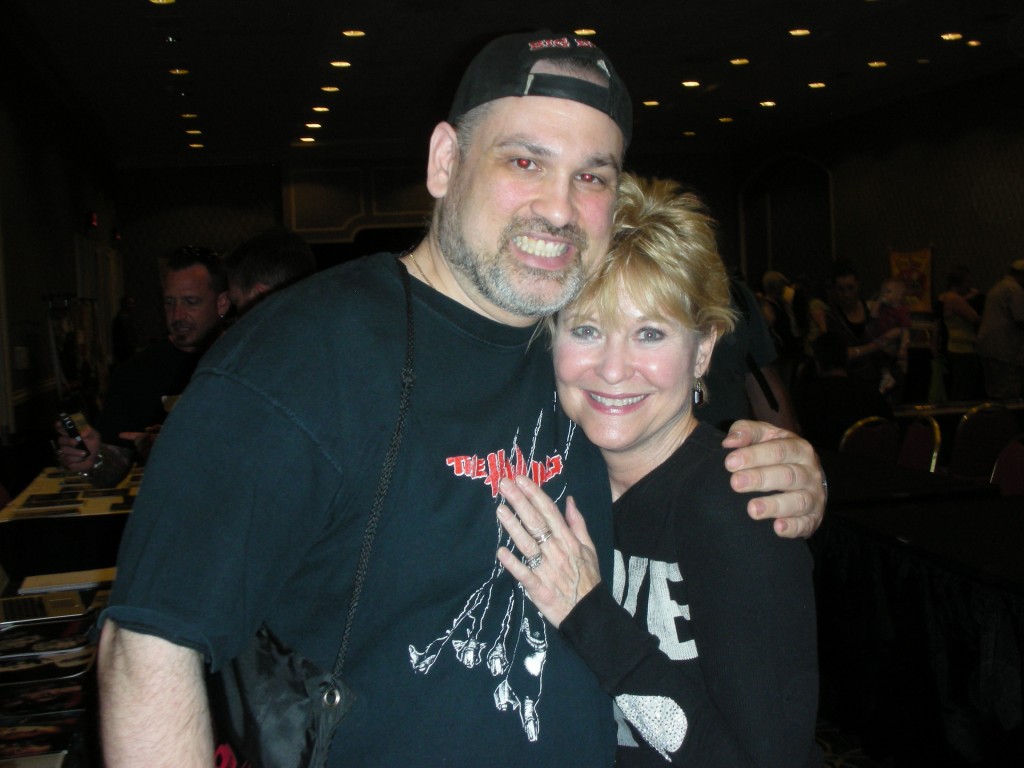 Dee Wallace— Dee is my favorite of all the celebrities I've met.  She's sweet as pie and will talk to you about her roles in movies for as long as you want.  I get her autograph every time I meet her.  And I got an interview with her at Mad Monster Party.  It was a highlight of my time conducting interviews.
Catriona MacColl— Catriona MacColl is a gracious lady, and a classy one.  I travelled all the way to Massachusetts to interview her, thanks to her rep Mike Baronas.  Our discussion was the most interesting I've ever had with a celebrity.
Strange Days
The human condition can be a strange thing.  I only interview humans.  Here are some of the stranger things to happen during an interview.  Most of which only made the interview more fun to conduct.
Kathleen Kinmont— I'd set up a phone interview with the very beautiful Kathleen Kinmont.  I called her at the prescribed time, and she was driving her kids home, which involved a stop at McDonalds.  We ended up calling one another three separate times to finish the chat, and she had to whisper about nudity on film when her kid came into the room.  All of this made for a unique interview that I love to this day.
Larry Cohen—my friend Dom Mancini reps Larry Cohen, so he was kind enough to set up an interview at Chiller.  Leave it for lunch to show up just as I sit down to start.  Larry ended up sharing his chicken wings with me, the only time that's ever happened.  Deep into the chat, he got called off to do a panel.  When I stopped by to thank him later, he was nice enough to say we should finish the interview.  Another gem among the strange.
Tawny Kitaen—  Tawny Kitaen took offense to my saying the opening guest salvo of a Chiller was weak.  How this turned into an interview I still can't explain.  All you need to know is this:  80s hot Tawny Kitaen felt up my leg.  And it's documented in the interview.  Listen up.  And if you're a middle aged man like I am who grew up watching her roll over the hoods of expensive cars:  be jealous.
Will Keenan— Will Keenan makes 2 lists? Yes he does!  During our chat, he took interest in superfan Taylor Sprow and started a conversation with her. While the audio was rolling.  God Bless Will Keenan for keeping it real.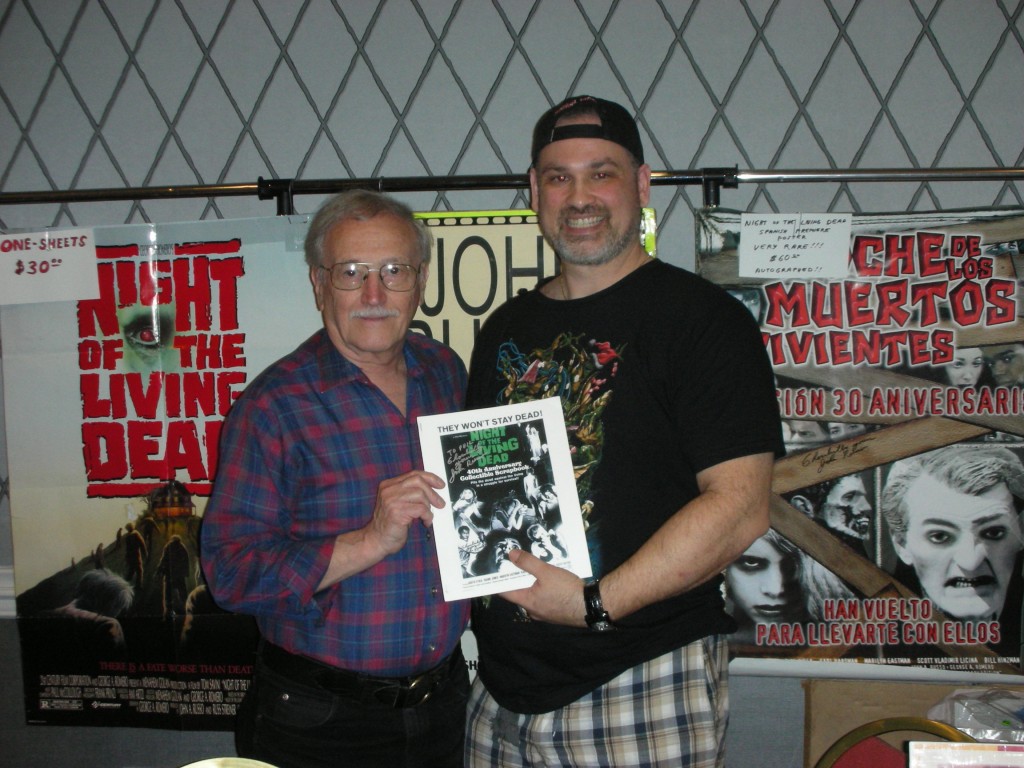 John Russo—  This one's on me.  I asked John Russo for an interview at Mad Monster Party.  He initially declined because he was worried about the acoustics.  Then he agreed we could work it.  I asked him about everything except his work on the original NIGHT OF THE LIVING DEAD.  And despite what he might claim from a few years prior, I didn't cockblock him.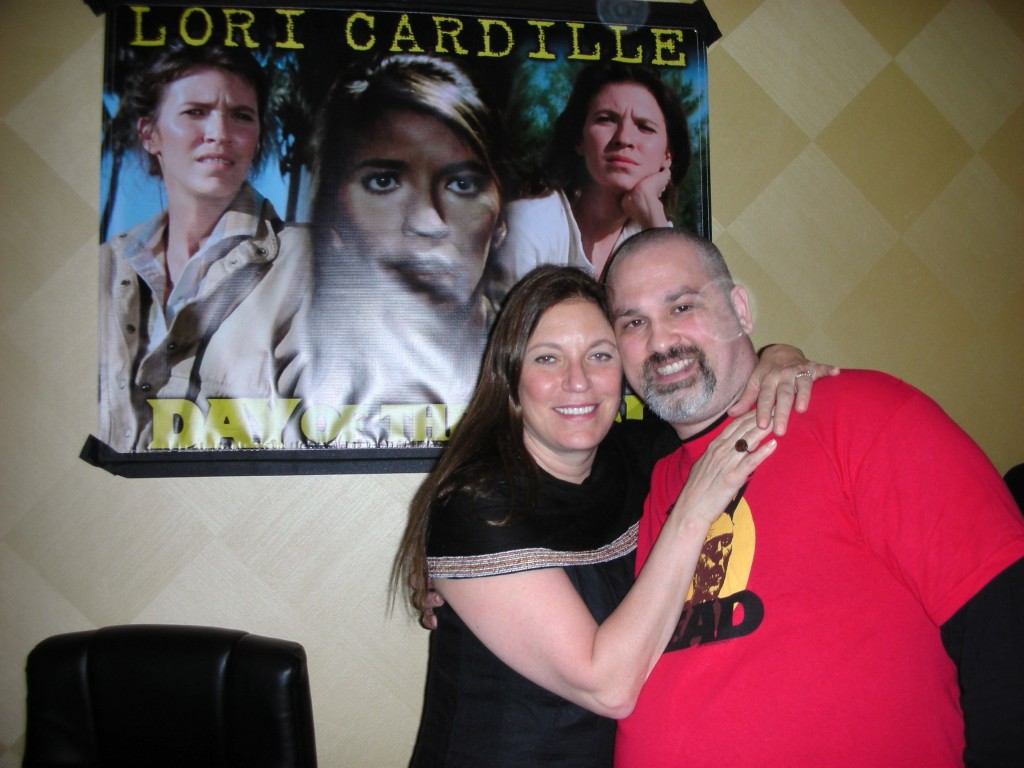 Lori Cardille—  I conducted this one on a city block in Manhattan after a Q&A.  With the occasional horn honking and cars driving by, it made for an interesting venue.
And now to the future…
It's been a long while since I've done an interview.  And I can gladly say I'm back on the track.  With a few set up and hopefully more to come, I'll get to do what I like best as far as running DE goes.  Here are a few names coming up.
Jason Yachanin—  This one's confirmed.  Two days from now I'll meet the star of POULTRYGEIST, who brilliantly portrayed Arbie.  I can't wait.
Catherine Corcoran— another Troma alum, lead in the RETURN TO NUKE 'EM HIGH movies.  This should be some time next week.  Again, I can't wait.
Jeremiah Kipp—  this guy takes dark stuff and makes it beautiful.  He's a local director, and I hope to set this up for next week as well.
Reflection is an important process in life.  I've been doing a lot of writing the last two weeks for Death Ensemble, and it's got me in the reflection mode.  The older I get, I realize just how important the process is, and how it makes the future look that much more fun as I embark on the next phase of interviews.  I hope, if you've listened to or read some of our interviews, that you get some fun out of them as you reflect on them.
-Phil Fasso