What the Fix the Chapel is This??? or, Meeting Rutger Hauer
Mad Monster Party, Charlotte, NC
March 23-24, 2012 at the Blake Hotel
Fasano, X and I packed so much into the Mad Monster Party con over two days, that I had to divide the standard one-post con report into two posts.  Part 1 covered the wonky trip down, problems and near asphyxiation in getting our press passes, the convention's many events, our experiences in interviewing some of the stars, and the delightful Hong Horror Show.  It's got some fun stories, and if you haven't read it, you owe it to yourself to do so before you read Part 2.
This was a great convention.  Though it was sloppily organized (as many first-time cons are), the experience itself was great.  It killed me when I spoke to X a few days after we'd returned home, and he said we should've taken a later flight home on Sunday and taken in Day 3.  Which is exactly what I'd told him when we'd discussed booking the plane tickets.  The biggest praise I can offer is that I can guarantee I'll be there next March, for the 2nd annual Mad Monster Party con.
Let the stories begin.
Meeting Rutger Hauer
Let me take you back in time to 2006.  X and I were heading to Maryland's Horrorfind Weekend, and X was excited.  Huge Stallone fan that he is, he was finally going to get to meet NIGHTHAWKS' Rutger Hauer.  Hauer was listed as the keynote guest (ahead of George Romero, no less), and he was tops on X's list of 4 gets.  The night before we left, some dude boarded a plane in Europe and tried to blow it up with shampoo.  And no, I'm not kidding, as I couldn't make that up if I tried.  This caused a number of guests to cancel their appearances, given the chaos this threw into travel both national and international.  Among those who canceled were every guest X had intended to meet, including Rutger Hauer.
Over the next year or so, Rutger popped up on guest lists for a handful of other shows, and subsequently canceled each appearance.  Was he too big a prima donna to meet rank and file fans?  Was his filming schedule overloaded?  Did he just like taunting X?  I don't know.  I just know that when I saw the MMP guest list, my main selling point to get X to Charlotte was that Rutger was slated to attend.  A combination of factors sold X, and so when we hit the convention, first priority was to see if Rutger was indeed at a table.
The shock came when I was waiting on line for Fasano's ticket and X called me from the con floor:  Rutger was there, and had no line.  Given his mainstream popularity and the rarity of his appearance, I was floored.  I headed right up, leaving Fasano to fend for his own ticket, and X and I straightaway got behind the two or three other fans patiently awaiting him to sign.
The first bad sign was that Rutger didn't have a single 8×10 from NIGHTHAWKS on his table.  X had lent me his autobiography, and I'd read in it that he hated the experience of working with Stallone, whom he described as a massive ego who hijacked the film and got the director fired.  Even more astounding, he had no pics from HOBO WITH A SHOTGUN, his exploitation comeback that was very popular with modern horror audiences.  Odd, given that he not only had plenty of shots from his mainstream films, but a number from his lesser fare, including two as the vampire Barlow from the awful SALEM'S LOT remake.
Thankfully, X had his NIGHTHAWKS picture book, which is the size of a table tray and has some great stills from the film.  X often manages to find or create unique items for celebs to sign, and he usually gets a reaction from them along the lines of, "Wow, this is cool.  I've never seen this before."  I've seen them in awe of X's stuff many times.  Nothing I'd ever seen could have prepared me for Rutger's response:
"What the fuck is this???"
I'm so astounded, it's two weeks later and I still can't quite frame his reaction in words.  He caught me so off guard with it, that I think I'm still recovering.  X later tried to rationalize that there are two ways to enunciate the line, the cool way, and the Rutger way.  But the thing is still weird.
The conversation that followed was equally bizarre.  X mentioned our trip to Maryland and Rutger remembered the flight incident before X said a word about it, claiming the terrorist was on Rutger's plane, trying to kill him.  They discussed Persis Khambatta, who X had known when he lived in California shortly before her death, and Rutger regarded fondly.  He also claims that the producers were going to cut all his scenes out of the film, leaving X and I later to ask one another, How would they have had a film?
Then there was Rutger's signing the book.  At first he seemed appalled that there was only one picture of him in it, where X wanted him to sign.  But X flashed through it, and pointed out all the other shots of him, and as they spoke, Rutger tried to sign by the last one.  X had to stop him and redirect him back to where he actually wanted the signature.
Best of all was that when X paid the 30 bucks, as opposed to Rutger's posted price of $40, his handler gave him an official receipt.  So next year, X can write off this autograph on his tax return, and it'll all be legit. God bless the tax deductible autograph.
In all this fury, X had forgotten to take a picture with Rutger for this report.  He convinced himself he'd go back the next day and get him to sign a HITCHER pic with the inscription, "Hitcher with a Shotgun!"  As fate would have it, Stallone's STOP OR MY MOM WILL SHOOT was on HBO in the hotel that night, tainting X, and ruining things for movie fans in yet one more way.
In my 8 years and running going to cons, the Rutger Hauer Experience stands out among the top oddball moments.  X and I will be talking about it for years to come, and that moment alone would've made the trip worth taking.
Chris Sarandon and other guests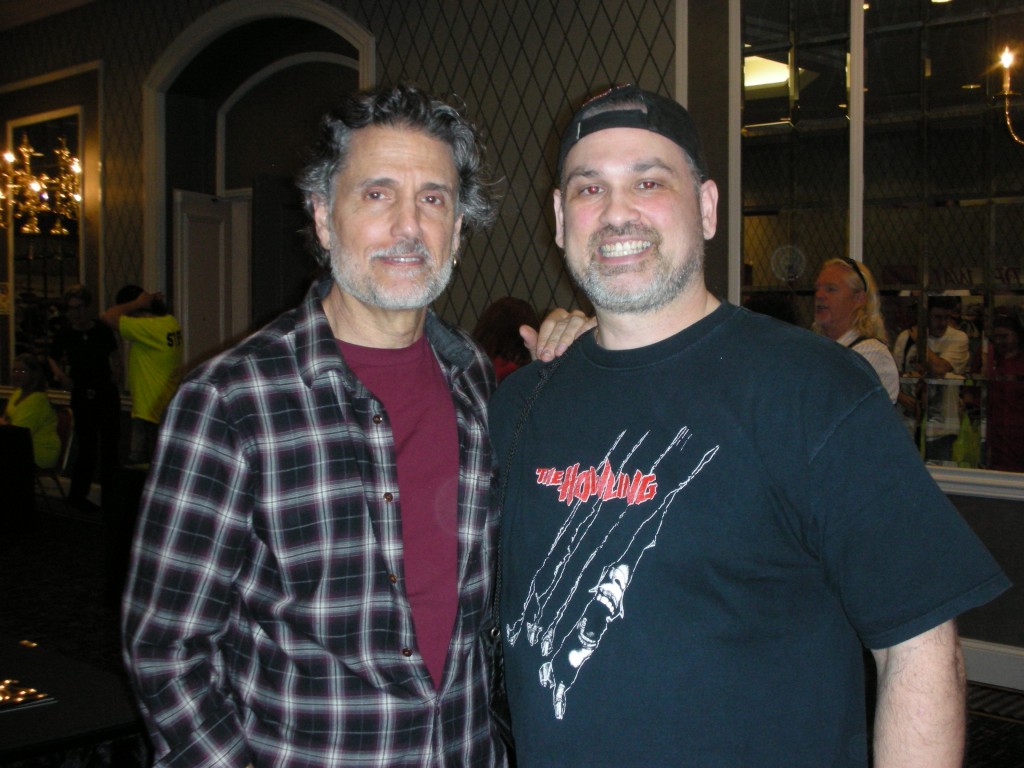 Chris Sarandon had eluded me across a number of cons over the years, including last April's Chiller.  He finally got the chance to meet me at MMP, and what a grand time it was for us both.  Sarandon came across as a little too businesslike for me, but he was polite enough, and had a few great PRINCESS BRIDE 8x10s.  And like Rutger Hauer, he had no line at all.  I just don't understand that one at all.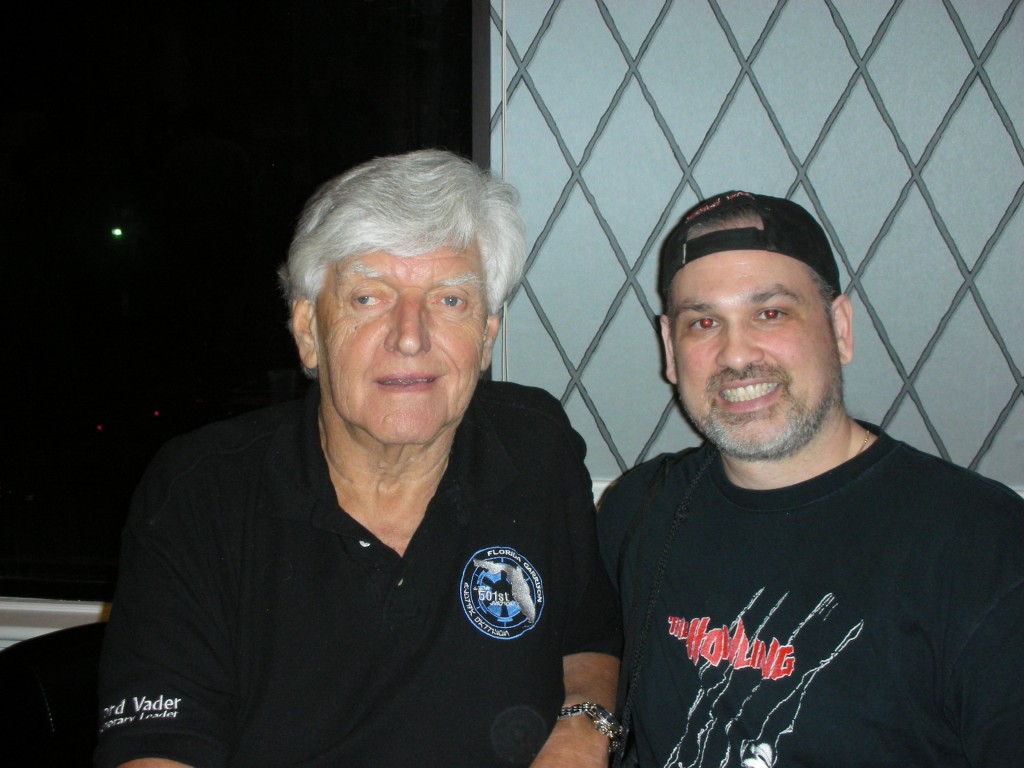 David Prowse was another star who I'd intended to meet years ago, but he'd canceled on the show.  He's been off the circuit for years, but he's back on the circuit, and he was one more reason to go to MMP.  Plenty of great Darth Vader shots, including the one with Boba Fett that X got (I hate that overrated bounty hunter, and it's a shame Prowse had no shots of Vader and IG-88, the true star of THE EMPIRE STRIKES BACK).  I went for one of the iconic Vader shots.  He also had ample copies of his autobiography, which had the coolest title I'd ever seen on a memoir, Straight from the Force's Mouth.  Who would've ever thought that Vader would actually be such a nice British gentleman?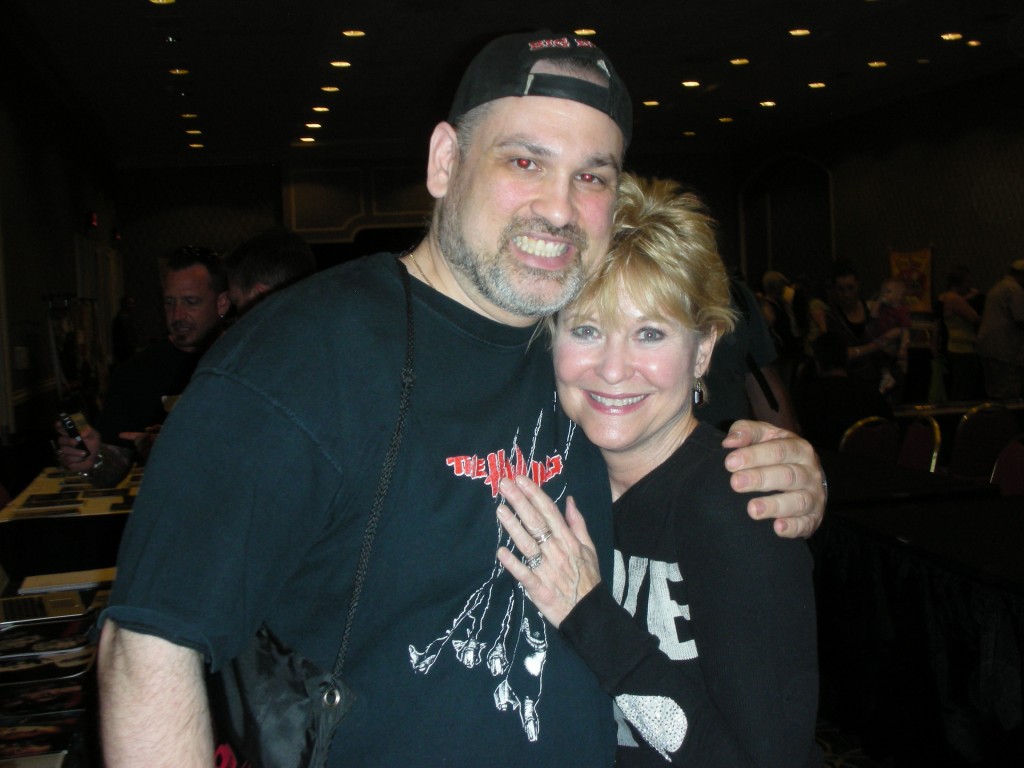 I will get Dee Wallace at every con I see her, even if I run out of film stuff and she has to sign a hotel napkin for me.  She had a slew of new 8x10s for which somebody had done a whole lot of Photoshopping, much to the detriment of the pics (a HOWLING shot included the werewolf from AMERICAN WEREWOLF IN LONDON). X conned me into getting an oversized drawing, for which I now need to buy a frame at Michael's.
I thought I'd be more excited to meet Mary Woronov from all those Roger Corman flicks.  But she had a terribly small selection of 8x10s from only 3 movies, and it took her forever to eat an apple.
I had no intention of buying anything from Derek Mears, but since I met him last, he's added a bunch of cool PREDATORS 8x10s.  We discussed how those terrible AVP flicks made a ton of cash undeservedly, and I bemoaned that PREDATORS didn't have near their box office draw.
I also had no intention of getting anything from John Russo, but he had a NIGHT OF THE LIVING DEAD 40th Anniversary Scrapbook.  I wrongly thought it was the same as his NOTLD filmbook, but it's actually a number of clippings from over the years.  I promised myself after I finished the Romero Retrospective that I was done with my favorite horror director for a long while, given my burnout.  But reading over Russo's two tomes alongside the Advertising NOTLD book Gary Streiner had given to me, I've been drawn right back into Pittsburgh, PA.  Worth the 20 bucks, and I didn't mind paying Russo so much after I'd interviewed him.
Patty Mullen did her first con at MMP, and she was awesome.  Sharing stories with the fans and generally happy to meet people, we couldn't have asked for more.  Well, we did, and she gave X a nice interview.
Richard Moll had a Bull Shannon puppet, and used it to insult X.  Good enough to rope X into an autograph, but not into paying $20 for a pic on top of his signature.
All in all, we met a substantial number of stars, some old favorites (and one just old and grumpy), and some brand new to us.  Except for Chiller, the guest list is always one of my main factors in deciding to attend a con.  MMP delivered the goods on that end.
X changes his shirt 67 times
Over two days, X had to stand onstage with James Hong, honor Patty Mullen for her role in FRANKENHOOKER and then convince her to star in DEADTENTION, and honor the Mad Monster Party con with an homage to the Ruskin-Bass cartoon from which it copped its name.  Let the pics do the talking.
The "That Type" Rocky Horror Picture Show local cast
One of the dealer room's many attractions was the local ROCKY HORROR cast.  They were in good spirits, and offered to take pics with us for the DE report.  I never mind taking pictures with amply endowed women or their friends dressed up as prom ghouls, but if you're going to hire a Rocky, you really need one with a physique.
The fog rolls in
I live 27 miles from NYC, and I've visited the city many times in my almost 40 years as a Long Islander.  It's a city in every sense of the world, a sprawling metropolis with majestic buildings and people hustling at every moment of the day or night.
Charlotte, NC… not so much.  I remember driving into Indianapolis four years ago, wondering where the city was as I drove out of it.  Locales such as Charlotte and Indy are "cities" in name only, and anything that's not NYC, Chicago or L.A. should not bear the title.  Charlotte's been built up extensively since I was last down there more than a decade ago for Fasano's wedding (www.fasanosweddingweekenddisasters.com), but it's still a few glorified blocks.  The people down there, including Fasano, claim there's a lot to do, but X and I found out when we walked to get some food on our first night that the whole city closes down around 10 p.m. on a FRIDAY.  We saw less people in the half-mile we walked than we'd find in a NYC alley on a Tuesday night at 3 a.m.
We did wake to an impressive sight Saturday morning, though.  As X slept and I got dressed after my shower, I opened up the shades to our 8th floor room in the Blake and saw Charlotte half under fog.  It was like John Carpenter had brought Antonio Bay and Adrienne Barbeau's large chest to downtown, minus the lighthouse.  My camera takes awful pictures through any reflective surface, even with the flash off, but X has no such problem and nailed some nice shots.  As he showered, I headed out into the streets to get some guerilla shots of my own.  The fog added an interesting mystique to Saturday, even if it dispelled by the time we and Fasano headed out to Wendy's for lunch.
Gary Streiner and the Fix the Chapel Booth
I was mulling around the dealers' room Friday night when, holy smokes!, who did I see manning a table but my dear friend Gary Streiner.  NIGHT OF THE LIVING DEAD's sound engineer has been hard at work soliciting funds to Fix the Chapel that appears in the film's opening in the Evans City Cemetery.  Gary hadn't been on the guest list or appeared anywhere on the vendors list on MMP's website, so it was a pleasant shock to see him out of the blue.  He's a genuinely nice guy, and it was great to catch up with him, as I hadn't seen him in 2 years, and he's not so easy to get on the phone or through email.
I'll do anything I can to help a friend, and to support any good cause related to NOTLD, and it's an added benefit when I get cool stuff in return.  So I made sure to purchase a tee with the official Fix the Chapel artwork.  I wore it that night to bed, so I don't have any pics of it, but I'll make sure to wear it to Chiller, so my readers can get a look.  On Saturday, I bought a mockup poster with awesome cartoon art that featured the film's cast spilling forward from the chapel itself.  The illustration by M. Mrakosa Orsman is impressive, and it's one of my favorite pieces of NOTLD memorabilia, especially because Gary signed it for me.  It cost me 10 bucks, and I was paying with a 20, so I also picked up a tiny coffin that entombed a piece of the actual chapel.  It's no grave dirt, but that's a good thing in my book.
The best news Gary gave me was that he's working toward a third LDF, with new guests that I've never met before.  I'd pack up and head to the Pittsburgh area tomorrow to take part in that, as I had such a fun, unique time at the last one.
It was great to reminisce with Gary about the 2nd Living Dead Fest and watching NOTLD in 35mm print at Saturday Nightmares, with Gary providing me a personal commentary.  I don't get the chance nearly enough to speak with him, and I valued my time with him at MMP.  I wish the best to Fix the Chapel, and I'll do all I can to support it on DE.
CiCi's Pizza
No Fasso-Fasano story could ever come to pass without food, and Mad Monster Party was no exception.  I'd been drooling for weeks at Fasano's promise of CiCi's pizza buffet, remembering their commercial in Monroeville, PA that sandwich shops offered a footlong hero for five bucks, but they provide 26 feet of pizza (I'm salivating just writing that).  X decided to stay behind, but I didn't let 14 years of our friendship hold me back.  Fasano's buddy Chris Josey met us there, and somehow wasn't horrified at my pizza debauchery.  I was loading plates six inches high, slice on top of slice, plate after plate, tuning out on the conversation as my foodlust consumed me.  I'm a vegetarian, but meat was back on the menu for the night, even if my stomach would pay the next day.
Fortunately, I realized as dinner came to a close that with all the pictures the two of us had taken, Fasano and I hadn't posed for one together.  Here's that picture, in what Fasano would tell you is my natural habitat.
Fasano had warned me that they don't say, "CiCi ya later!" as a way of parting, but I didn't let that deter me from yelling it out as I headed out the door.  Okay, so I drew confused stares from the very gracious employees, but it was a memorable way for me to end a memorable night out for food.
So there you have it.  Two days of Mad Monster Party gave me a number of enjoyable experiences, and stories I'll be sharing for years.  It'll always be the "What the fuck is this???" convention, and for that alone, it's one of the better conventions I've ever attended.
-Phil Fasso