Yesterday crowned one of my most anticipated as a traveler to horror cons.  Chiller released its October '13 lineup, and though it's not the thriller it sometimes is, it's not the worst either.
If you're a fan of either THE MONSTER SQUAD or the original VILLAGE OF THE DAMNED, you'll be pleased.  My friend Dom Mancini's Full Empire Promotions is providing most of the monsters that fought the squad, so if you're a part of the SQUAD cult, you won't want to miss that.  And two of the demon eyed kids from VILLAGE will attend as well (though I hope they leave the demon eyes at home, as those peepers always creeped me out).  Adding to the horror end of things, THE WALKING DEAD's Scott Wilson will appear as well.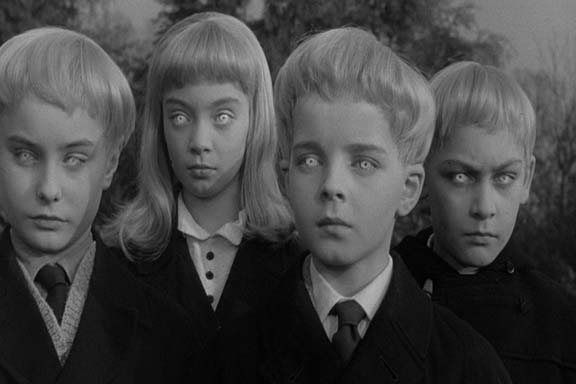 On the high end of celebrity, Peter Fonda and Nancy Kwan also make the list, as does MARRIED WITH CHILDREN and FUTURAMA's Katey Sagal.  Nastassja Kinski is a cross-over guest, having starred in many mainstream films as well as the remake of  CAT PEOPLE.
If my announcement sounds pretty cookie cutter, forgive me but it is.  I wish I were a bigger MONSTER SQUAD fan, and as much as I love the original VILLAGE OF THE DAMNED, the kids don't exactly enthuse me.  Granted, it's early in the game and the guest list will vastly increase in number and possibility of juice for me;  but it's a little lackluster in the early going.  It's certainly going to please lots of fans, and on that note it's a successful start.
Keep an eye on the guest list daily, as it's frequently updated.  By October 25-27, the show's dates, it'll likely have over 100 guests, a little something for everyone.
I know.  I've been there for every Chiller show since April 2004, and I'm closing in on that decade of Chiller faster than I expected.
-Phil Fasso