What you see is the awesome modified poster for Paul Bunnell's THE GHASTLY LOVE OF JOHNNY X.  Below that, Chiller Theatre's logo.  These two joys are going to keep me very busy this weekend, as I hustle across the tri-state area in the name of Death Ensemble.
X and I depart for the semi-annual Chiller Theatre show tomorrow.  It looks to be an exciting one this time, with the likes of David Warner from THE OMEN, Akira Takarada from the very first GODZILLA flick (GOJIRA, to those of us who prefer the lizard Burr-less), Larry Cohen courtesy of my good friend Dom Mancini of Full Empire Promotions, and among others, this lady:
Yes, Judith O'Dea.  I'll have my voice recorder with me, and hope to interview her for DE as part of the Romero Retrospective.
Of course, I'll also grab numerous autographs along the way.  That's a huge part of the fun, as well as taking pictures.  That'll take up Friday night and Saturday afternoon.
……..
Saturday night, I'm off to the IFC Center, for the NYC premiere of THE GHASTLY LOVE OF JOHNNY X.  I can't get enough of it, and if you love sci-fi, musicals, Kevin McCarthy, black-and-white film, Will Keenan or any combination of them, you need to be there too.  Let's stack the theatre at midnight for one Hell of a great independent film.
I leave you with these shots from JOHNNY X, knowing these awe-inspiring images means I'll have good company as I'm exhausted at the IFC Saturday night.
If you live in the area, join in the fun and say hello to me.  I'll be the big, ugly guy in the picture below.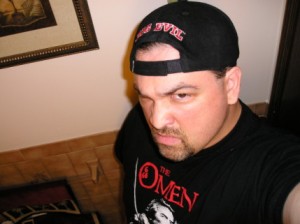 Special thanks to Paul Bunnell to these exclusive, never-before seen stills from JOHNNY X.  Paul's been generous to DE.