A year ago today, I gave birth to Death Ensemble.  After three years of writing for Icons of Fright, the site was self-destructing.  Power struggles had taken a nice gig and turned it into a nightmare.  I was at the risk of losing not only a popular website that gave lots of exposure to my writing, but friendships as well.  My one year gig as editor-in-chief had gotten me nowhere, as I didn't have the technological savvy to institute the changes I wanted to, and upgrading the site became an impossibility.  Suddenly, I was faced with the possibility of having no place on the internet to write about horror at all.
In times of crisis, people need to make decisions.  I looked over my options, and realized I had a few.  I could try to use my connections and get hooked up to one of the megasites.  I could tap a few guys I knew who ran smaller sites.  I could not write at all.  None of those options were acceptable.  The big sites would make me conform, and worse, rip off real news stories from Variety.  The few smaller sites had no real audience, and their founders were generally quirky people.  The last option was the worst of all.  I'd tasted exposure to my stuff, my unique takes on everything horror, and I didn't want my work at Icons of Fright to be my last.  I had a voice, and I wanted it to be heard.
I chose the best option available.  I chose to make my own damn website.
Following the independent spirit was the best decision I ever made, in regards to writing about horror.  My good friend Mike Cucinotta, who co-founded Icons of Fright, generously set me up with a server, and together we found a theme that fit my concept like a glove.  I'd bounced the name Hell Awaits You off a number of people, and it surprised me that the name didn't go over so well with anybody.  I'd already decided to infuse the site with Slayer references, and after considering Face the Slayer and a few others, I chose Death Ensemble.  And with the name, a website was born.
And so, a year ago on February 26, 2011 I posted Death Ensemble's first piece, T.D. Clark's brilliant Hell of Fame induction of Leatherface.  Over the last year, I've posted a mixture of Icons of Fright material that I've revised, with brand new writings you'll find exclusively on DE.  I've also taken a liking to writing to a specific themes.  As you celebrate our first year alongside us, click on the title of each, enjoy these themes and feel free to comment on the articles and reviews, so we know what you dig.
John Amplas is an incredible talent, a frequent collaborator of George Romero, and an extremely kind man.  I've met him many times, interviewed him twice, and gotten autographs of all his important movies.  A week's worth of his articles and reviews culminated in his Hell of Fame induction.  If you attend horror cons, you owe it to yourself to meet John.  He'll greet you with a kind smile and some great pics.
This came about accidentally.  I'd reviewed a few of Savini's flicks in a row, and suddenly realized I could do a tribute to his groundbreaking special effects work.  From his start on DEATHDREAM to his magnum opus DAY OF THE DEAD, it's all here.
Slashing away at a School of Thought
I'd started a school-based slasher series of reviews on Icons of Fright.  With September and back-to-school, it was time to revive it.  My take on an interesting subgenre.
NIGHT OF THE LIVING DEAD Retrospective
My love letter to George Romero's first film, and his best.
Santa's Sleigh and the Devil's Ride
Last December my Rav-4 died after 13 years of my driving it.  This sent me into a major depression, and I kept my sanity intact—if only slightly—by writing about it.  Oh yeah, and Christmas is in December.  And some unbalanced directors have made some really wonky Santa-based horror.
As we continue into Year 2 and beyond, Death Ensemble will continue to run themes.  Please contact us if you have any themes you'd like us to explore and write on.  We want to be your vital source for interesting perspectives on horror.
I'm looking forward to a tremendous second year here at DE.  I hope you'll be here with us as we strive to bring you the best in horror.
Be cool,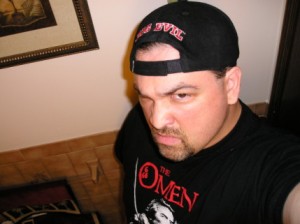 Special thanks to our contributors:  T.D. Clark, Nicole Fiss, Chad E. Young, Dominic Mancini