Debbie Rochon
as coronated Queen of Queens by Phil Fasso
Debbie Rochon is fearless.  Through nearly 200 films and counting, she is never afraid to put it all on the line and go for broke with every one of her performances.  Because of this, she's become the ultimate go-to scream queen.  In an age loaded with wananbe contenders to the throne, she's the Queen of Queens.
Many fans will recognize Debbie best for her many appearances as a Troma player in the films of Lloyd Kaufman.  She got her start at Troma in the infomercial "The Troma System," a gem worth seeking out today.  She came to Trominence in TROMEO & JULIET, with her role as Ness the lesbian nurse/ caretaker;  where I first saw her, and I confess that her lesbian tryst in the movie is still one hot scene.  She's also appeared in TOXIC AVENGER IV and POULTRYGEIST, and segments of "Tromaville Café."
But for my money, her career best role is as Christine, a parody of a scream queen in Lloyd's TERROR FIRMER.  Given the chance to spoof the stereotype, she gives a depth of performance like no other film has asked of her before or since.  Her work is so important in the Troma catalogue that the studio recently released DEBBIE ROCHON CONFIDENTIAL: MY YEARS IN TROMAVILLE EXPOSED! An honor that Troma doesn't throw at just any actor.  She's great in all her Tromasterpieces, a testimony to her collaborations with Kaufman, who knows how to make her shine.
Though not quite as well-known for it, she's also collaborated numerous times with George Romero's NIGHT OF THE LIVING DEAD co-writer John Russo, most notably in new scenes for his 30th Anniversary edition of the class, and in SANTA CLAWS.  Debbie plays against type in the former, as a reporter during the zombie outbreak.  In the latter, she's a little more at home playing a scream queen being stalked by her obsessed neighbor, who dons a Santa Claus outfit.  Debbie shines in both these roles, proving she can play a minor character or the lead in a film with equal appeal.
Did I mention that she's beautiful?  With a knockout body and a gorgeous face, it's no surprise she gets so many roles in low- to medium budget films.  And she's even sexier in person, as I can attest to myself, having met her at the Saturday Nightmares show last June.  She's frequently done nudity throughout her career, and saying she's easy on the eyes is an understatement.
The nudity, her choices of wild roles and her entire film catalogue all go back to what I said at the start.  Debbie Rochon is fearless.  I never know if I'm getting a good flick when I turn on one of hers, but I'm guaranteed it'll be something I've never seen before, and that she'll bring her A-game.  I've never seen a boring performance from her, and her characters always stand out, even in the craziest of films.  Which may not be as easy as it sounds, when she's starring in MULVA 2: KILL TEEN APE! Incidentally, one of my favorite Debbie Rochon flicks.
Putting it all out there is a testament to the way Debbie described herself to me the other day.  In her own words, she's "100% indie."  She fits Troma like a glove, because her entire career is a tribute to the independent spirit of film.  Hard working and dedicated to her craft, Rochon's name above a title will likely sell copies of a DVD.  Because independent filmmakers and their fans know, as far as low budget actresses go Debbie's got quite a cache, which is well-deserved.  She'll appear in 20 films a year, of various qualities that offer her a broad range of roles, and every one will advance the name of indie film.  She's a flag bearer for the movement, and we should all thank her for that.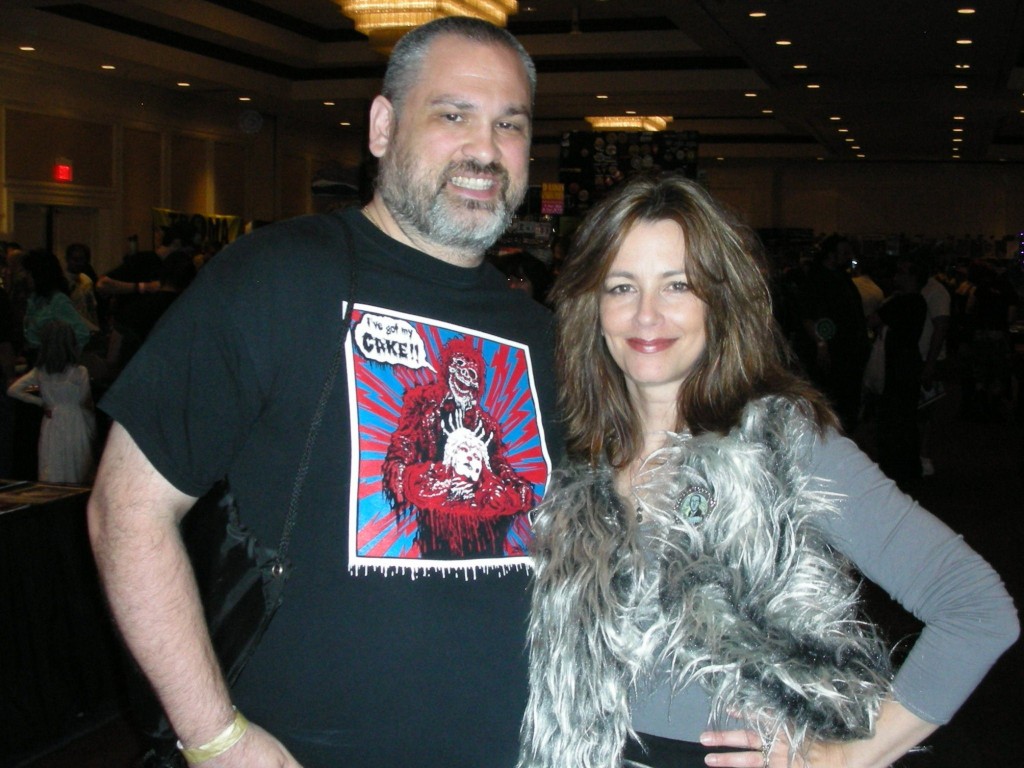 Today we celebrate Death Ensemble's one year birthday.  On February 26, 2011 I posted the site's very first entry, a finely written Hell of Fame piece in which T.D. Clark inducted Leatherface.  In the last 365 days we've inducted 8 other legends of horror.  The closest we've come to inducting a female has been Nancy Thompson, a character from A NIGHTMARE ON ELM STREET.  I'm proud to say that the very first post of Year 2 on DE is Debbie Rochon's induction into the Hell of Fame.  I can't correct all the world's sins against women, but I can at least atone on my own site by inviting our first flesh and blood woman into the HOF.
Debbie Rochon is one of horror's greatest cases of female empowerment.  She is a most worthy honoree, and it's with great appreciation for what she's done for the world of independent horror that I induct her today.  My decidedly non-female self looks forward to watching her next 200 films, knowing she'll be fearless in each and every one.