In the wake of Jamie Lee Curtis' change of heart about appearing at a horror con, I've been thinking a lot about just how important, and just how underappreciated, women in horror are.  The lion's share of horror films are directed by men, written by men, and ultimately made to appeal to men.  Every so often, Diablo Cody will write a JENNIFER'S BODY or Kathryn Bigelow will direct a NEAR DARK.  But those are so few and far between it's easy to forget about them (especially JENNIFER'S BODY, which people forgot about a week after it came out).
Sadly, I haven't helped the cause.  I spend a lot of time analyzing the works of George A. Romero, but sadly little writing about females in horror.  Part of the problem is the genre is so male-dominated, but that's no excuse.  In over 300 reviews, I can't recall every writing about a film directed by a female.  I've interviewed Lori Cardille of DAY OF THE DEAD and scream queen Brooke Lewis, but even most of my chats have been with males.
The biggest sin, though, is in the Hell of Fame.  Currently there are 9 inductees representing the select few who make horror worth loving.  Of those 9, only 1 is female.  And Nancy Thompson, though a spectacular babe, isn't even a real person.  Our lack of female inductees condones all the masculine bravado that has pushed down women for years in horror.
All that is about to change.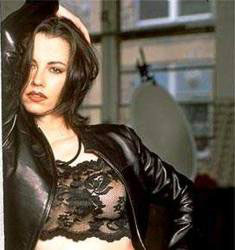 I'm proud to announce that our next Hell of Fame inductee will be Debbie Rochon.  The ultimate scream queen, Debbie has inspired fans since her days starting off in Troma with TROMEO & JULIET.  She's been in scores of horror/ exploitation films, and she gives back to the industry by appearing in low to medium budget horror flicks.  She is, in her own words, "100% indie," and is a great value to and supporter of independent film.  She's a class act, and her induction is long overdue.
On that note, here are four other women of horror who are certainly worthy of induction into the Hell of Fame.
Dee Wallace
Dee Wallace is the woman you want representing horror.  She's a solid actress who's worked for Steven Spielberg, Joe Dante, Wes Craven and Peter Jackson, among others.  She's also among the nicest people I've ever met.  I get her autograph every time I see her at a convention, because she's a classy lady.  And she knows how to sell her characters in horror flicks.  Dee is a dependable actress who will be working for a long, long time.
Linda Blair
I'm not a huge EXORCIST fan.  But I'm a huge Linda Blair fan.  She's a cherub-faced beauty whose first role was iconic enough that many consider William Friedkin's flick the best horror film ever made.  But it doesn't end there.  Her turns in ROLLER BOOGIE, HELL NIGHT and the absolutely silly-awesome EXORCIST II are underrated gems.  I can't be the one to induct Linda into the HOF myself, but someday some big EXORCIST fan should.
Zelda Rubinstein
One little lady.  One massively important role in horror history.  Her turn in POLTERGEIST as Tangina was, for many fans, the best part of a modern classic.  She would appear in many genre efforts over the next 30 years or so, and her presence onscreen always made me think my house was clean.  Fortunately, we've already got a HOF piece in the works for horror's tiny powerhouse.
The Bride of Frankenstein
Of all the Universal Classic Monsters, there's only one babe.  See what I mean about male dominance in horror?  But oh, what a babe she is.  She only has a precious few moments of screen time, but those minutes made her an icon of fright.  Elsa Lanchester plays dual roles in the film, and goes down in history as one of horror's first important females.  You go, girl.
I can't right all the wrongs of the world.  But I can speak to female empowerment and girl power here at Death Ensemble.  Males can flex their muscles all they want, but the women own.
-decidedly male Phil Fasso