The Beaver County Times has confirmed the death of Bill Hinzman.  Hinzman had been suffering with rectal cancer, and passed on February 5, 2012.  As per his wishes, he will be cremated.  Which means he will not return from the dead, as the article mentions he joked about with his daughter Heidi.  As I stated below, my sympathies go out to his family.  On a personal note, it was a pleasure to meet Bill a number of times, and pose with him as he wore his Cemetery Ghoul garb.
Word on a few horror sites is that Bill Hinzman, star of George Romero's NIGHT OF THE LIVING DEAD, has died at 75.
Let me be honest.  I'm leery about printing this.  A few years back when Zelda Rubinstein was on life support, a bunch of people misread that and were posting "RIP Zelda" notices a week before she died.  Dread Central has proclaimed Hinzman died of cancer, but they list no source.  It's irresponsible for me or any other web writer to post something like this without checking the facts, and let's face it, I can't right now.  No credible news site has posted it, and even the established sites are prone sometimes to internet rumor.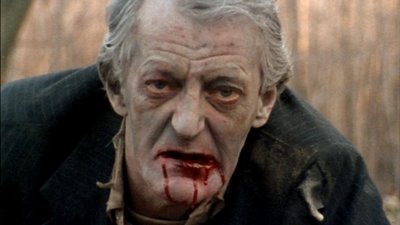 If Bill Hinzman is dead, my prayers go out to his family.  I met Hinzman many times on the convention circuit, and he came across as a nice guy.  I've always enjoyed just how many times he cashed in on his Cemetery Ghoul character, from his unabashed NIGHT OF THE LIVING DEAD side story FLESH EATER, to his play version of NOTLD.  He knew where his bread came from, and never feared going to the well one too many times.
If he's not dead, then Bill Hinzman has pulled it off again.  I'll congratulate him next time I see him at a con, for cheating death and returning from the grave one more time.  It'll be his greatest career move, and he'll have one-upped us all.
Any way you look at it, whether he's dead, alive or undead, I have a feeling that Hinzman hasn't played the Cemetery Ghoul for the last time.  It's impossible to imagine Bill Hinzman not cheating death, and a comforting thought that he'll be playing that living dead character forever.
-Phil Fasso