Take a look at this.  No, go ahead.  It's free of charge.  I promise.  No, no, I don't want so much as a dime for it.  C'mon, give it a look.
Good picture, right?  Nonconformist that I am, I chose one from one of my favorite bad flicks, SORORITY ROW.  But you can probably still recognize the subject, even without the Danishes on the side of her head, as Carrie Fisher.  And as promised, no need to pull out your credit card, no link to Paypal.  Keep your wallet in your pocket.
But the conventions at which Carrie is appearing won't make the same promise.  In fact, I promise you that you'll pay through the nose for a posed photo with Ms. Fisher.  Fisher is appearing in March at the Monster-Mania convention, and her posed photo op will run you an astounding $70.
A few years back, just after I'd taken over as editor-in-chief of Icons of Fright, Mike Cucinotta wrote a seething piece about how Patrick Stewart was charging $90 for a posed photo at a Chiller show.  Mike was rightly outraged.  It took me a long time to appreciate Stewart on Star Trek: The Next Generation, but I've always loved his Shakespearean stuff, and it would have been cool to meet the man behind Capt. Picard and catch a picture with him.  But not at $90.  Oh Hell no.  I passed on having my photo taken with Ernest Borgnine because his agent was charging $15.  That's 1/6 of $90, and Borgnine's a legend.
Though these aren't as common as celebs charging a much smaller fee at the table for a pic on your own camera, I've come across these posed photo ops on occasion over the years.  With certain cons, it's the only way to get a pic alongside your favorite stars.  Take the Creation shows.  A quick look at their upcoming Vegas Salute to Supernatural con page is revealing:
Jim Beaver-  $60 photo op
Corin Nemec-  $40
Jansen Ackles-  $119—SOLD OUT
Jared Padalecki-  $119—SOLD OUT
Ackles and Padalecki-  $199—SOLD OUT
Ackles, Padalecki and Mischa Collins-  $279—SOLD OUT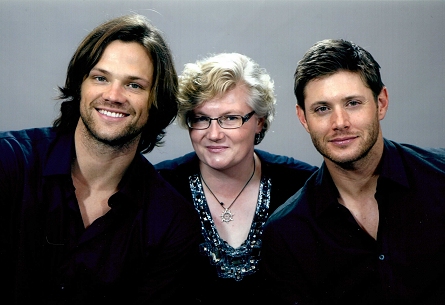 That's a lot of SOLD OUT, and a lot of people throwing down a lot of money for a picture.  Creation will run 7 Supernatural  shows this year, and I can guarantee each will sport sellouts of this sort.  And if you're shelling out the cash for those photo ops, I have a cold, hard truth for you:  you're an enabler.
As much as I'd like to tell you that you suck, it's your money and you can spend it as you please.  But while you're typing your credit card info into Creation's payment page for a pic with Jim Beaver (who portrays by far my favorite character currently on TV, Bobby), please consider these things.  Ackles and co. are on a popular TV series, and make weekly more than most Americans pull in over a year.  Patrick Stewart was on the highest rated syndicated TV show for years.  Carrie Fisher was in STAR WARS.  And though I always capitalize movie titles, I did so there for effect.  These people clearly do not need the money.  But you'll be there, supporting them with a fix, and they'll burn that dragon until your wallet is dry if you let them.
Also, consider how your payment for a picture with Princess Payout trickles down.  Monster-Mania's bringing in Celeb Photo Ops, who have signed on a significant chunk of the con's March roster for the posed photos.  So now you can choose to pay Chandler Riggs $30 on top of his autograph fee, or the nominal charge for the pic at his table.  And he hasn't hit puberty yet.  He's a photo junkie at the ripe age of 13, and if you fork over his fee, you just bought him a hit of smack.
The Fisher Foto Shoppe F.U. is causing quite an angry stir over at the Monster-Mania forum.  The "CARRIE FISHER JOINS MONSTER-MANIA 24!!!!" thread should have been home to a sci-fi geek love fest, an homage to a woman who played an iconic character in a classic trilogy.  Instead, it's turned into a seething pit with some fans crying "greed" while others defend the con.  It's four pages long, and not a single creepy horror fan has made one perverted comment about that bikini Jabba the Hutt made her wear in RETURN OF THE JEDI.  Think about that.
I understand that people will say, "This is a once-in-a-lifetime opportunity" to be in a photo standing next to Carrie Fisher.  Every time I look over my massive photo book from my convention jaunts, I smile when I come across one of the many photos of me and George Romero.  He's a legend, just like Fisher.  The difference is, he has never charged me for a photo.  Sad that if he had hooked up with one of these posed photo companies, I probably wouldn't have any picture of us together.
The teacher in me feels compelled to sum this up, in an anecdote about my sister:  Years ago, Sarah and I had discussed going to a Salute to Supernatural.  At the time, I was still making a lot of money.  It's her favorite show on TV, and I knew it would be a thrill for her to have a picture between Ackles and Padalecki as a memento.  When I told her the price, Sarah said, "Phil, I wouldn't let you pay that for a freaking picture."  For that alone, Sarah doesn't suck.  But for all those posed photo companies and the celebrities who use them… IT'S OFFICIAL!  YOU SUCK!
-Phil Fasso