Ed. note- As DE's driving force, I have a plan behind the website, and its content.  As a writer, that means I have all sorts of unfinished business from 2013.  Given that I have a little time to write this week, I felt it best to start attacking that unfinished business with the inevitable convention report on this past October's Chiller Theatre… a report I've seriously considered passing on altogether.  Read on to find out why.- P.F.
The Editor-in-Chief Who Wasn't There
Chiller Theatre, Parsippany, NJ
October 25-27, 2013 at the Parsippany Sheraton
For a long time, I considered not writing this convention report at all.  See, I've been going to Chiller for a long time—so long, that I no longer have the same wife, apartment or career I had when I started almost 10 years ago.  I've been to every Chiller show since the April show back in 2004.  But here's the difference.  With this past October's show, I wasn't there.  Oh, I was there in body, for all three days in fact.  But I wasn't roaming the floor, nailing autographs, meeting new faces and tracking down interviews.  Because I was the one nailed down;  to a chair, that is.  For three days I sat beside celebs as a handler for my good friend Dom Mancini, and the experience taught me that's just not my cup of tea.
I'll keep this short.  This way it won't be painful for either of us.
***  I was staying all three days, so I drove myself to the hotel, where I met X.  Sure we went to get lunch at Applebees, but that was about the only time I spent with X.  He disappeared shortly after he got his bracelet, and before I knew it he was saying good bye.  Fortunately he emailed me the pic of him and Milo Ventimiglia, so I have proof he was there.
***  I've never been a MONSTER SQUAD fan.  I know it has its cult, but it's too little kiddie for me.  As fate would have it, this was Dom's MONSTER SQUAD reunion effort.  Don't get me wrong, they were nice people.  I spent most of my time between the Wolfman and Mummy.  Carl Thibault had suffered an accident a while back, and was in agony the whole time he signed;  Michael MacKay was a quiet sort.  They were both nice guys, and I give Carl credit for gutting it out as he did, but the Friday night proved I just wasn't cut out for this job.  On MacKay's other side, Duncan Regehr was the life of the party, and his handler Paula was a sweet thing who came all the way from Tennessee to sit by his side.  Even their enthusiasm couldn't bolster my mood.
***  I've never been an Adam 12 fan either.  But Saturday I became more informed about the old series than I am about a good number of horror movies I love.  As I sat next to its star Kent McCord, I got an education on the cop show, as well as Farscape, with a little learning about PREDATOR 2 and RETURN OF THE LIVING DEAD 3 thrown in for good measure.  The presiding lesson of the day:  the power of mass media actually can influence the minds of thousands, maybe even millions, as so many active and retired police officers proved when they thanked Kent for inspiring their careers.  He made a joke to me about how some of these celebs must get "I want to thank you for inspiring me to become a serial killer."  I laughed, but upon further reflection, I found the notion scary.
***  Joey Lauren Adams is really nice.  I ended up in a group having dinner with her on Friday.  Though her voice is irritating in person just as on film, I can't fault her generosity.  She treated all of us, and I have a new found respect for her.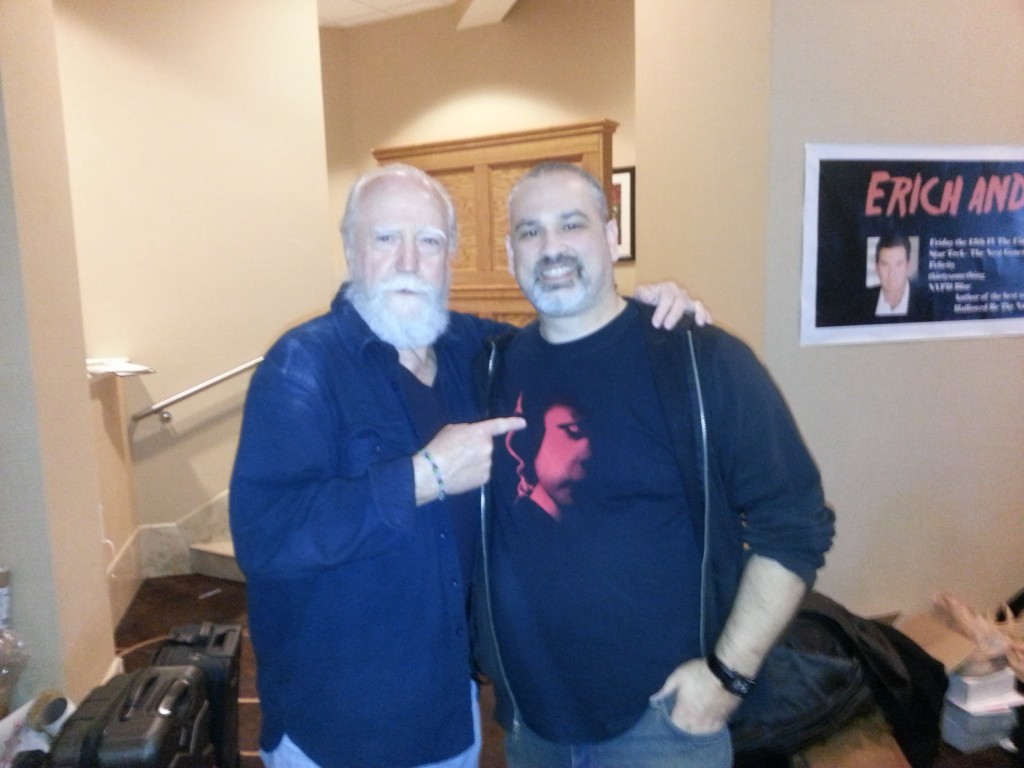 ***  Scott Wilson is the man.  After decades of acting, he's riding high on The Walking Dead, and good for him.  I spent some time at dinner with him in a smaller group on Saturday, and he's a decent guy with some rather interesting stories.  He signed a bunch of freebies both nights at the diner, which shows he's really about the fans.  Oh and he treated on Saturday.  Eating free…  well, maybe there's one good thing about helping Dom.
***  Yes, I actually did meet Peter Barton as a kid.  Friday night, I waltzed over to his table and asked if his dad was in construction on Long Island.  Peter confirmed this, and so I told him about how my uncle Phil had an office in the same park as his dad's,  where my brother and I had met him.  He was a big soap star at the time, and I'd seen him on The Powers of Matthew Star.  So probably 30 years later, I had my second brush with my first brush with celebrity.  He gave me his number so I can interview him for DE sometime.
***  Jill Schoelen played Dee Wallace's daughter in POPCORN.  Dee Wallace may be the nicest person I've ever met.  Jill herself was sweet as pie, so in some weird metaphysical movie sort of way, I take it that Jill gets her kindness from Dee.  Hey, I never said it would make sense to you, but I like to think it runs in the family.
***  Good beer and great people can keep me going, even through the doldrums.  I roomed with Dom and his Aussie pal Brett, and drank some barley concoction with a woodchuck on the side.  Which brought me back to memories of my grandparents' farm in Cohocton, Upstate NY, and my .22 rifle as a kid.  But mostly, I got a free beer buzz and some great stories about international travel from Brett.  He's high quality, and his reflections on the con circuit brightened me up.
***  …
Yeah, that's about it.  I have absolutely no jazz for this past October's show.  I know I tend to bash Chiller at times, and you all should know by now it is still my favorite horror convention.  But my gripes this time come from a whole different place.  Looking at things from the other side of the table, I wasn't even there.  As far as I'm concerned, this gets the asterisk in almost a decade of Chillers.  I know I'll be back on the fan's side of the table come April, which will make 10 years for me, both for going to conventions and keeping my Chiller streak alive.  I hope I'll be able to report with a little more verve on that show.
-Phil Fasso
Editor-in-Chief