New blood on the beach
Blood on the Beach, Virginia Beach, VA
 April 21-22 at The Holiday Inn
Convention season is in full bloom, and I had yet another con planned for this past weekend in Virginia Beach, VA called BLOOD ON THE BEACH. This was the debut show, and wow did it make an impact!
Because I couldn't get the full night off work on Friday, I could only attend this show Saturday and Sunday.  I decided to rent a car for the 6 hour drive to Virginia, to give my car a break from all the convention traveling it has done! Plus my GMC Terrain is a gas hog! I picked up the rental car on Friday afternoon, packed up my stuff, confirmed some final details for Chiller Theatre the following weekend, and was on my way. Stopping to pick up a friend in West Chester, by 9:30pm I was on my way to Virginia Beach. We hit some traffic going thru Pennsylvania, but once we hit Delaware, it was smooth sailing. That is until I got a speeding ticket! I noticed that the speed limit constantly changed on RT 1. Fluctuating from 35 mph to 55 mph, to 45 mph, then back down to 35 mph. Right when it hit me that I was in a speed trap, I saw the red and blue lights in my rear view mirror.  I pulled to the side, and the office came out and said "Do you know you were doing 50mph in a 45mph zone?" WHAT?!! Are you kidding me?! 5 miles over, and this guy is pulling me over? I just handed the officer my driver's license, and did not reply to his question. An $80.00 speeding ticket later, and I was back on the road to Blood on the Beach.
My pal Len Lies, who was DAWN OF THE DEAD'S Machete Zombie called me on the drive up to say that the first day was busy, but the show had a very stressful and hectic start. Celeb guests didn't have tables, some didn't have hotel rooms– it was total chaos. I reminded Len that it was a first time show, and they will have some kinks to work out, just give them a chance to fix things. Len was laughing about it, because other celeb guests were very pissed, and Len is a laid back person, who just goes with the flow. By the time I was done chatting with Len, we were out of Delaware, and in Maryland. Entering into Virginia, this was going to be my first time driving over the Chesapeake Bay Bridge, the longest bridge in the United States. 20 miles of tunnels and bridges was something unique, and kind of enticing. About 2am, we got to the Holiday Inn where the convention was taking place, only to find out that our room was not ready, and would not be ready for another 12 hours Damn! The clerk at the front desk suggested staying at the Hampton Inn next door until 2pm. Leaving the Holiday Inn to go back to the car, I was stopped by Nick Principe, who played "Chromeskull", the metal faced killer in LAID TO REST. Nick remembered meeting me in the past and wanted to say hi. If you are ever at a convention where Nick is a guest, make sure you stop by his table and chat; he is one of the nicest guys ever. Not to mention he plays a great psycho killer.
So we checked into the Hampton Inn at 3am, woke up at 9, and finally start Blood on the Beach. Heading back to the Holiday Inn at noon, I found my room STILL wasn't ready! I decided to just leave my bags in the car, and check out the convention until my room was ready.  I got my pass only to find out that there was a huge line of people just to get into the ballroom where the celeb guests were signing. This show was very busy for a first time show.  I informed the staff person guarding the door that I was friends with a manager and needed to get in the room to help work the tables.  Staff dude nodded his head and let me in. The room was packed, and had the most awkward table set up I have ever seen at a convention. There were tables everywhere in all directions. They clearly didn't have enough table space in the room. Simple mistake for a first time show.  I went over to my friend Stacy, who is a booking agent, and had several clients booked in the show. Since I was there all day, and didn't need many autographs, I offered to help work at a table with one of her clients. Stacy asked me to work with Philip Friedman, who played the creepy old lady in James Wan's INSIDIOUS. I had met Philip at HorrorFind last year, and thought he was a nice guy to chat with. I didn't have to start working for another 3 hours, so I had time to kill.
I saw that Vernon Wells was right in front of me, so I stopped by his table to chat. I had met Vernon a few years ago at Chiller Theatre, but forgot to get him to sign my KING OF THE ANTS DVD cover. Vernon didn't remember meeting me until I reminded him that I was the guy that had him sign my DVD cover for MINERS MASSACRE. When I had him sign it at Chiller, he didn't see too impressed, I got the vibe that it wasn't a film he was too proud of, but I really enjoyed it. I have a taste for direct to dvd "C movies". I put the KING OF THE ANTS DVD cover in front of him, and he starred at it for a few seconds, then looked up at me and said "I loved my role in this". I agreed with Vernon, and we started to talk about how great Stuart Gordon is, and how underrated KING OF THE ANTS is. He signed my DVD cover, and asked if I wanted a photo with him. I obliged. I know Vernon is from Australia, so we talked a little about that, until Vernon was distracted by Tiffany Shepis holding a baby. It was great to see Vernon again; he is one of my favorite villain actors.
Next I walked over to say hi to Nick Principe. Nick didn't look as happy and chipper as he was at 2am when I saw him. He was sitting at what had to be the smallest table in the room, all slouched over. Nick seemed to perk up when I stopped by his table. He said hello, and mentioned what a mistake it was staying up so late. I sympathized with Nick, because I have done that at past conventions, and it's not a good feeling sitting at a table with 2 hours of sleep.  We talked about LAID TO REST 3, and Nick mentioned that he thought the script was done, but Robert Hall was busy with his TV show, and wouldn't be able to start of LTR 3 until he had some free time. Since Nick is 6'8, and I am 6'3 we talked about how hard flying is with long legs. Luckily, Nick had some helpful flying tips that he shared with me. I got Nick to sign a photo, and was on my way.
After that I went over to check on Len Lies, who I had booked into the convention. Len had a smile on his face, and his usual table full of DAWN OF THE DEAD goodies. He also had an author friend with him that was collaborating on a script with Len for an upcoming project that his company Dream Catchers Inc. was working on. The author with him was Linda Lovecraft, who I had previously met at a convention. She talked to me a bit about her short story about werewolves, and was kind enough to give me a signed copy to read. Len was busy meeting fans, so I decided to no block up his table, and went over to meet J. La Rose.
I had seen J. at a few other conventions, but never cared for SAW 3, so I never talked to him much. However, after seeing J. as the "long haired fiend" in INSIDIOUS last year, I had to meet him. Especially since his character was the one that scared the Hell out of me in that movie. J. was a great guy, and mentioned how many fans had said the same as me about his character. I picked a photo from INSIDIOUS off his table, and also had him sign my INSIDIOUS poster. J has a great signature, and I was happy that I decided to meet him. Hopefully they put him in the upcoming sequel.
Philip Friedman, who was also in INSIDIOUS was sitting next to J., so I said hello to him, and informed him that I would be working at his table with him for a few hours. Philip seemed happy, and remembered meeting me at HorrorFind. I mentioned that I gave him a cool, green marker to use for signing. I had completely forgotten about that, until I saw he had that same marker with him at this convention. We talked a bit about how his character in INSIDIOUS should have had dialogue.  Philip said the producers didn't think his character would be as creepy if she spoke, so that opted for her to play silent. Philip was a good salesman, catching each person that walked by his table, trying to sell them his posters and  photos. We talked about a bunch of conventions that are on the circuit, and before I knew it my shift at his table was done. I had Philip sign my INSIDIOUS poster, and he thanked me for helping.
Walking out of the ballroom, I had noticed that Tony Todd didn't have anyone at his table. Tony ALWAYS has a decent size line of people, so I took advantage of the lull, and walked up to his table. I have met Tony a dozen times in the past, and he always remembers me when I see him. He said, "You again? What do you need signed now?!"  I laughed and pulled out my promotional still from CANDYMAN 2. Tony smiled, and said that he hadn't seen that photo in ages. He signed it "Be my victim", which I thought was cool, and we got our 100th photo together. Tony chatted about a few newer projects he has coming out, but was interrupted by a sudden horde of fans waiting behind me. Not wanted to hold the line up, I shook hands with Tony, thanked him for being awesome, and was on my way.
Being a huge fan of Charlie Band's EMPIRE films from the 80's, I had to meet Cleve Hall, who was in attendance. Cleve is the brother of PUPPET MASTER writer Ken Hall, and also worked on John Buechler's fabrication team on many of my favorite films like GHOULIES, TROLL, RAGEWAR, and ZONE TROOPERS. I had Cleve sign a few items, including my original RAGEWAR one sheet, which is pretty hard to find now, and signed by 5 other people. Cleve seemed impressed by my collection. After we got done chatting about EMPIRE films, I went to pay him for the autographs, and to my shock, he didn't charge for autographs! That's a rarity on the convention circuit. Since he signed 4 of my items, I bought one of his photos from his table, and got a quick photo with him.
As Blood on the Beach was coming to a close, I browsed the dealer room, and saw a display for ORPHAN KILLER, the new slasher film that is making waves in the horror community. The director Matt Farnsworth does one hell of a job promoting his film, as I have seen ads for it at damn near every conventions, on Facebook, Twitter, and every social network you can think of. They had the movie playing on a TV at their table, and it caught my attention. I liked the 5 minutes that I saw. While I was watching it, the director introduced himself, and talked a little about his film. He mentioned that it was recently banned in Germany, and that it was a labor of love for him that he sunk $3 million into it.
Matt was a nice guy, so I decided to buy the Bluray, which was a steal at $20.00, seeing as it included the film in HD, the entire soundtrack, and 2 autographs. Diane Foster, who played the lead in the film, was also in attendance. She was very charming, and introduced herself to me with a huge smile on her face. At that point, I would have bought anything at the table. I got a photo with the duo, and promised Matt that I would look him up on Facebook, and let him know what I thought of his film. On a side note, I recently watched it, and really enjoyed it. It looked like a 10 million dollar production, and had a nice gothic, Euro type feel to it. I highly recommend it.
Before I left Blood on the Beach, I went over and said goodbye to Len, who thanked me for setting the show up for him, and said he had a great time. Len had a novel idea; he wanted to get a photo with Norman Reedus (The Walking Dead) and himself, with Norman sinking a machete into his head. I liked Len's photo idea, as it would be a cool cross over for newer and older zombie cinema fans. I wished Len good luck getting the photo, and was on my way.  While driving home, I got a photo text message from Len saying he got the photo. There you have it: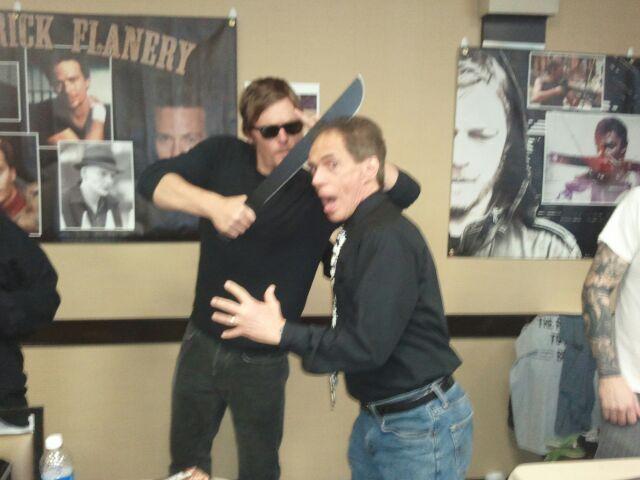 All and all, Blood on the Beach was a fun show for me, and I wish Al, Bill, and the rest of their team continued success with their show. I admire that they picked Virginia, which is a great area for a convention, and is far enough away from other conventions on the East Coast. Like all new shows, they have some adjustments to make, but their heart is in the right place, and I believe Blood on the Beach has a nice recipe for success.
— Dominic Mancini