The Sprawling Chaos
Chiller Theatre, Parsippany, NJ
April 28 at the Parsippany Hilton
I take stock of last weekend's Chiller convention, and here's what I come up with:  I met five very nice people involved in some way with George Romero's Dead franchise.  Given how broke I was, I got five autographs.  I even got one unexpected interview, on a Saturday no less.  And yet, I haven't been more nonplussed about a convention in longer than I can remember.
The problem is, and X stated it perfectly, Chiller has become just your standard convention.  Not only do I know the layout of the floor plan before I ever walk in the hotel, but I know that there are going to be a number of top tier celebrities I either don't care to pay the astronomical fees to meet, or care to meet at all.  There's going to be a thriving mass of humanity waiting on line to head into the pit, and other guests sprawled out on both sides of the main hallway.  Some of those guests are going to jazz me, but then again, I could meet most of them at other cons all across the country, as it seems there's at least three cons all 52 weekends of the year nowadays.
But I digress, so let me get back on track and discuss last weekend's Chiller specifically.  The day started off with X picking me up ten minutes early.  This has never happened before—he's always late, whatever the event—so I had to shut off Rock Band 3 in the middle of Cinderella's "Shelter Me."  Piling into the back seat, I readied myself for a long nap.  But our friend John was mumbling in the front seat, as he's prone to do whenever the three of us take any trip together.  X had just told me they were talking about the book John's writing, Cease to Exist, and that it was a lively conversation.  Not when I got in the car.  The topic switched quickly to pro wrestling, and I don't know why I didn't put on my headphones and blast Slayer on my iPod much sooner.  I credit myself for doing all I could not to be anti-social.
It had been a long week with zero sleep, as I had started a new second job, and had pounded out 45 pages of a script I suddenly desperately needed to finish.  Fortunately, the ride was smooth (except for the Cross Bronx Expy, which always sucks).  Arriving at the hotel, we hopped on line outside and awaited our bracelets.  As I predicted, the biker dude who's always dressed up like Conan the Barbarian's drunken buddy came out and regaled the crowd with lame jokes.  I not so secretly enjoyed that this pissed off X, because this guy's a given.  After about 45 minutes, we were in.
And then the chaos began.
I'd sagely looked at the signs posted around the hotel lobby and entrance way, so I knew where Alice Cooper would be.  Though John had told me earlier in the week that there wasn't enough interest for him to come with us, he'd joined in specifically to meet the shock rock legend.  He'd also decided to pay the $50 fee for a picture with him.  Once we went through the convoluted path of finding where and how to pay, John got really picky about not being able to take the pic with his camera (the photo company was taking them on their cam, and charging an extra $10 buck if you wanted a .jpeg file to do with the photo as your own).
When he found out X could take a pic on his camera as he stood and watched Alice sign, he reversed field and went that way.  But the greatest surprise was yet to come.  John's been a Cooper fan since we were in high school together, so this should've been a huge deal to meet the man.  And Alice was having long conversations with the few fans ahead of us.  This was John's chance to have the chat of a lifetime.
Instead, it went like this:
"Can you sign it 'To John?' Thanks."
Now if I were meeting Kerry King or Tom Kiefer, I would've been thrilled to talk it up.  But John?  Nope.  To each his own and all, but man, why even bother to come to the show for five seconds of Alice?
Oh, and John spent the next 4 hours or so looking for Bobby "The Brain" Heenan, who I knew after our first sweep of the floor wasn't there.  So be it.
On our way back down the hallway, X was hyped when we found Billy Joe's longtime drummer Liberty Devitto's table.  His handler said he'd be down in 10 minutes, and Liberty had really cool drum heads for signing (and a really cool first name, but that goes without saying).   When we came back in a bit, Liberty said X looked like a drummer, which must've thrilled X, who curtails bashing skins to Rock Band.  X then told Liberty a story about how they met at Jones Beach Theatre years ago, and how Devitto was impressed with his Billy Joel jacket, which still hangs in X's closet.  There'd be a picture of the two drummers together, if the agent wasn't charging 10 freaking bucks that wasn't posted on Devitto's table.  No pic, but a quality experience at least.
As for me, I wasn't interested in the umpteenth iteration of the BOONDOCK SAINTS reunion, or the D'Abo sisters, or for that matter John Astin, who I still swear is dead.  This was a Romero day for sure, and by stroke of luck, four of the five guests I wanted were in the same room, three of them side by side.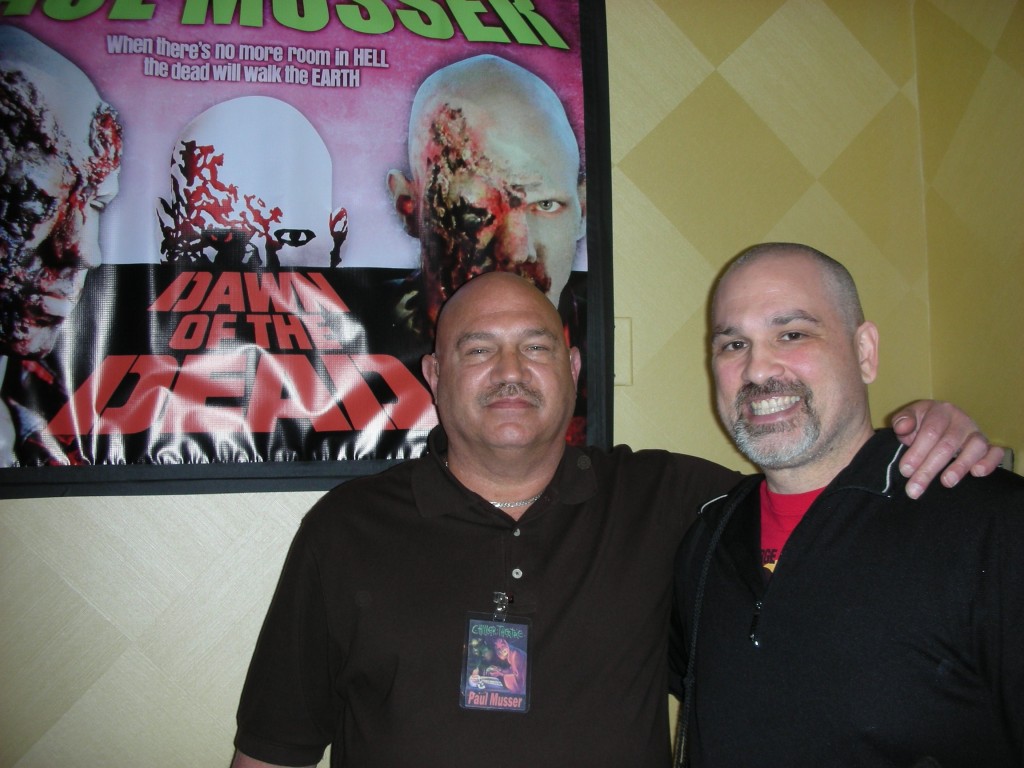 I met Paul Musser first.  The name might not ring a bell for those not obsessed with Romero's Dead saga, but if you've seen the posters for DAWN OF THE DEAD, you know the zombie he played.   I told him a friend of mine said he was the Robert De Niro of zombies, and he had no idea what that meant.  He signed a black-and-white still from the movie of him entering a room at the airport.  Only after I'd met him did X point out that Musser is deaf, and that's why he had trouble understanding some of what I was saying.  I felt terrible for not picking up on this, and I appreciate that he was gracious, even if I was inobservant.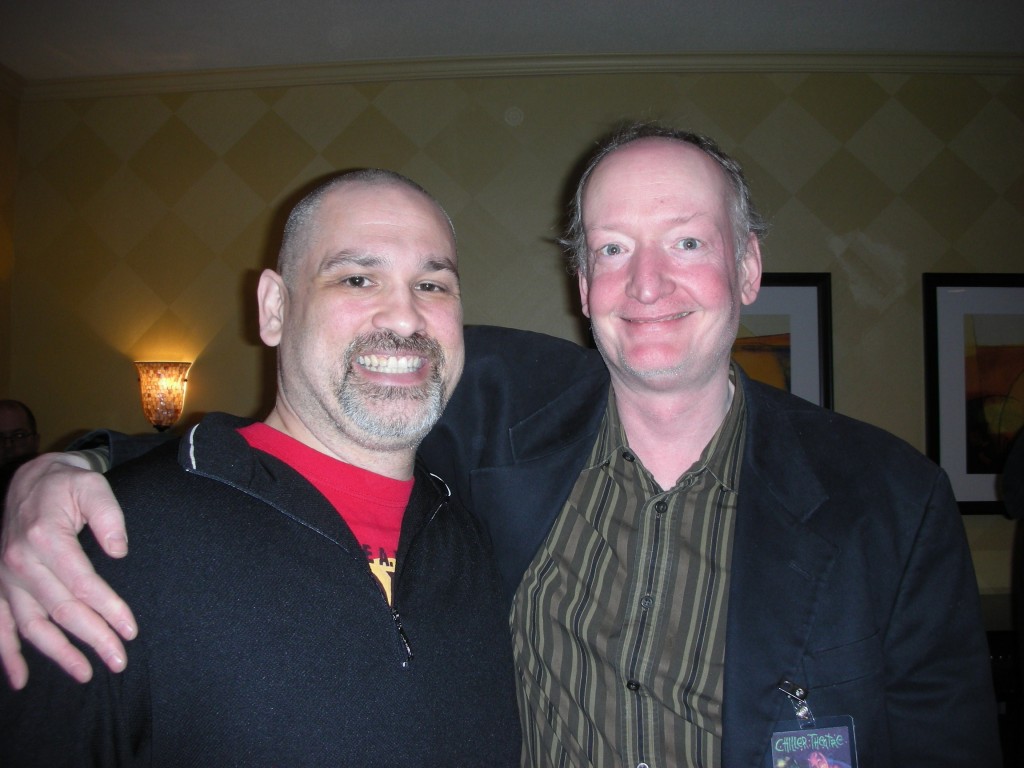 Boyd Banks of LAND OF THE DEAD was next.  The ubiquitous Canadian actor was an extremely nice guy, and when I apologized for not making the con last summer when I was supposed to interview him, he offered to do one at Chiller.  A pleasant surprise, and our chat was interesting.  Celebs such as Boyd are the reason I attend cons in the first place, as a great experience always trumps a signed item.
I would have met my friend Dom Mancini's other client, Art Hindle, if funds weren't so low.  Art's on the circuit now, so I hope to meet him someday and snag an interview.  Dom brings some the people I want to meet to cons, the unsung heroes of the horror world, and I applaud him for it.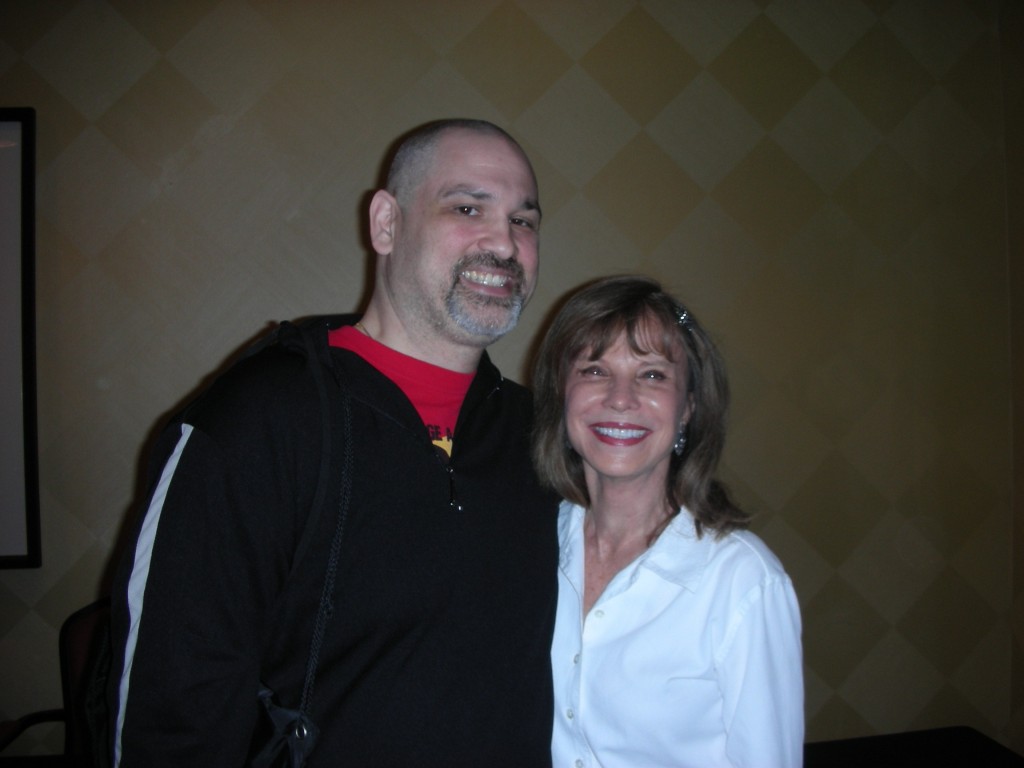 Next was Mckee Anderson.  I'd considered passing on her, because she only had one black-and-white pic from NIGHT OF THE LIVING DEAD 1990, and in it a makeup guy was putting blood on her.  I needed a b&w because I have them from Tom Towles and Bill Moseley, so after consulting with X, I went for it.  I had her write "Bloody regards," and she seems impressed by it, so I told her she was free to use it.  She snuggled in on me tightly during the photo, and sported a warm smile the entire time.  Another great meet.
Between McKee and Musser sat Taso Stavrakis, legendary wingman for Tom Savini, and portrayer of about 100 characters in both DAWN OF THE DEAD, and DAY OF THE DEAD.  Taso wasn't effusive, but he was certainly kind, and wrote "Aaaaaaggghhhhhhh!!!!" on the pic of the zombies tearing off his head in DAY.  We discussed the use of his hairy hands in FRIDAY THE 13TH, and briefly his work with Savini and Romero.  And Taso had the most awesome hat I've ever seen a celeb wear.  I'm usually loathe to celebs posing in hats, but his high top hat and orange sash will make him stand out among my celeb photos for all time.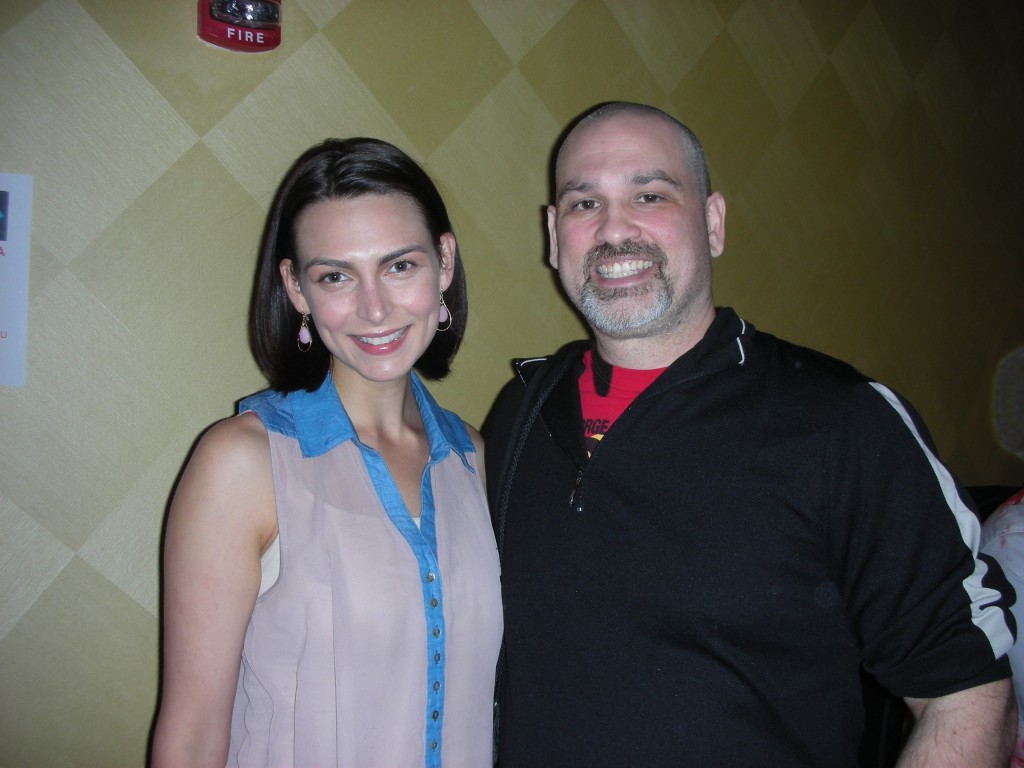 Finally, I traveled to the next room and met Inna Korobkina, mother to one of the oddest birth scenes in a film.  She was my first auto from Zach Snyder's DAWN OF THE DEAD, and easy on the eyes.  The Russian beauty was sweet as could be, capping off five celebrities who were all happy to meet the fans, and couldn't be kinder to them.
Having spent all I could afford, I managed to eke out a few more bucks and snag some cool zombie shirts in the dealers' room.  As John still searched in vain for Heenan, X and I found there was no longer a line into the pit, and so we went to meet Dean Cain.
I covered most of the Dean Cain story in last month's You Suck! edition, so you can check it out there.  The funny thing is that as soon as we got to his table, he ran off to the bathroom, leaving X to worry whether he washed his hands afterward.  I also loved how if you were buying an auto from Dean, you had to pay for a picture on your camera;  but if you caught him coming back from taking a tinkle, he posed for free.  X also wouldn't let me blow smoke about how much I loved the absolutely dreadful DEAD AND DEADER, a much less famous effort than his work on Lois & Clark.  The Dean Cain experience stands as a dichotomy of just how cool a celebrity can be, and just how much his price gouging can suck.
With that, John came along and we were out by 3 p.m.  No spending the rest of the day seeking other celebs, no hanging around for the live music that night, no excitement over anything.  Chiller was once the crown jewel of conventions for me.  But what once shined so brightly has become a rote, by-the-numbers experience.  I don't want to wait in lines for A-listers with agents hawking to rape my wallet, and I don't want to have to search long and hard to find others among the nooks and crannies.  I can't see me not going to Chiller—it's only an hour's drive, and just twice a year—but I can't see me ever getting excited about it again.  As Tiffany Shepis wrote in her recent Fango column, there are multitudes of conventions across the country, seemingly every weekend of the year.  Chiller used to stand out from the crowd.  Now it stands out for all the wrong reasons, even if I meet five really nice guests involved with Romero and the living dead.
-Phil Fasso