George Romero
Phil Fasso honors George's legacy
with the Romero Retrospective
Figuring how to honor George Romero properly was not simple.  Should I induct NIGHT OF THE LIVING DEAD into the Hell of Fame?  A few years back, I did an entire retrospective on the film, so that seemed superfluous.  Discuss how his films as a whole have personally affected me, both as a horror fan and as a human?  I'd already covered that in multiple places.  Write about how he created the modern zombie?  That would be way too trite.  Detail the epic first time I met George, and chronicle the other times, finishing with our last encounter in Evans City, PA?  I don't want to rehash.  Instead, in the wake of his death last summer, I decided to write about the Romero Retrospective.  When I discussed it with X Chris lately, I realized that I've been honoring Romero years before he died, and how much more important the Romero Retrospective is now that he's gone.  It's a cornerstone of Death Ensemble, and though I never told George about it, I'd like to think he'd enjoy the idea, modest as he was.
If you go to the Show No Mercy, where I post all the interviews on Death Ensemble, you'd realize shuffling through them that a lot of the post titles end in the words, "The Romero Retrospective."  At one point, half my interviews' titles ended as such.  When I first opened the gates of Hell on DE back in 2011, I was ensconced in my love of zombies.  I was buying all sorts of books, meeting actors from American and Italian undead flicks alike, soaking in hundreds of flicks.  At the apex of all this was George Romero.  Until I was an adult, I'd only seen NIGHT.  But as my obsession grew, DAWN OF THE DEAD and DAY OF THE DEAD creeped in, making themselves known.  I saw LAND OF THE DEAD in a theatre three times, a rarity for me.  Watching Romero flicks was one thing.  But it was passive, and hey, I had an old school tape recorder.  And I was going to lots of conventions all over the country.  So I took the obvious next step:  I started to ask Romero folk at cons for interviews.
Gary Streiner was really the paradigm at that point.  He was running the Living Dead Festival up in Evans City, and I made a connection at Chiller when he showed up one year.  He was more than willing to do a phone chat, and hooked me up with his brother Russ and Charles Craig over the phone.  One thing about the Romero folk:  they're usually willing to talk.  That conversation with Gary ended up giving me two great things: a friendship with Gary Streiner, and the belief that I could get many of Romero's collaborators to talk on tape.  I eventually graduated to a digital voice recorder, and once I left Icons of Fright and started Death Ensemble, I figured out how to change the type of audio file and hook up the audio so instead of reading, anyone could just click a link and hear the conversation.  The Romero Retrospective owes almost as much to Gary as it does to George, and I love him for it.
So I went on my way, walking up to Romero collaborators, asking them if they'd be gracious enough to chat with me for my blog, and generally they were. It grew into something, as I'd listen to them tell me about how they loved working with George and were part of a family.  At one point, Romero collaborator Bob Michelucci even used some of my interviews in a book of chats with George he'd put together.  It was flattering.
The lofty goal was always to interview George Romero.  That would be the crown jewel in the Retrospective, gleaning the wisdom of the man himself, with me asking him questions about NIGHT OF THE LIVING DEAD, how he felt about zombies, and so many other things.  I came close a few times.  Once, at the Saturday Nightmares first show, where the promoter Mike Lisa offered to try and set something up for me.  I'd been kind to his con, promoting the balls off it, and he knew I was a huge fan.  That fell through, though, and even though I was a little bummed at that, I have great memories of the rest of the show.  Another time, Dom Mancini, who's now a handler for celebs but at the time was just a fan, tried to get me to a private Romero party in Romero's hotel room.  That also fell through, but I never gave up hope.  Whether his con agent was the problem, or the massive amounts of fans who always waited in line at Romero's table, or my own dumb luck were getting in the way, I never gave up hope.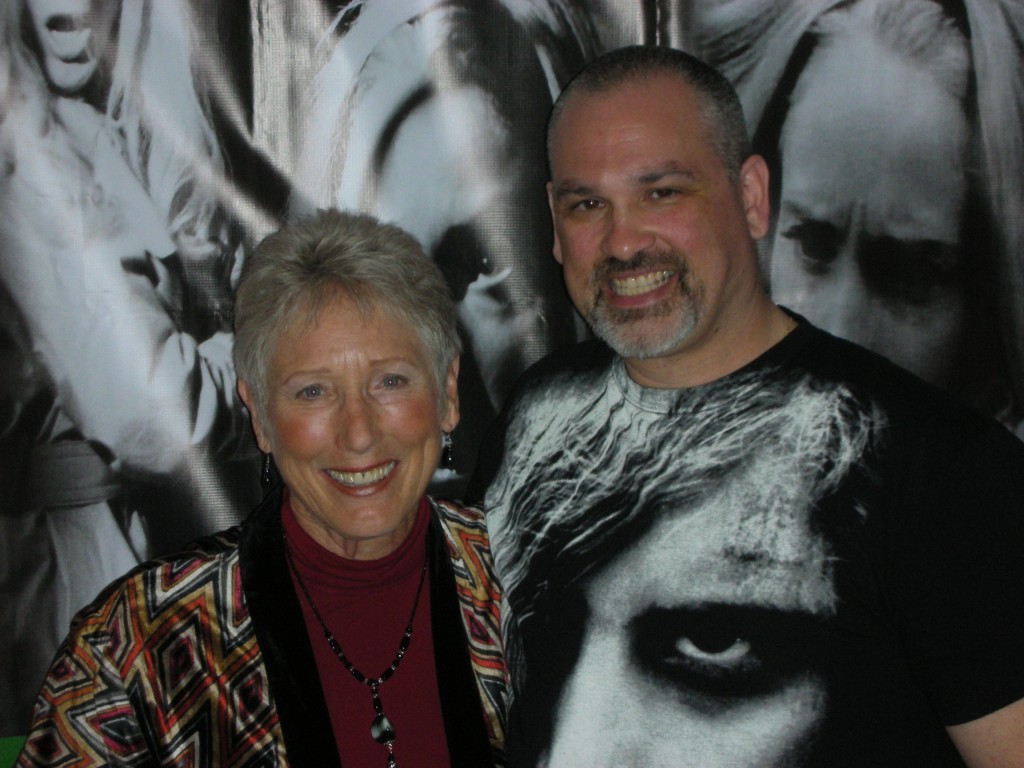 Until last summer, when one day I got home from work and found out online that Romero had died.  It took a few hours for me to verify it, make sure it wasn't a hoax, but I came to the realization that George Romero was no longer with us.  It sunk me for a few days;  I'd seen Romero at plenty of cons, and from all my experiences, he was a great guy.  The filmmaking system had no place for him anymore, and his voice and commentary had been silenced since 2009 and SURVIVAL OF THE DEAD.  Now, Romero himself had been silenced, permanently, and that was sad.
Romero's death also meant I would never achieve that crown jewel of the Romero Retrospective.  For a while, the whole retrospective idea seemed as if it would always be incomplete.  Without Romero, what purpose did it serve?  His word would be the defining word on his legacy, and I would never get that.
And then, sitting down with Fasano and X Chris and Fasano's daughter at a Chinese buffet last weekend, having just come off the three-day high of a con I haven't felt in years, something peculiar happened.  X and I were discussing the likelihood or not of my someday interviewing Tom Savini, when I said to X, "I thought the whole Romero Retrospective died with Romero, but it feels like it's even more important now, to keep Romero alive through the good stories that the people who worked with him have shared and will share with me."  Over a plate of crab Rangoon and sesame chicken, the epiphany came clear to me.  The Romero Retrospective should carry on, will carry on, and it's even more vital now, because it will never have Romero's voice.  In that absence, it'll have the voices of the good people who shared and participated in George's vision, and that's sweet perfection for me.
I'd like to thank all the folks who've been kind enough to talk with me over the years about Romero.  Each and every one of you have collaborated with me in the Romero Retrospective:
John Amplas, Boyd Banks, Terry Callen, Lori Cardille, Rick Catizone, Charles Craig, David Emgee, Roy Frumkes, Michael Gornick, Gary Klar, Judith O'Dea, Joe Pilato, John Russo, Howard Sherman, Gary Streiner, Russell Streiner
…and so this isn't so much my induction of George Romero into the Hell of Fame, but ours.  The stories you shared, and your love of George after all these years, has made the Romero Retrospective the proper praise of a great director, and a great man.  For that, I am forever grateful to you.
In the end, figuring out how to induct George Romero properly into the Hell of Fame was simpler than I thought.  You could say I started this induction seven years ago, when I posted the first Romero Retrospective interview.  I couldn't come up with a better way to honor Romero, and to thank him for being such a part of my worldview and my life.